Reverse Shoulder Surgery at Tampa General Hospital
Having conventional shoulder replacement surgery performed can allow individuals with severe shoulder pain and dysfunction to live more comfortably. Similarly, reverse shoulder surgery provides relief for patients with cuff tear arthropathy – a type of shoulder arthritis marked by a severely torn and irreparable rotator cuff.

In conventional shoulder replacement, the head of the humerus bone (the "ball") and the glenoid cavity (the "socket") are removed and replaced with artificial components, known as prostheses. Reverse shoulder replacement positions these artificial components in opposite places, securing the socket onto the humerus bone and the ball in the area of the glenoid cavity. Doing so forces the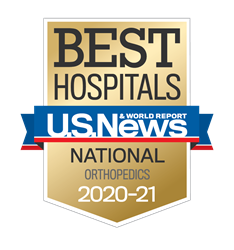 healthier deltoid muscles to control the arm, taking that responsibility away from the injured rotator cuff and subsequently alleviating pain. Although the arm will have a limited range of motion once the shoulder heals, patients who have undergone this procedure generally report a substantial improvement in comfort and function.

The board-certified orthopaedic surgeons at Tampa General Hospital perform a high volume of complex orthopaedic procedures every year, including reverse shoulder surgery. We have been recognized as one of America's Best Hospitals for Orthopaedics (with top 20 ranking) and Best in Florida for Orthopaedics by U.S. News & World Report from 2020-2021, and our shoulder, hip, and knee replacement programs have received prestigious certifications from The Joint Commission. Our joint center also offers non-surgical treatments to provide relief for a range of musculoskeletal issues.

If you are considering reverse shoulder surgery and would like to consult with an orthopaedic surgeon about your options, use our online Physician Finder or call 1-800-822-DOCS (3627) to receive a referral to an orthopaedic specialist.