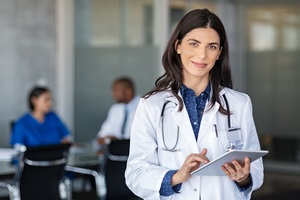 Being diagnosed with a gynecologic cancer is a life-changing event, and Tampa General Hospital's gynecologic oncology program is uniquely positioned to help women navigate this challenging time.

Ours is one of the most comprehensive cancer care programs in Florida. We treat cancers and other conditions that affect the female reproductive system, including:
Cancer:

Cervical
Endometrial
Fallopian tube
Ovarian/primary peritoneum
Uterine
Vaginal
Vulvar

Genital human papillomavirus (HPV)
Post-menstrual bleeding
Pre-invasive diseases of the vulva, vagina and cervix
Genetic-linked diseases:
WHY TGH?
Our multidisciplinary teams feature physicians, nurses and radiologists, and our surgeons have been nationally recognized for their surgical competence. We work closely with other specialists, too, so if you suddenly need the expertise of a cardiovascular surgeon during your cancer care, one will be nearby to help. You'll always get the care you need when you need it at TGH.


COMPLEX CASES
We take on even the most complex cases and perform the most complicated procedures to ensure that our patients have the best outcomes possible. We can treat pediatric and pregnant patients, and offer fertility preservation techniques and counseling for reproductive-aged women.


COORDINATION OF CARE
Our state-of-the-art patient navigation program has helped us establish relationships with local oncologists, radiologists and other physicians in the community. This allows us to develop personalized care plans and schedule appointments for patients who wish receive generalized care closer to their home and world-class surgical care at TGH.


GENETIC COUNSELING
Certain types of cancer run in families and we take the time to properly educate patients on their genetic risks. Plus, our gynecologic cancer experts lead clinical trials funded by the National Institutes of Health and publish findings frequently. Our program is at the forefront of research and development of potential treatment options.


PALLIATIVE MEDICINE
Our treatment plans take a holistic approach that considers the patient as a whole by treating the mind, body and emotions as well as providing post-operative life care. As such, we offer palliative medicine to our patients. Our gynecology oncology program is the only one in Florida to offer this service. It allows us to help patients manage their symptoms of pain, nausea, depression and anxiety, and gives them the tools to enjoy an excellent quality of life.


ADVANCED THERAPY
Every gynecologic cancer type is unique with different risks, signs and symptoms that require different treatments. No matter the location of their malignancy or how far it has spread, cancer patients at TGH benefit from the highest level of care.

Treatment options include:
Chemotherapy
Transarterial chemoembolization (TACE)
Immunotherapy
Molecular targeted therapy
Standard intraperitoneal chemotherapy
Radiation therapy, including HDR brachytherapy and TomoTherapy®
Hi-Art® treatment
Radiosurgery
Surgery, including minimally invasive, robotic and reconstruction
Tampa General Hospital has earned "high performing" designation for cancer care by U.S. News & World Report for 2022-23, meaning we are ranked among the top 10% of U.S. hospitals.

If you have been diagnosed with a form of gynecologic cancer, are experiencing symptoms associated with any of the conditions previously listed or need a second opinion, please contact the TGH Cancer Insitute at 813-844-7585 to schedule an appointment. Appointments are available Monday through Friday, from 7:30 a.m. to 4:30 p.m.