Refractory Epilepsy: Cutting-Edge Technology, World-Class Expertise and a Cure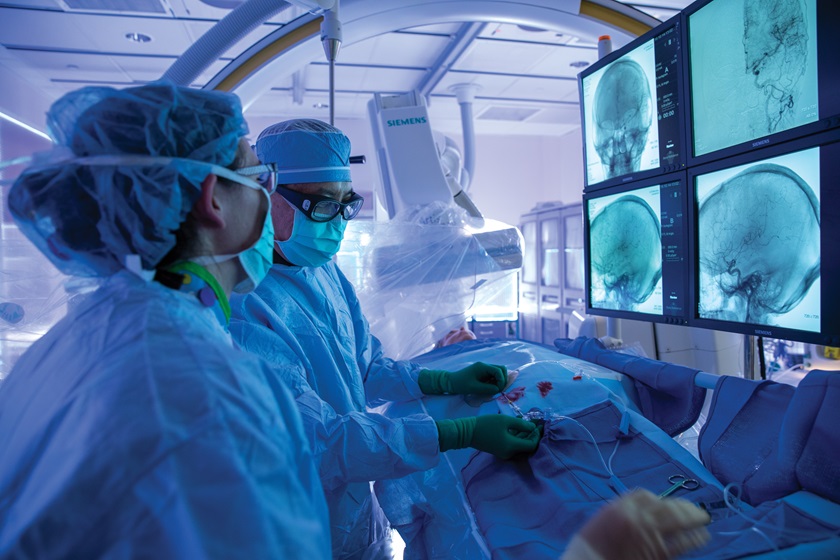 Though most seizures can be controlled with oral medications, patients with refractory epilepsy may experience frequent seizures and be rendered totally disabled by their illness. In some cases, they spend the majority of their waking hours either seizing or recovering from a seizure.
The Tampa General Hospital (TGH) Neuroscience Institute was one of the first centers in the southeastern United States to pioneer surgical treatment of refractory epilepsy and has long been a nationally recognized referral center for the most severe cases. TGH's world-class multidisciplinary team of experts includes internationally renowned epileptologists and some of the country's most skilled epilepsy surgeons and europsychologists, as well as expert nurses and neuro- radiologists, among others. This highly skilled team is supported by an array of cutting-edge technologies to precisely pinpoint and eliminate the site of seizure origin in patients who have focal (localized) epilepsy.
In some patients, the focus can be identified without invasive techniques by using regular EEG-video, MRI, PET, SPECT and neuropsychological testing, but in some it is necessary to place electrodes inside the brain. This process begins with an extensive and sophisticated evaluation, culminating in the patient's admission for intracranial seizure localization. During the hospitalization, TGH neurosurgeons precisely place dozens of depth electrodes, which produce a 3D stereoscopic rendering of brainwave activity using a robotic device (the robotic stereo-electroencephalography assistance (ROSA®) robot). This extensive array of electrodes is far more numerous, safer and more precisely placed than would be possible with manual insertion.
Patients are then admitted to the TGH Epilepsy Monitoring Unit, where they are closely observed with continuous stereotactic EEG and video recording for seizure activity. TGH's expert epileptologists then analyze these complex neurophysiological data and pinpoint the precise location where the patient's seizures start. This phase of evaluation is directed not only at further refining the location of the seizure focus, but also carefully mapping out the brain region surrounding the focus and charting plans for the exact size and location of brain resection, to enable elimination of the seizure focus without damaging nearby cortex important for other neurological functions. In addition to surgical resection, TGH specialists also use an array of neuromodulation techniques that suppress and interrupt seizure activity before it becomes clinically manifest, using implanted nerve and brain stimulation devices and electrodes. Neurostimulation techniques include vagus nerve stimulation, responsive neurostimulation and deep brain stimulation, each with its pros and cons.
TGH's team of experts are not only some of the world's best clinically but are also top thought leaders in their fields, performing cutting-edge research and writing the articles and textbooks from which other epileptologists and neurosurgeons learn and refine their craft. TGH is accredited by the National Association of Epilepsy Centers (NAEC) as a Level 4 epilepsy center, and the number of epilepsy surgeries it performs annually places it among the busiest epilepsy centers in the southeast United States.
THE LATEST IN LASER INTERSTITIAL THERMAL THERAPY
Laser interstitial thermal therapy (LITT) is an emerging technique used to treat epilepsy and primary and metastatic brain tumors with a small incision as opposed to open surgery. It can reach lesions that might otherwise be considered inoperable.
LITT can also benefit patients with health conditions such as heart disease or cancer that render them too high risk for traditional brain surgery.
In 2014, Tampa General was the first hospital in the region and one of the first in Florida to introduce this MRI-guided laser ablation technology. Today, TGH is one of only a few hospitals in Florida to offer the Visualase System™, the most advanced LITT technology available.
LITT is minimally invasive, requiring only a 2-millimeter incision in the scalp. Surgeons use real-time MRI to guide a small laser catheter through the incision to the brain. The catheter is heated to temperatures high enough to destroy tumors or brain malformations. LITT can also target lesions responsible for epileptic seizures and Parkinson's disease. Because the procedure is guided by MRI images, it is highly precise. Surgeons destroy only the targeted tissue, leaving healthy surrounding tissues unharmed (< 1 mm or in the sub-millimeter range).
There is little to no pain, less scarring — only one stitch is generally required — and minimal hair removal. LITT patients are usually released after a single night's hospital stay and have few, if any, complications.
"We use MRI technology to place cursors on the edges of the tumor or lesion to specify where the heat should be," says Yarema Bezchlibnyk, MD, PhD, Director of Functional Neurosurgery at TGH. "It creates a color- coded heat map that shows the targeted tissue turning from blue (cold) to red (hot)."
LITT is especially beneficial for patients who do not respond to stereotactic radiosurgery or have radiation necrosis. TGH neurosurgeons have used this technique to successfully treat more than 20 patients.
Discover the Neuroscience Institute
Learn more about Tampa General Hospital's Neuroscience Institute and see how we define medicine.