National Referral Center for Movement Disorders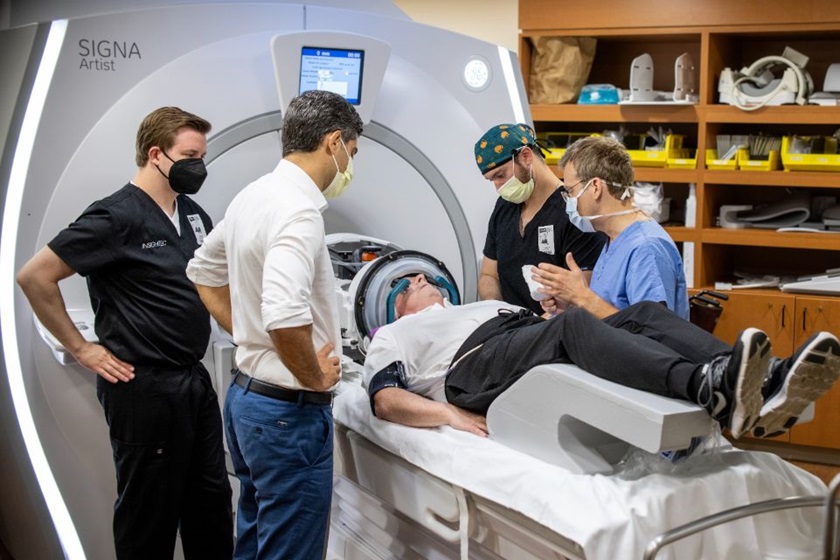 Tampa General Hospital's Movement Disorders Neuromodulation Center is a national referral center for the treatment of Parkinson's disease, essential tremors and dystonia. It is one of only a handful of multidisciplinary clinics where internationally renowned movement disorder neurologists, neurosurgeons and neuropsychologists, as well as expert nurses, speech-language pathologists, physiatrists, social workers and neuroradiologists, work in the same clinical space.
In addition to a detailed neurological evaluation by members of the team, surgical success depends on precisely targeting specific areas of the brain with deep brain stimulator leads and tailoring the delivery of electrical stimulation to each patient's specific symptoms.
TGH neurosurgeons are intimately involved in patient programming and ongoing follow-up assessments, ensuring that data from the operating room is continuously and seamlessly used in the clinic to optimize patient outcomes. The TGH Neuromodulation Center also runs clinical trials to evaluate treatments for Parkinson's disease and essential tremor. The TGH team is also involved in several multicenter clinical trials to expand the use of deep brain stimulation (DBS), including a Phase III multicenter clinical trial on the use of DBS in patients with Alzheimer's disease, in which TGH is the highest enrolling site globally.
AMONG FIRST IN NATION TO OFFER DEEP BRAIN STIMULATION
Deep brain stimulation is an established, FDA-approved treatment for patients with movement disorders such as Parkinson's disease, essential tremor (ET), dystonia and other neurological disorders, including epilepsy and obsessive-compulsive disorder (OCD), whose symptoms are not optimally controlled by medications and non-surgical interventions, or who experience side effects with these medications.
Tampa General Hospital, in conjunction with USF Health Morsani College of Medicine, was one of the first sites in North America to offer DBS therapy and is currently one of the top centers by number of DBS surgeries performed annually nationwide.
FOCUSED ULTRASOUND OFFERS NEW HOPE FOR PATIENTS WITH TREMORS AND PARKINSON'S DISEASE
Focused ultrasound (FUS), also known as high- intensity focused ultrasound (HIFU), is a novel, FDA- approved treatment option for patients suffering from essential tremor and selected patients with Parkinson's disease that is now available at TGH. Guided by MRI, HIFU does not require incisions, invasive probes or hardware implants.
During treatment, ultrasound waves applied through the skull to converge heat, heat, and create a small lesion in specific tremor-generating targets within the brain. As such, disabling tremor networks are disrupted, tremor is instantaneously abolished and the patient is sent home the same day.
The patient is awake throughout the two-and-a-half-hour procedure, allowing physicians to measure how well the treatment is progressing in real time, and allowing them to identify potential side effects and adjust the target accordingly.
"Neuromodulation will dominate the field of neuro- surgery in the next decade and beyond," said Donald Smith, MD, associate professor in the Department of Neurosurgery and Brain Repair at the USF Health Morsani College of Medicine and a neurosurgeon at Tampa General. "At Tampa General Hospital, we have experienced excellent outcomes for our patients who need these highly specialized procedures. The technology and expertise available at TGH play a big role in this success, as does the close collaboration between neurologists who help identify which patients can benefit."
"This creates new opportunities to help patients with essential tremor and other neurological conditions who haven't fully responded to traditional treatments. It's a powerful, new tool we now have at our disposal and we expect it to improve the lives of many patients who struggle with these disorders, particularly disabling tremors," said Dr. Oliver Flouty, assistant professor in the Department of Neurosurgery and Brain Repair at USF Health Morsani College of Medicine and a neurosurgeon at Tampa General.
ONE OF THE BUSIEST FUNCTIONAL NEUROSURGERY PROGRAMS IN THE NATION
Tampa General Hospital is committed to delivering the most recent advances and technologies to patients. For the highest precision, neurosurgeons use intraoperative CT imaging to record cellular activity within the brain and chart the effects of stimulation in patients who are partially awake during surgery to demonstrate improvement of symptoms right in the operating room.
Alternatively, TGH neurosurgeons can target certain brain regions using intraoperative MRI in patients while they are asleep. The neurosurgery team at Tampa General Hospital also works with all three device manufacturers to offer the latest cutting-edge tech- nology, including directional leads, generators capable of sensing and tracking brain signals and software programs that can show the delivery of electricity relative to the targeted areas of the brain and other nearby structures. This allows specialists to specifically tailor the application of electricity to each individual patient.
Virtual programming of the device can save patients a clinic visit. With these advances, patients with Parkinson's disease treated at Tampa General Hospital can expect a near 70% improvement in symptoms due to tremors, stiffness and slowness, leading to significant improvement in function and quality of life, and often a substantial reduction in Parkinson's medications.
Discover the Neuroscience Institute
Learn more about Tampa General Hospital's Neuroscience Institute and see how we define medicine.