Endovascular Neurosurgery: Tampa General Hospital and USF Health Among Top Enrolling Centers in Trials for Novel Stroke Treatments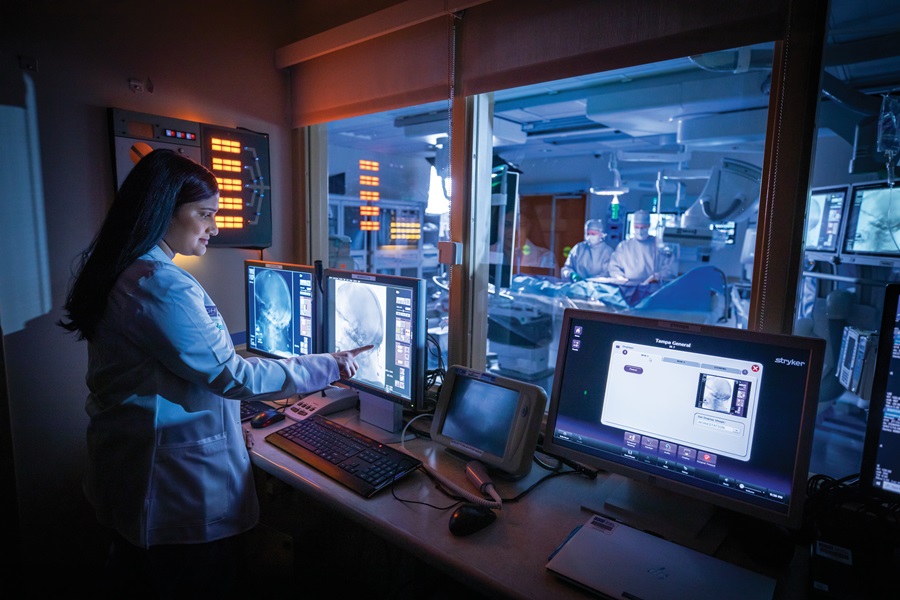 Tampa General Hospital and faculty from the USF Health Morsani College of Medicine are among the busiest clinical research trial centers in the country when it comes to the management and treatment of acute stroke. TGH and USF were first in the nation to treat a patient as part of a national multi-site clinical trial that evaluates a revolutionary new treatment for patients suffering from ischemic stroke.
The trial involves removing, or aspirating, a blood clot in the patient's brain using the Zoom™ 88 Large Distal Platform, a catheter manufactured by Imperative Care that is currently FDA-cleared for neurovascular access. The Zoom 88 catheter is the largest catheter now being used for stroke care. It's flexible enough to enter blood vessels in the brain, which allows the catheter to get closer to the treatment site. Most other catheters of this size are stiffer and can't travel past the neck.
Maxim Mokin, MD, PhD, an associate professor of neurology and neurosurgery at the USF Health Morsani College of Medicine, recognized the impact participa- tion in the trial could have on TGH and its patients.
Imperative Care's Zoom Stroke Solution™ includes the Zoom 88 Large Distal Platform for neurovascular access, four Zoom aspiration catheters in various sizes and a pump with accessories. In addition to the larger size, the catheters also feature a trademark tip that is both slanted and beveled.
"The catheter tip has a unique design to effectively trap and engage into the clot," said Mokin.
Designed as a multispecialty study, the Imperative trial will enroll 262 patients at up to 30 sites in the United States and includes investigators from several specialties trained to treat ischemic stroke, including neurosurgery, interventional radiology and interven- tional neurology. The study is led by investigators at Emory University School of Medicine, the Keck School of Medicine at the University of Southern California, and Mount Sinai Hospital in New York City. Mokin is the principal investigator for the TGH/USF Health arm of the trial.
TAMPA GENERAL HOSPITAL AND USF HEALTH RESEARCHERS AMONG FIRST IN NATION TO STUDY MINIMALLY INVASIVE TREATMENT FOR SUBDURAL BRAIN BLEEDS
The Tampa General Hospital (TGH) Neuroscience Institute, working with USF Health, is one of the first sites in the world – and the first in Florida – to enroll patients in a new, national study testing whether a minimally invasive procedure can safely and effectively treat subacute and chronic subdural hematomas, a common type of brain bleed.
The standard surgical treatment involves drilling a hole in the skull, or opening a larger portion of the skull, to drain the hematoma. This relieves increasing pressure on the brain that can cause debilitating symptoms such as severe headaches, profound body weakness, vision and speech problems, confusion and impaired memory. However, recurrent subdural hematomas frequently require repeat surgeries that pose risks – especially for more fragile, older patients or others with underlying diseases, who may not be good candidates for open surgery.
The multisite randomized, controlled EMBOLISE clinical study will evaluate an emerging, minimally invasive treatment called middle meningeal arterial (MMA) embolization. The procedure will deliver an embolic liquid (Onyx™ Liquid Embolic System) to block targeted vessels—the underlying source of inflamma- tion and rebleeding promoting the growth of subdural hematomas. TGH remains one of the top enrolling sites in this trial. Patients have been referred from multiple counties across Florida to determine if they could potentially qualify for this promising new therapy.
With MMA embolization, a neurointerventionist trained in image-guided techniques inserts a microcatheter through a needlestick in the groin or wrist, threading it up to targeted arteries near the brain. Then, an embolic agent is released to stop the persistent bleed- ing characteristic of chronic subdural hematomas.
"Middle meningeal arterial embolization represents a fundamentally different approach to managing this complex condition – one that shuts down abnormal blood vessels to break the vicious cycle of continued subdural hematoma growth," said Mokin, who is the principal investigator for EMBOLISE at the Tampa General Hospital trial site. "If it proves to be as effective as preliminary data indicates, this less invasive procedure may offer the potential for a cure."
The TGH site will enroll up to 36 adults ages 18 to 90 in the EMBOLISE trial, which is expected to include 600 study participants at medical centers across the country.
MMA embolization is still in the investigational stages for subdural hematomas and does not have FDA approval. This trial is an important step in seeking that approval. Larger, more rigorous studies such as EMBOLISE are needed to validate whether the neuro- interventional procedure works.
TGH INVESTIGATES THROMBECTOMY APPROACH TO ARTERIAL OCCLUSION
TGH is proud to participate in the national TESLA Thrombectomy for Emergent Salvage of Large Anterior Circulation Ischemic Stroke Trial, which is examining the efficacy of stroke thrombectomy to treat occlusion of arteries in patients who already have had small to moderate strokes. Mokin serves on the Steering Committee for this trial and is particularly interested in determining whether this intervention could also benefit patients with a larger stroke burden. The trial is approaching its completion and its final results are expected to be announced in the near future.
"This is an important clinical question because we see a number of patients whose initial brain scans already show an extensive area of brain damage," Mokin said. "Currently, we lack evidence to recommend this procedure for a wide range of patients with large stroke burden. The TESLA trial is designed to answer this clinically significant question."
Discover the Neuroscience Institute
Learn more about Tampa General Hospital's Neuroscience Institute and see how we define medicine.