Tampa General one of two in Florida to offer innovative robotic surgery for ENT patients
By Dave Scheiber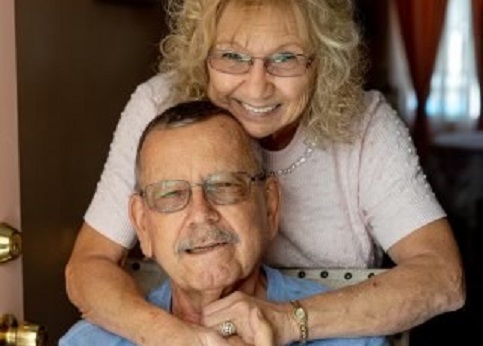 For Roger Murphy, the new year is filled with promise and hope beyond anything he could have dreamed this past summer. Instead of being weighed down by uncertainty and fear, the 73-year-old St. Petersburg resident was able to enjoy the holiday season with wife, Linda, their children and grandchildren, and look ahead to a cancer-free future.
His life is now a portrait of optimism with a touch of da Vinci – specifically, the da Vinci SP single-port robotic surgical system, and a masterpiece of ENT surgery performed in July by Tampa General Hospital's Dr. Tapan Padhya.
Murphy's prospects changed for the better when he was referred to Padhya, medical director of the TGH Ear, Nose and Throat Institute and professor and chair of Otolaryngology – Head and Neck Surgery at the USF Health Morsani College of Medicine. TGH is one of only two hospitals in Florida that offer the pioneering surgery that Murphy needed. This past July, Murphy became the first patient at Tampa General to undergo the single-port surgery, which makes it possible to target the cancer – in this case, on a tonsil – in minimally invasive fashion.
"I never would have imagined they could do this kind of thing to help me," Murphy, a career truck driver, said recently. "I'm just lucky I found Dr. Padhya. He was so reassuring and helped me understand my options so we could make the best decision."
Only a year earlier, in August 2020, Murphy had undergone a kidney transplant at TGH due to chronic kidney disease. But then another serious problem developed when Murphy was diagnosed with throat cancer.
"The head and neck cancer patient of the past was usually a heavy smoker and drinker," Padhya said. "But in the last 15-20 years, we've seen a small epidemic of HPV-related oral cancers, such as what actors Michael Douglas and Val Kilmer suffered. It's specifically in the tonsil or base of the tongue."
HPV, short for human papillomavirus, can be spread through sexual contact, but in Murphy's case, the virus was connected to his transplant surgery.
"I'm a cancer surgeon first, and I probably see four to five cases a week now with HPV," Padhya said. "Because Mr. Murphy was immunosuppressed, that predisposed him to develop other cancers. As a result, he developed an HPV-related tonsil cancer. The standard of care for HPV cancer is radiation with or without chemotherapy. But there is also emerging data from head and neck surgeons like me that indicates we can surgically remove the cancer with special advanced tools like the SP robot."
Doing so may eliminate the need for radiation of the neck or lessen the amount of radiation required. For Murphy, due to his depleted immune system, radiation could have proven toxic, and he would not have handled chemotherapy well.
"Mr. Murphy had a very localized disease," Padhya said. "So, we had an extensive discussion about this surgery as the only viable therapy. And thankfully, we have this state-of-the-art, single-port device. He became my first patient to undergo the surgery at TGH, and we were able to do a complete resection. I didn't have to give him any radiation."
Earlier versions of the da Vinci robotic system, explained Padhya, had three or four "arms going into the mouth" of a patient. But the single port has one solid barrel and mechanized arms extend from it, snaking to whatever spot the surgeon needs with far greater ease. To date, the single-port device is approved only for throat and urology surgery.
"It definitely makes the surgeon's life easier," Padhya said. "We're using it exclusively at Tampa General, and it's growing in leaps and bounds."
Other than some temporary minor numbness in his throat, Murphy says he is feeling back to his old self. And Linda feels a heavy burden lifted as well. Prior to the single-port surgery, she had heard that her husband might have to lose part of his jaw. But all that changed with Padhya's innovative approach.
"He's amazing," Linda said. "He doesn't make you feel alarmed. And he's just so soft-spoken and informative, he makes you feel comfortable. He truly cares about his patients. I know he did with Roger."
And thanks to Padhya's mastery of the da Vinci, Murphy has a bigger smile these days than the Mona Lisa.