From USF Health: Physician-Scientist Pinpoints Genes to Predict Lung Fibrosis Outcomes
By Anne DeLotto Baier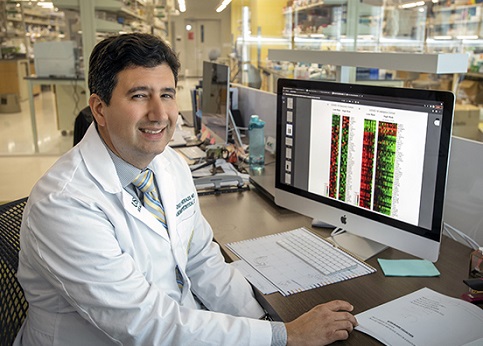 Caring for patients struggling to breathe drives Dr. Jose Herazo-Maya's research to find effective treatments for pulmonary fibrosis — an incurable, debilitating and often fatal disease that causes progressive lung scarring.

"The primary goal of our research team is to identify genes that predict survival (a low vs. high risk of dying) in patients with lung fibrosis," said Herazo-Maya, MD, an associate professor and associate chief of pulmonary, critical care and sleep medicine at the USF Health Morsani College of Medicine. "We believe that if you target these genes, you can develop new treatments to help improve survival in these patients."

The only two drugs currently approved to treat patients with idiopathic pulmonary fibrosis (pirfenidone and nintedanib) may help slow disease progression, but they do not stop lung scarring or prolong survival, and adverse effects can occur in up to half of people with IPF. Lung transplantation can improve survival, but organs are limited and not every patient with pulmonary disease is eligible for the complex surgery.
CT scans of (Above) normal lungs and (Below) lungs with idiopathotic pulmonary fibrosis, characterized by scars and cysts. Images courtesy of Dr. Jose Herazo-Maya, USF Health
Pulmonary fibrosis is a disease in which the tissue in and between the air sacs of the lungs (alveoli) becomes damaged and scarred. As the tissue (interstitium) thickens and stiffens, it affects the ability to breathe and get enough oxygen into the bloodstream. While toxic environmental exposures, smoking and certain other diseases have been associated with pulmonary fibrosis, in most cases the cause is unknown (idiopathic). Median survival for patients diagnosed with idiopathic pulmonary fibrosis (IPF) is three to five years.

"IPF is a devastating disease that needs better therapeutic options to improve quality of life and save lives," Dr. Herazo-Maya said. "For me, taking care of these patients is a constant reminder that we need to do better."