Parents and teens urged to beware of vaping
Published: Sep 12, 2019
By Curtis Krueger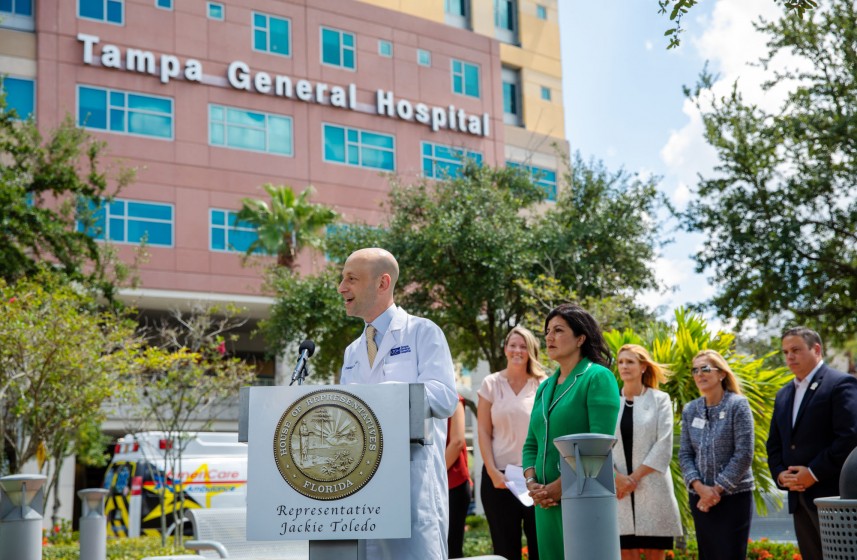 E- cigarettes are dangerous for children and adults and threaten to get more people addicted to nicotine, Dr. David Wein and other speakers said at a news conference Thursday at Tampa General Hospital.
"While vaping may be perceived as a safer alternative to smoking, it's far from safe," said Wein, medical director of the Emergency Department at TGH. "Furthermore, it may be a gateway to future cigarette use."
 Wein spoke at a news conference at TGH at which state Rep. Jackie Toledo of Tampa announced she has filed a bill to raise the minimum age for purchasing tobacco and vaping products from 18 to 21.
Research shows most smokers start the habit when they are young, which is why the legislation is so important, Toledo said. "Keeping our children safe is paramount and something we should all work together on," she said.
Toledo was joined by Hillsborough School Board members Melissa Snively, Steve Cona and Stacy Hahn.
Sarasota resident Erin NesSmith also spoke at the news conference.  She said that after her then-14-year-old daughter Ashlynn began using e-cigarettes, she began suffering multiple seizures, sometimes in a single day.
"In a matter of weeks her life was crumbling in every single way," she said
The dangers of vaping have been in the spotlight this week. Health officials said this week they have documented six deaths of e-cigarette users that may be linked to vaping. More than 450 cases of severe lung disease are linked to e-cigarettes in 33 states, including Florida, the federal Centers for Disease Control and Prevention said Wednesday.
President Donald Trump this week said his administration would ban most flavored vaping products, many of which appear aimed at teens. And the FDA issued a warning letter to JUUL this week saying the company as illegally marketing its product to teens as a safer alternative to cigarettes.
It's distressing that e-cigarette use is growing, in spite of the reductions in tobacco smoking in recent years, the speakers said. Roughly one in five high school students reported vaping last year, compared to less than one in 50 in 2011.
"Through many efforts over decades we were able to reduce tobacco use among teenagers," Wein said. "Unfortunately, the introduction of nicotine to our children through e-cigarettes reverses much of this hard work."
Most vaping products contain nicotine, the addictive drug in tobacco products. They may also introduce dangerous chemicals into the lungs, such as ultra-fine particles, heavy metals and volatile organic compounds.
Wein said some vaping products which have flavors such as "cotton candy" appear to be aimed at children. He urged parents to take a very skeptical view of vaping.
"This is an opportunity for young people to become addicted to nicotine," he said.