How this "beach wedding" came to the fourth floor of TGH
Published: Oct 25, 2019
By Curtis Krueger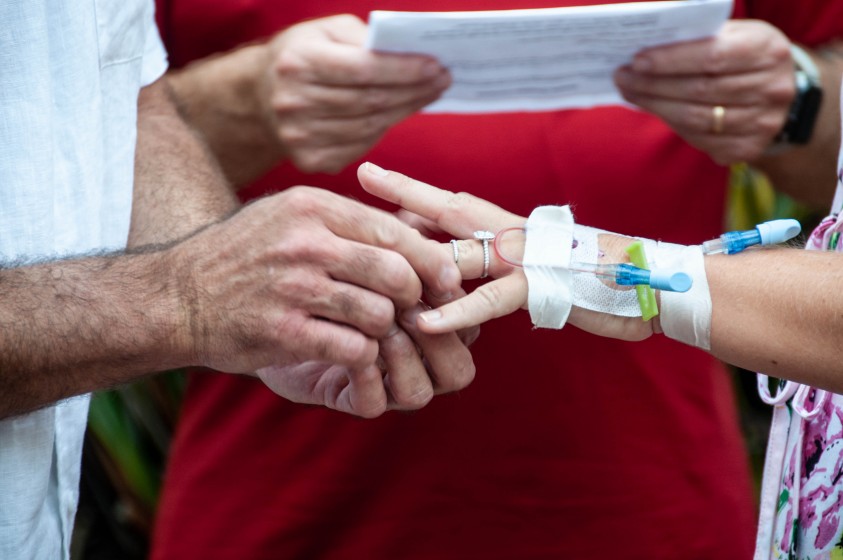 Nurse Manager Danielle Brennan was making her daily rounds in Labor and Delivery, checking each patient and asking about their care at Tampa General Hospital.
But one woman stopped Brennan in her tracks just by making one comment. The patient said, "I was supposed to get married today."
Brennan soon learned that Liz Halperin had been scheduled to marry Kevin Tempel on Redington Beach that Friday night, June 21. But instead, Halperin had been diagnosed with preeclampsia, a potentially life-threatening pregnancy complication. She was transferred from another facility to Tampa General Hospital because of the advanced care she and her baby could receive.
Even before she knew the whole story, Brennan vowed one thing.
"I thought, this day cannot pass without a celebration," she recalled.
Things moved quickly after that. Brennan and nurses bought flowers from the gift shop and began decorating Halperin's room.
"They were so sweet about it," Halperin said.
When they heard family members were talking about having the wedding that day after all, TGH team members suddenly moved into wedding-planner mode.
They began decorating the fourth-floor patio by Labor and Delivery for a celebration. They welcomed family members as they began filtering in.
With the beach wedding called off, Halperin's father, Gary Woodward, became a notary just so he could officiate at the ceremony. After he declared "you may kiss the bride," more than two dozen TGH team members helped cheer them on.
One was nurse Lauren Johns. She had actually been at home about 5 p.m. Friday when someone called her in Land O'Lakes to let her know what was happening. She drove back to TGH because she didn't want to miss it.
"I thought, for us to be able to put together a wedding in a few hours, it was just amazing," Johns said. "That's the Tampa General way."
"It's just been amazing," Tempel said .
Baby Bryson was born two days later at 3 pounds, 6 ounces, and gained strength for several weeks in the TGH NICU.
Brennan, the nurse manager, has a simple way of summing up the team that turned a potentially sad day into a wedding celebration.
"This is what world-class organizations do," she said.