He can't walk or breathe on his own – but this honors graduate knows how to achieve
Published: Oct 31, 2019
By John Dunn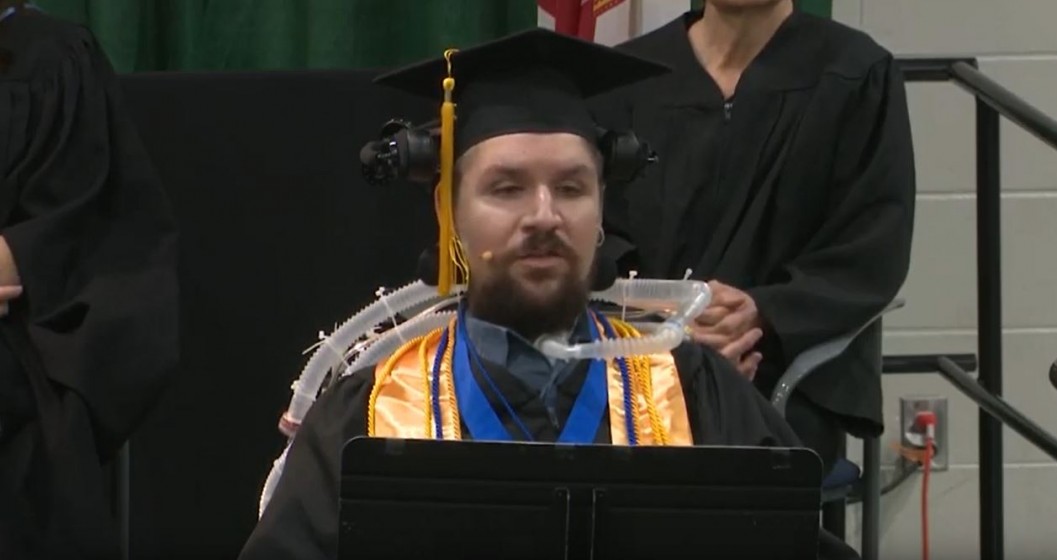 Still the storm unrelenting, pushed us to our limitations,
We faced the beast head-on,
Yelling out our battle cry, of unyielding determination.
This verse is from "Unrelenting Determination," a poem by Jeff Paradee that he read at his graduation from Lake Sumter State College earlier this year. It would have been hard to find anyone in that auditorium with more experience weathering storms and facing down a beast – a beast that stole Paradee's ability to walk, use his limbs and even breathe on his own.
Yet here he was, 13 years after he first enrolled, graduating summa cum laude with an A.A. degree – all due to that unyielding determination and willingness to ask friends and family for help. He even delivered an inspiring commencement speech.
The beast Paradee battled is called Duchenne muscular dystrophy, a genetic disorder that usually strikes early in life and causes progressive muscle degeneration and weakness.
 Tampa General Hospital has been his ally in this struggle for more than a decade.  
He was diagnosed in 1991 and can still recall the key dates in his medical journey.
"My childhood was normal. I ran around and played," said Paradee, 31. "On February 1, 1999, I stopped being able to walk."
He went from using a walker to a manual wheelchair. As his arms got weaker, he switched to an electric wheelchair. By 2005, he could no longer feed himself or lean forward in his chair.
It didn't end there.
"I was in college in October '06 when I started coughing and not feeling good, feeling real tired," he said. "I told my mom I wanted to wait until the term was over to go to the doctor. One day in December I fell asleep and my lips and hands turned blue."
His mother took him to a local hospital, where his blood pressure was 66 over 83. "They thought the machine was broken," Paradee  said. They sent him home, but the same thing occurred. A series of tests discovered the culprit was Stage 4 heart failure. He now needed a heart transplant.
He came to TGH and into the care of Dr. Debbie Rinde-Hoffman, medical director of the heart transplant program. Under her care, Paradee was stabilized and placed on the transplant list for a new heart.
"He had significant physical disabilities…he is vent-dependent, but despite all that he has the most unbelievable attitude you can imagine," Hoffman said. "I just think it's amazing what people can do when they have the drive, the understanding and the family support to see them through."
Paradee waited on the transplant list for six months, which included one false alarm after doctors discovered that a heart meant for Paradee was, in his words, "a dud." But on June 28, 2007, he got his new heart during transplant surgery at Tampa General.
It was such a life-altering experience that Paradee now celebrates two birthdays.
But the story doesn't end with the transplant – the beast was poised to strike again.
                Thrashing its power about, we charged on,
 We fell, got up, and fell again learning to persevere,
 With experience we fought on,
By 2008, Paradee could no longer hold his textbooks or his phone. He couldn't engage in some of his favorite past times, like video games and painting. He dropped out of college and sunk into depression. Fiercely independent, he had refused help from his family and friends.
Then, on July 12, 2013, he went into respiratory failure. He spent two months at Tampa General and now relies on a ventilator. He had fallen, but  learned to persevere.
"I realized I could get busy dying, or get busy living," he said, quoting a line from the movie, Shawshank Redemption.
He re-enrolled in college. He learned the value in allowing his mother to accompany him to his classes to, among other things, take notes and carry his books. This past May, he graduated with his two-year degree. He has started painting again with a special brush that he holds in his mouth. And his research led him to a device known as a QuadStick that has allowed him to resume playing video games.
During his commencement speech, Paradee told the audience, "Whatever happens in your life, never let anyone tell you what you cannot do, never let someone tell you your limitations."
He added, "Nobody can take away your knowledge. As long as you have knowledge, you can achieve anything you put your mind to."
And at this moment, it was clear that Paradee's unrelenting determination had struck a chord -- his fellow graduates gave him a standing ovation.