TGH innovates with patients' needs in mind
Published: Nov 8, 2019
By Susan Shulins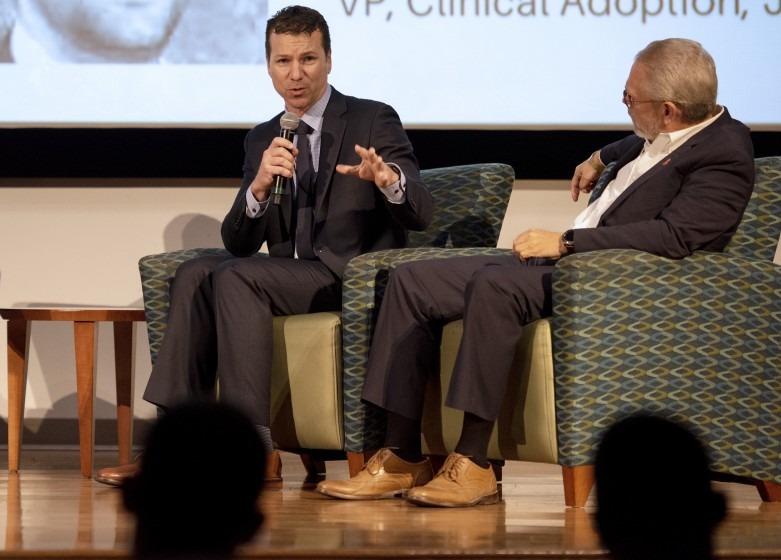 To be successful, today's health care innovations must be made with patients' health care needs in mind, according to speakers at a recent conference on health care innovation. 
"Innovation starts with the patients. It's patient-centric," said Jason Swoboda, associate director of emerging technologies and health innovation at Tampa General Hospital. Swoboda was a panelist during the Healthcare Leadership panel discussion at the University South Florida as part of the Disrupt the Bay event to benefit children's cancer research.  
Swoboda was among six health care leaders who gathered to discuss new and emerging technologies.
"We need to get back to why we do what we do and deliver quality care to our patients," he said.
 "When you look at innovation at TGH and look at how important quality outcomes, patient satisfaction, provider and team member engagement, and cost reduction are – that's the true north for good innovation," he said.
One example is a new pilot program TGH has launched with OnMed. The company provides OnMed stations that allow people to see and talk remotely to a health care provider on a large screen. Patients can get a diagnosis and even buy their medications at the station. 
"Telemedicine has promise to deliver the right care at the right time conveniently," Swoboda said.
Another way Tampa General is innovating to make health care more convenient for patients is with a new house call program – Urgent Care at Home. Patients in certain areas such as South Tampa and Riverview can call 813-844-8888 and a medical provider will go to their home for a consultation.
At Tampa General, another fundamental part of innovation is teamwork.
Earlier this year, the hospital launched its new CareComm center, becoming the 4th hospital in the world to open a clinical command center in partnership with GE Healthcare. The center uses artificial intelligence and predictive analytics to improve and better coordinate patient care at a lower cost. It features 38 large screen computer monitors, 20 artificial intelligence apps, 32 work stations and a multi-disciplinary clinical team that includes doctors, nurses, and allied health professionals. CareComm staff use these resources to predict the needs of patients and team members before they arise, ensuring that rooms, equipment and medical professionals are available for patients when they are needed.
It all ties back to the hospital's vision statement: Tampa General Hospital will be the safest and most innovative academic health system in America.
- Photo by Tina Russell for TGH Health News