If sewing is your bag, we have a story for you
Published: Nov 29, 2019
By Ellen Fiss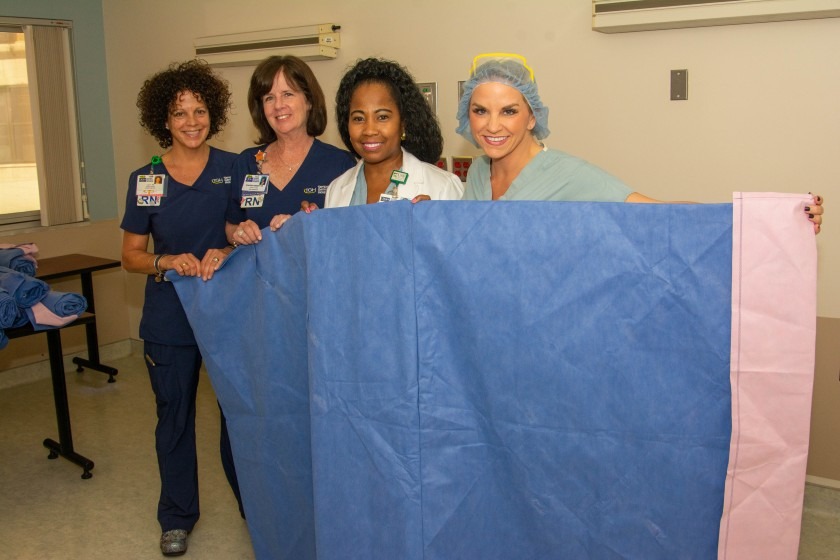 When chief nurse anesthetist Nicole Hubbard first heard that leftover operating room material could be turned into sleeping bags for the homeless instead of being thrown away, she thought it would be smart to adopt the program at TGH.
She had no idea how fast the sewing project would grow and how the news stories about the project would capture the hearts of the nation.
Every day, Tampa General uses about 2,000 trays of surgical instruments covered with blue wrapping material to keep the instruments sterile. In the past, once the instrument tray was unwrapped, the non-recyclable polypropylene-based material was thrown away. This waterproof, insulating material never touches the patient's body and is unsoiled, but there was no further use for it -- until now.
After Hubbard, who has been a TGH nurse for 16 years and assisted in thousands of surgeries, read on Facebook that another Florida hospital was recycling the material, she shared the concept with clinical educator Karley Wright, who loved the idea.
"This is truly where one man's trash becomes another man's treasure," said Wright.
Hubbard and Wright collaborated with Volunteer Services to look for volunteers who could sew.
Several team members stepped up, including Lucy Gurka and Claudia Hibbert, both of who work in Preadmission Testing at TGH. They came up with a simple pattern and started stitching.
"You don't have to be an exceptional sewer," said Gurka. "You just need a little extra time and have some fun with it."
The group needed more volunteers, so Tampa General posted a request for help on the hospital's Facebook page. A producer with ABC Action News saw the post and was intrigued. Reporter Sean Daly did a story. From there, the story spread like wildfire. The project has resonated with media outlets throughout the country who have shared this story, including the nationally syndicated Bobby Bones radio show.
 "I hope it's an inspiration across the United States to see how one small idea can really impact the community," said Hubbard.  Hospitals from across the country have reached out looking for the sewing pattern and tips on growing the program.  
The group has already stitched up dozens of sleeping bags and has a waiting list of volunteers ready to make more. The bags will ultimately be distributed to non-profit organizations serving the homeless.
Meanwhile, one night last week, a man walked into Tampa General's lobby and said he was homeless. He had heard about the program on the news.
He walked out with a sleeping bag.
In photo: Pictured, from left, Lucy Gurka, R.N.; Claudia Hibbert, R.N.; Karley Wright, RN-Education Specialist; and Nicole Hubbard, chief nurse anesthetist, CRNA
- Photo by Curtis Krueger, Tampa General Hospital