This surgery gave her a special gift: a happy Mother's Day
Published: May 9, 2019
By Curtis Krueger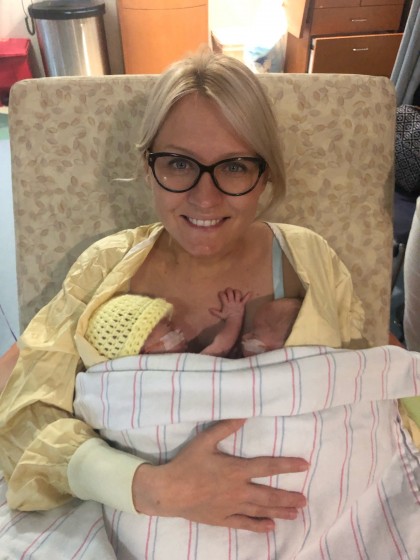 Anna North won't be going to a fancy restaurant for Mother's Day this year and she's really not worried about getting a card or flowers.
Her priceless gifts were already delivered – on March 26 at Tampa General Hospital.
Their names are Adrian and Matthew.
All she wants this year is to stay home with her family.
"It's the best holiday you can have," North said.
But it wasn't always clear that this Mother's Day would be a happy one.
North and her husband, Amir Harpaz, learned in January that their babies had a condition which affects identical twins in the womb. It's called twin to twin transfusion syndrome.
This occurs when blood supply through the placenta is distributed unevenly to the twins, so one baby gets too many nutrients and the other not enough. Without treatment, both twins can die.
"I don't think any parent can be prepared for something like this," North said of the scary diagnosis. "One week everything is wonderful and the next week they're telling you it's stage one twin to twin transfusion syndrome."
The couple's Fort Myers obstetrician referred them to Tampa General Hospital and the USF Health Fetal Care Center, one of the few locations in Florida where experts can perform a delicate surgery to correct the problem.
Things moved quickly as she met Dr.  Anthony Odibo and other members of the medical team, who explained the complex laser surgery that would increase the twins' chances of surviving.
Odibo is a professor of obstetrics and gynecology at the USF Health Morsani College of Medicine. He is director of the USF Health Fetal Care Center and practices at Tampa General Hospital, one of only two sites in Florida where this particular surgery is performed.
In surgery, Odibo used a fetoscope, a type of endoscope, which allowed him to view both fetuses inside the womb with a camera. He examined individual blood vessels within the placenta, and determined which ones were feeding Adrian, which ones were feeding Matthew, and which ones were shared.
He then used a laser to block off the vessels that were shared to make sure both babies were getting the right amount of nourishment.
"They are a highly committed family who showed up for every appointment and learned about the risks and benefits of the procedures," Odibo said.
North said she was comforted during this process because of the way the Tampa General-USF Health team helped her understand the entire process, including the risks and possible complications.
"They made me feel like part of their team.  At Tampa General, I think because it's a research hospital, they're really involved in your case and you can tell they really care," she said. "They really make sure you know every step of what is happening, they make you comfortable with everything."
Her surgery went well, but because of the complications, Odibo explained that it was likely her boys would be delivered prematurely and spend some time in the Tampa General Hospital Neonatal Intensive Care Unit.
The boys were born on March 26, after 29 weeks of gestation, and went straight to the NICU, where they received around-the-clock care. North lived for more than a month at the Ronald McDonald House next to the hospital. She spent her days at the NICU, separated temporarily from her husband and their 8-year-old son Danny, who remained in Fort Myers.
She said the NICU nurses were wonderful, caring for the tiny babies as well as educating parents on how to care for them.
But nothing was better than having the boys released from the hospital on May 1 and going back home. And that explains her Mother's Day plans.
"We missed each other so much that all we want to do is be together," she said. "To be one big family."