First patient is "very impressed" with new surgical robot
Published: May 23, 2019
By Curtis Krueger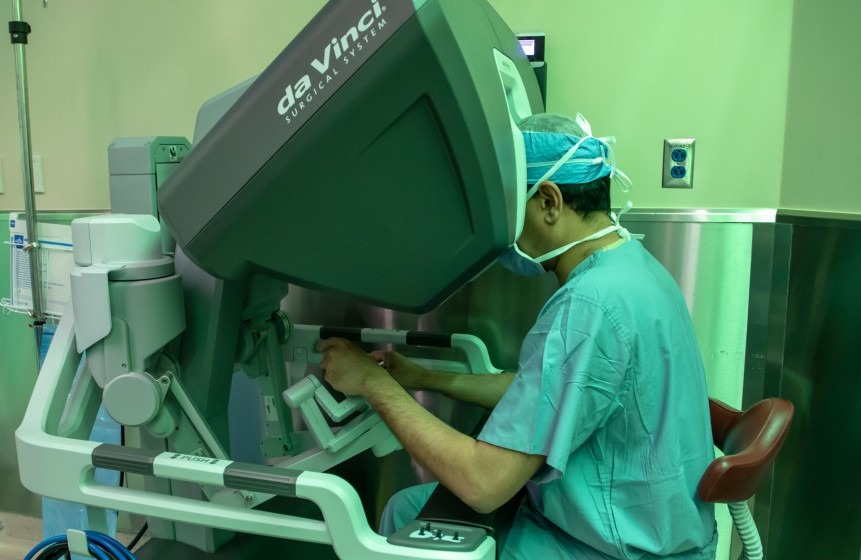 Eddie L. White Jr. was surprised when he learned he might be the first person in Florida to have an operation with a new robotic surgery system called the Intuitive da Vinci SP.
But the more he listened to the surgeon who would be performing his prostate operation at Tampa General Hospital, the more interested he became.
Dr. Ravi Bukkapatnam, Tampa General's immediate past chief of staff, explained how the new robotic device would allow him to perform prostate surgery in a minimally invasive way. Specifically, this robotic device can slip three surgical instruments into a patient's body through a single inch-wide incision. That compares to four incisions required by the current generation of robots.
The result: Less scarring, less pain and less time for recovery.
"I kind of liked the idea after he explained it," White said. "I was very impressed with this machine."
It might sound strange to hear of a robot in the operating room, but the term can be a bit misleading. An expert like Bukkapatnam, who is board-certified in urology, is always at the controls of a machine like this one. In a sense, this system is a high-tech extension of the surgeon's hands.
White had never undergone surgery before. But he was relieved that after waking up after the operation, he was able to move around that very evening.
"Within a couple hours I got up and started walking," he said.
White stayed at TGH for two days and one night, and took pain medication twice after the operation. He had one more dose of pain medication when he got back home. But after that, he recovered rapidly and felt he did not need it. Walking was difficult immediately after the operation, but he was getting around well within days.
Bukkapatnam performed the operation with assistance from Dr. Mohit Sirohi on April 4, 2019. It was the first time this robotic system had been used in Florida. Tampa General Hospital leaders are excited about the technology, because it's better for patients who have prostate cancer or need other urological procedures.
 "When we're taking care of patients who already are dealing with a difficult diagnosis, it's critical to offer them any technology that could provide any kind of improvement or more rapid recovery," Bukkapatnam said.
In 2008, Bukkapatnam became the first surgeon to perform robotic surgery at TGH. The hospital now has four previously issued models of da Vinci robots and uses them routinely for a variety of complex procedures.
White summarizes his experience this way: "It's like night and day. He cut me and a couple days later I didn't have pain."
TGH photo by Daniel Wallace