Medical 3D printing: Tampa General Hospital and USF Health use advanced imaging technologies to improve surgical techniques
Published: Jul 8, 2019
By Curtis Krueger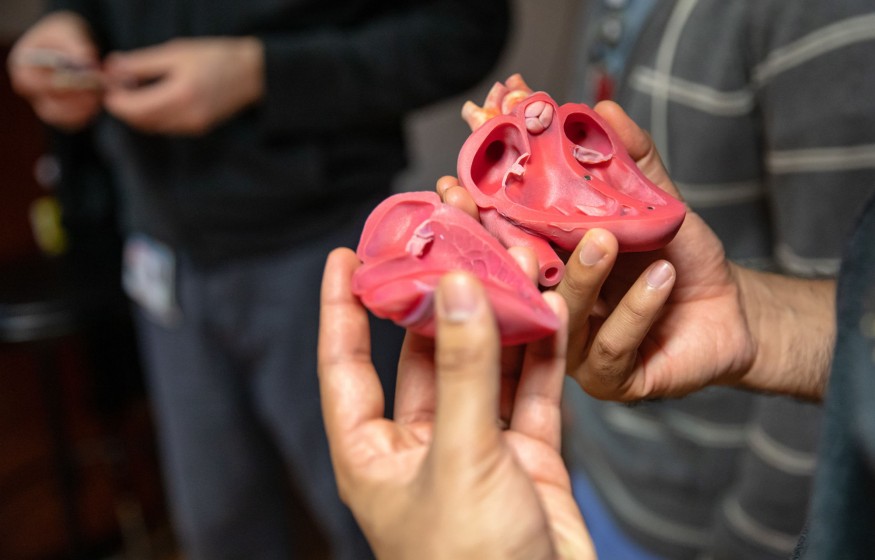 TAMPA, Fla. -- There's something dramatic and innovative occurring as Dr. Fadi Matar guides a catheter into a heart at Tampa General Hospital and carefully places a tiny plug to repair a hole.
What's innovative is the heart itself – it's made of plastic and was created in a highly sophisticated 3D printer.
This gray plastic heart is an example of "clinical 3D printing," a major innovation that is being pioneered at the USF Health Morsani College of Medicine and Tampa General along with other state-of-the-art healthcare institutions nationwide. 
"It's potentially revolutionary," Matar said.
Clinical 3D printing means this is not just a plastic model, but a replica of a living heart or other body part from a real patient – accurate in size and shape to within one hundredth of an inch.
The accuracy means surgeons can use replicas of hearts, other organs and bones to visualize and practice operations in ways that were impossible just a few years ago.
"We've been able to save lives, cut operating times by hours and make things more efficient and safer," said Summer Decker, Ph.D., USF Health Associate Professor of Radiology and Director of 3D Clinical Applications.
Matar, for example, was practicing and evaluating a potential heart operation. The operation would call for him to insert a catheter through a major vein and into the patient's right atrium, and then into the left atrium. He would then place a surgical plug into a hole near the patient's mitral valve.
The plastic heart was helping Matar as he evaluated different aspects of the operation, including which sized surgical plug would be best.
In another example, one TGH patient had half of their face shattered by a gunshot wound. The medical team used CT and MRI scans to take detailed images of the other side of the patient's face, which was not injured.
Eventually, the mirrored normal side was used to create a precisely formed model which allowed doctors to reconstruct the damaged side of the patient's face. This was still a delicate and precise operation, but far less complex and time-consuming for the patient because of the 3D printing.
Reducing operating time is a good safety measure, because it shortens the time patients are under anesthesia.
The printer also has been used by neurosurgeons to evaluate complex spinal column surgeries.
The 3D printing is an example of the benefits of the partnership between USF Health's medical school and Tampa General and the close collaboration between departments like Radiology and Surgery.
USF Health Radiology uses several 3D printers, including the advanced Stratasys J735, which is housed at USF Health's South Tampa Center for Advanced Healthcare in the Department of Radiology next door to Tampa General, and was the first such printer in use in the Tampa Bay area.
This collaboration between USF Health and Tampa General happens in real time, with low-tech and high-tech methods. One recent morning, Decker got a text on her cell phone from a neurosurgeon. He wanted to know if he could send her CT and MRI data on a patient with neck injuries. Before noon, she and USF Health Radiology biomedical engineer and Assistant Professor Jonathan M. Ford, Ph.D. had used the data to prepare a 3D PDF, a preliminary step to determine if printing a 3D replica would be useful.
"We can move very quickly," Decker said.
Decker is a leading force in the clinical 3D printing innovations in Tampa Bay, and is nationally and internationally known for her work in the field. Her doctoral dissertation and professional work have been aimed at validating the accuracy of 3D printed replicas of bones, internal organs and even other structures such as tumors.
More academic study is under way to evaluate the overall effectiveness and success rates of surgeries performed with the benefit of 3D printed replicas.
The use of 3D printers not only helps surgeons decide when to operate, it helps them decide when not to. Helping patients avoid unnecessary surgeries is an important part of medicine, and 3D printing is allowing surgeons and patients to make the best-informed choices possible.
The technology is improving all the time. For example, USF's new Stratasys J735 can print different materials and different colors in the same object. The team recently fashioned a spinal column replica with bony vertebrae made from stiff plastic, and discs between the vertebrae made from more flexible material, each printed in different colors.
"This printer can print multi-materials, multi-density and multi-colors," Decker said.
Many at USF Health and Tampa General believe the uses of the technology will continue. Matar said he has ideas he would like to explore on whether 3D printing can be used to repair the heart's mitral valve.
According to Dr. Todd Hazelton, professor and chair of USF Health Radiology, "As the imaging experts and the storehouse of patient imaging data, radiology is positioned to play a key role in the advancement of this emerging technology, which has great potential to improve the health outcomes of patients as well as their understanding of their disease."
"This is really a unique place," said Dr. Raj Kedar, of Tampa General Hospital, who also is a USF Health radiology professor. "USF and Tampa General Hospital have really helped develop this."
Photos by Daniel Wallace, TGH Health News