One cancer, three generations: three family members undergo the same cancer surgery
Published: Oct 8, 2018
By Michelle Bearden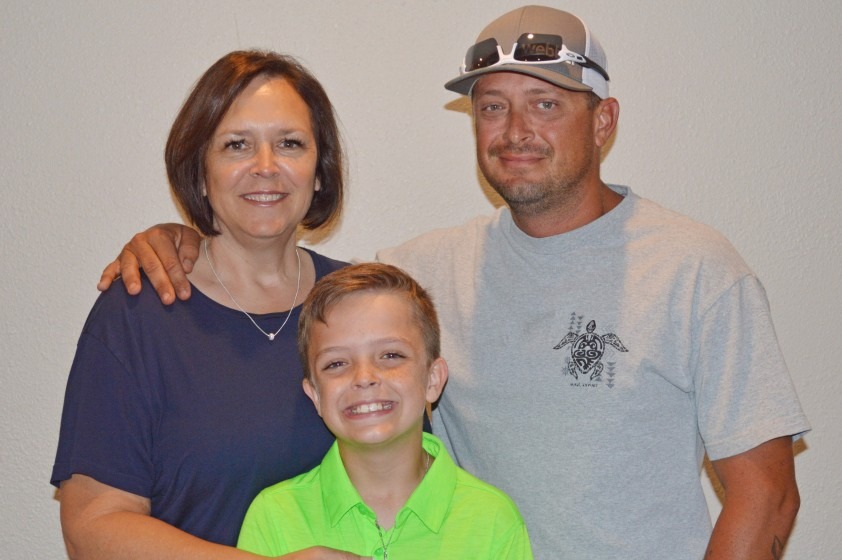 When Tammy Becknell's cooktop blew up in her face, she was lucky to escape serious injury. But she ended up at her doctor's a week later, concerned that her persistent hoarse throat was caused by inhaling gas.
Oddly enough, the explosion may have wound up saving Becknell's life – and the lives of her son and grandson as well.
An alert physician found suspicious thyroid nodules on Becknell's scans and sent her to an endocrinologist. After genetic testing, Becknell got the diagnosis: She had early-stage medullary thyroid cancer.
"I hadn't a clue," says Becknell, a business owner and Realtor in Royse City, Texas. "I had no signs or reason to be suspicious anything was wrong with me. I don't want to think about what could have happened without that accident."
Medullary thyroid cancer accounts for about 3 percent of all thyroid cancers. Untreated, it can be very aggressive, spreading to lymph nodes and other organs.
Becknell, 53, went to Dr. Gary Clayman, then the leading head and neck thyroid surgeon at the University of Texas M.D. Anderson Cancer Center in Houston.  Clayman removed her thyroid and eight lymph nodes in a successful March 2016 surgery.
Because this cancer is often hereditary, other family members were subsequently tested. One of Becknell's three grown children, Steven Lamb, 36, and his son, DeWayne "Gage" Lamb, 12, both carried the gene.
"It rocks your world to learn something like this," she said. "This could have brought devastation to three generations of our family."
***
At Becknell's urging, the family agreed to again turn to the doctor they trusted with this type of rare cancer. Since Clayman moved in fall 2016 to establish the thyroid surgery program at Tampa General Hospital's Thyroid & Parathyroid Institute, the family traveled to Tampa.
Father and son got their thyroidectomies back-to-back at TGH in December. Both of their biopsies revealed evidence of the cancer at an early stage. Neither had noticed any symptoms of the disease lurking within.
"That's the way it is with most thyroid cancers," Clayman says. "It's not the symptoms that give it away. You usually find out about it in a serendipitous manner."
Having three family members with medullary cancer that was detected and treated prior to spreading is "highly unusual," Clayman said.  And his words carry weight: Clayman has performed more than 400 thyroid cancer operations a year for more than two decades, on patients ranging from 6 months old to over 100.
Removing the thyroid – the butterfly-shaped gland that produces hormones which regulate the body's metabolism – is the first step in MTC treatment. Patients also must have regular blood tests to monitor their thyroid function and calcium levels, and undergo scans for the rest of their lives. They also must take daily hormone pills.
"We tell them that with this surgery, they will never develop this cancer again," Clayman said. "But medicine is not guaranteed. It's very important to follow the other precautions."
***
Amber Gardner, Gage's mother, will always be grateful that genetic testing revealed her son's cancer at the earliest stage.
Her advice: Do your homework and don't get overwhelmed.
"The idea that your child is facing cancer is devastating. But it's important to stay positive," she said. "I follow my lead from Gage, who takes his medicine and accepts that scans and blood tests will be part of his life from now on. He's back to playing baseball and riding his dirt bike. He doesn't have time for pity parties."
That attitude is shared by his father, who was back at his job as a highway paving foreman within weeks after surgery.
"It was almost as if it never happened, the surgery was that easy. I had no pain at all," Lamb said. "I admit, I was scared to death before going to the hospital. But Dr. Clayman is just so awesome. He knows how to put you at ease and is there for any questions you have."
While this type of thyroid cancer is extremely rare, the same cannot be said of thyroid cancer in general.
The number of cases has tripled the last three decades, faster than any other cancer, according to the American Cancer Society.  It's more commonly diagnosed at a younger age. Nearly 3 out of 4 cases are found in women.
Still, its death rate is relatively low compared to other cancers. It's predicted some 54,000 people will be diagnosed with thyroid cancer this year, with an estimated 2,000 deaths.
Since this cancer has few symptoms in its earliest stages, Clayman suggests paying close attention to any tenderness or swollen glands in the neck. Ask your regular doctor to do a neck examination at your annual physical. Request an ultrasound if you have reason to be alarmed. "Most patients will never deal with radiation or chemotherapy," Clayman says. "We stress personalized care and a specific surgical technique tailored to the tumor and condition to ensure the very best outcome."
For Tammy Becknell, her son, and grandchild, it's a happy ending so far.
"Things happen for a reason. I can't explain why my stove picked that day to blow up, but it turned out to be a lifesaver," she said. "God certainly works in mysterious ways."