Better health in the Hundred Acre Wood: ZDoggMD charts a vision for health care
Published: Mar 5, 2018
By Lisa Greene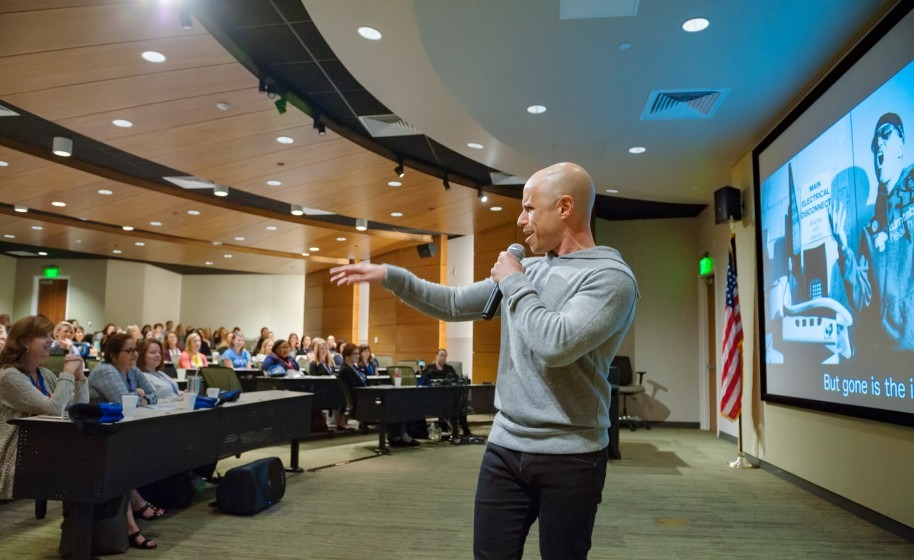 Imagine a health care visit in which patients look like Winnie the Pooh, beleaguered doctors have become soulless "Doc Vader" machines, and Hogwarts owls have to fly in to help isolated medical records talk with each other.
You've entered the world of ZDoggMD. In real life, he is Dr. Zubin Damania, a doctor who uses his flair for comedy and hip hop to satirize the flaws of today's healthcare system and advocate for a better and more patient-friendly model of care.
Damania spoke Friday at Transplant by the Bay, an annual conference for medical professionals sponsored by Tampa General Hospital. Blending comedy sketches with rap songs, Damania poked fun at the problems in today health care system.
How would today's doctor handle patient Winnie the Pooh? First, ZDogg said, he might notice "a black necrotic nose - concern for likely cocaine issue."
Next, of course, there's that tummy. "Consider him for early metabolic syndrome with insulin resistance."
Not to mention Pooh's hand in the honey jar. Pooh's blood sugar readings spiked so high that "the glucometer just says OMG."
As ZDogg described the visit, each of Pooh's dire medical conditions got labeled with medical billing codes, but the doctor was frustrated by trying to record Pooh's visit using  two medical record systems that didn't talk to each other. For good measure, patient Pooh asked questions based on questionable medical advice he had heard on Dr. Oz.
"In this wonderful health care system that we have, I have 25 minutes to treat this new patient, "Visit 9923Whatever, because I see him as a series of codes, because I do, in fact, live in the Matrix," Damania joked.
Ultimately, Damania laid out his vision for "Health 3.0," a model that would combine the best aspects of yesterday's deeper doctor-patient relationships ("Health 1.0") and today's higher-tech system ("Health 2.0") that provides more evidence-based medicine, but sometimes fails to listen to patients.
So what would Health 3.0 look like for patients?
"This era 3 of health care is going to re-personalize your care, so you're finally looking at your doctor, or your nurse, or your nurse practitioner in the eye again," Damania said after his talk. "And they're going to know your unique story and data to bring to bear all of the technology and advancements of the past 100 years to your unique story."
The end result, said Damania, will be more cooperation among health care teams and more time for patients.
Damania's advocacy for improving health care is on target, said John Couris, Tampa General's president and CEO.
"ZDogg's message about adjusting and changing the way care is delivered makes all the sense in the world," he said. "A lot of our technology today does sit between the patient and the doctor, where we need to work on being more patient-centric and more caregiver-centric. The answer is that it can be more of a collaboration with administrators, doctors and nurses. Together we are stronger and can be more effective advocates for our patients."
TGH's transplant team has that kind of team spirit, Damania said.
"Seeing how they were such a team and supporting each other was inspiring to me," he said.
Damania spent a decade as a hospitalist at Stanford and began creating videos under the rap moniker ZDoggMD to talk about his frustrations with the health care system. He's become a social media sensation in the medical world, with more than a quarter of a billion views for his videos.
A few years ago, Damania created an ambitious health care startup, Turntable Health, which offered a new model for primary care. The Las Vegas clinic used a team approach to ensure that patients' needs were met and voices were heard. Health coaches counseled patients, offering more one-on-one time than doctors could. A teaching kitchen made it easy to demonstrate health recipes. An on-site yoga instructor helped patients unwind.
In part because of difficulties with insurers, Turntable Health eventually closed its doors. But for Damania, it provided valuable lessons.
Working together, Damania said, today's health care providers can create Health 3.0.
"This is what it's about, to bring us back to this sacred space," he said, before turning it back to Pooh and his pals. "You guys have to think of yourselves as influencers. We can make the Hundred Acre Wood look like this."
- Photos by Daniel Wallace, TGH Health News