How stressed-out parents can beat the odds and cook homemade meals
Published: Jun 14, 2018
By Mike Brassfield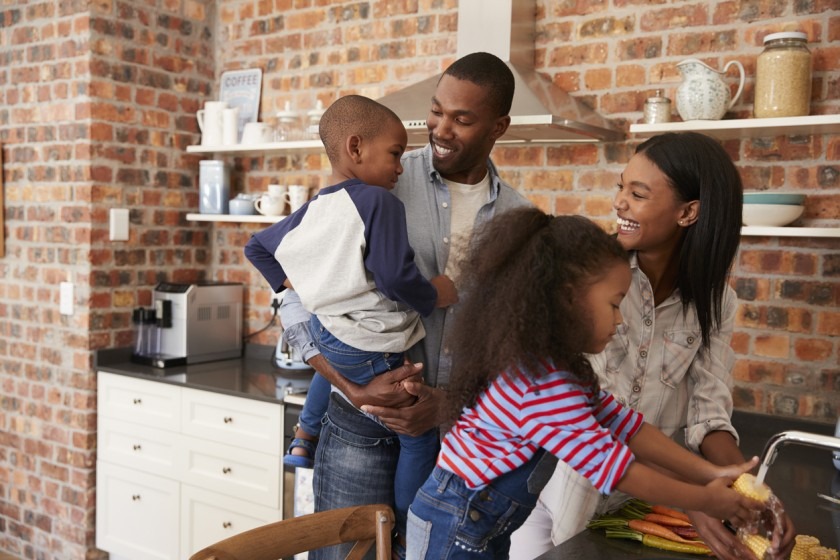 Working parents, you know how it is.
You get home at the end of another hectic work day. You're tired and stressed. Sometimes the last thing in the world you want to do is cook a healthy, nutritionally balanced, homemade dinner that includes all of the recommended food groups.
McDonald's is so much easier. Or maybe Wendy's or KFC or Burger King. Really, anything fast and easy.
Don't feel bad. You're far from alone here.
A recent pediatric health study hones in on this phenomenon: On days when parents are feeling stressed or depressed, their kids are noticeably less likely to get a homemade meal at the dinner table.
Instead, stressed-out parents turn to fast food or frozen dinners.
"I think it's true for adults themselves, and if you're a parent, it trickles down to the whole family," says Dr. Amy Weiss, who treats overweight adolescents in her work as a pediatrician at the TGH + USF Health Bariatric Center, located at Tampa General Hospital. "If a person has a stressful day at work, they're less motivated to make something healthy for dinner."
It's only human nature, but it makes a big difference. Despite the fast-food chains' attempts to appear more health-conscious, fast food isn't nearly as healthy as a good, home-cooked meal.
"It's less nutritious and has more calories," said Weiss, who also is an associate professor in the USF Health Morsani College of Medicine. "People tend to overeat when they're eating fast food, so you tend to eat more calories than you normally would."
It also influences us to eat less-healthy kinds of food.
"If you're going through the drive-through," the Tampa General pediatrician said, "typically you're thinking about hamburgers and French fries and milkshakes instead of filling half of your plate with vegetables like the USDA recommends."
Based on her lengthy experience with Tampa Bay families, Weiss offers a fundamental piece of advice: Planning ahead helps a lot. A little meal planning goes a long way.
For overburdened parents, grocery shopping on the weekend and mapping out meals in advance is a smart way to supply a family diet of healthy lean proteins, fresh veggies and whole grains.
"Any meal prep you can do — the more planning ahead you do, the better," Weiss advised. "Bake chicken breasts, portion it out, put it in containers. When you get home at the end of the day, tired and stressed, it makes it so much easier if you've planned ahead."
The recent study, which was published in Pediatrics, the official journal of the American Academy of Pediatrics, offers fresh evidence of the link between stress and eating behaviors.
Researchers observed 150 children from ages 5 to 7 at home with their families. They watched meal preparation and reviewed data from food diaries, interviews and surveys. They also used various methods to assess parents' moods and stress levels.
Most of the parents surveyed were mothers, with an average age of 35. More than half worked at least part-time.
About half of the mothers were married, and about 65 percent of the households had two parents.
After doing a statistical analysis, researchers were able to show that each increase in parents' stress levels or depression was associated with a decrease in the number of homemade dinners.
Bottom line: If you know you're heading into another tough work week, take steps to buck the trend. Have that chicken and broccoli ready to go.
And if you really need help? You've got little sous chefs. Your kids can help with the safer tasks of meal prep, from assembling ingredients to making a salad and setting the table. You can get a little extra family bonding AND put together a healthy meal. And that's gotta lower your stress level.
***
Looking for healthy recipes to help feed your family? Check out www.tgh.org/news/all-recipes for healthy recipes from TGH dietitian and food blogger Jamie Vespa. Kid-friendly options include Low-Fat Apple Bacon Gouda Mac and Cheese and Spinach and Basil Chicken Meatballs. If you're especially crunched for time, try 15-Minute Mediterranean Chickpea Salad or 15-Minute Orange Maple Glazed Salmon. If you want to treat your kids to a healthier dessert, there's also a lightened-up Peanut Butter Chocolate Cheesecake that you can make the night before.