New heart gives her more time to love
Published: Feb 13, 2018
By Lisa Greene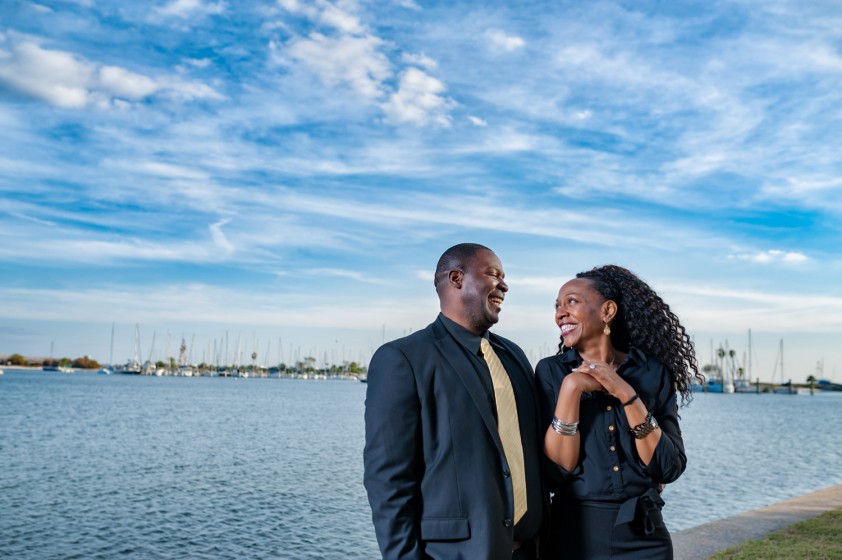 Tonya Cajuste still laughs about the peanut butter and jelly sandwich.
Even though she ate it on the morning she almost died.
Cajuste and her husband, JC, were getting ready for church one Sunday in November 2013 when she decided it was time for breakfast and made herself a PB&J – "because I'm not traditional," she joked.
Soon afterwards, she started feeling unwell, as if the sandwich were stuck in her chest. She tried drinking water, but it didn't help. She stood up, and that's when JC calmly told her: "Babe, I think we need to get you to the hospital."
She didn't know then that she had turned gray – "and he'd never seen that particular color on me."
Neither of them knew that Tonya's aorta, the largest artery in the body, was tearing apart. Or that she would ultimately need a double organ transplant in order to survive.
Tonya was taken to a hospital in Palm Beach, where she was rushed into surgery. Doctors there told JC that she had about a 10 percent chance of surviving the aortic dissection.
Tonya was no stranger to health challenges. Before the dissection, she had been living with kidney disease and had to have regular dialysis – or, as she called it, "life-alysis, because nobody wants to die three or four times a week." She was already waiting for a kidney transplant.
Still, the dissection took everything to a different level. Tonya made it through surgery, but the ordeal had damaged her heart. She had to have a device implanted inside her chest to shock her heart if it started to beat too fast. But that was a short-term fix. She would need a heart transplant as well as a new kidney, the Palm Beach doctors told her. They contacted three hospitals, asking if anyone would look at her case, "because things were dreadful, apparently," Tonya laughed.
Even for Tampa General, where patients with complex illnesses are transferred from around Florida, doctors knew Cajuste's chances were dicey.
"Her risk was huge," said Dr. Peter Berman, a transplant cardiologist at TGH. "We're talking a high-risk patient, even by our standards, and we only see high-risk patients. She was a level above that."
Still, Tampa General was the only hospital to say yes.
The Cajustes lived four hours away and had never heard of TGH. But they came to Tampa so that Tonya could be evaluated for a transplant. In December 2014, she was approved.
On January 20, 2015, she got the call that changed her life. JC drove to Tampa so fast that Tonya had to keep reminding him to slow down.
"Dude, I need a heart and a kidney," she told him. "I don't want any other parts. Please get me there safely."
Soon she was in surgery again, getting her new heart. She remembers waking up and giving JC a thumbs up. Then she went back into surgery to get her new kidney.
After the surgery, Tonya faced rehabilitation and some health setbacks along the way – including another tear in her aorta that required complex surgery to repair.
But today, while she still faces a somewhat higher risk of another aorta problem, Tonya is healthy, happy and has been able to return to work, finding a new career working for her local police department. She spent just over a year as a 911 operator – "hard work and 'heart' work," she said – and recently moved to working in the department's fiscal services division.
Anniversaries and birthdays are even better now. She feels blessed to have more time with JC. She's grateful that her parents didn't have to bury their daughter. She figures that now she'll get to see her son marry and have children.
"She's great, her husband's great, everyone loves them," Berman said. "They're a wonderful couple. He's incredibly supportive. He's been with her every minute of every day of every visit at her bedside and they just have a great relationship."
Tonya remains keenly aware that she is alive today because another family lost a loved one. That family has described her donor as a "sweet, kind, giving person."
"So I want to carry on that legacy too," Tonya said. "That person who gifted me with this. Their family doesn't get the benefit of seeing them, or hearing their laughter, or knowing they are touching lives. So for me, it's important to carry on a life-changing, life-touching, helping people kind of legacy."
Her case remains a touchstone for Berman.
"She's pretty remarkable," he said. "She's really come back to life after having such severe combined organ disease…She has overcome almost insurmountable problems."
Tonya also has special words for the health care workers who cared for her: "We are all connected in some way," she said. "And now we are all kind of woven together in this amazing tapestry, this amazing fabric that makes life. And you all, every day, you're weaving your fabric into someone's life. So whenever you get discouraged…I know a lot of people don't get to see the before and after. This is definitely the after. Transplantation extends life. And it makes lives better."
Photos by Daniel Wallace, TGH Health News