Hurricane stress? Here's how to cope
Published: Sep 14, 2017
By Michelle Bearden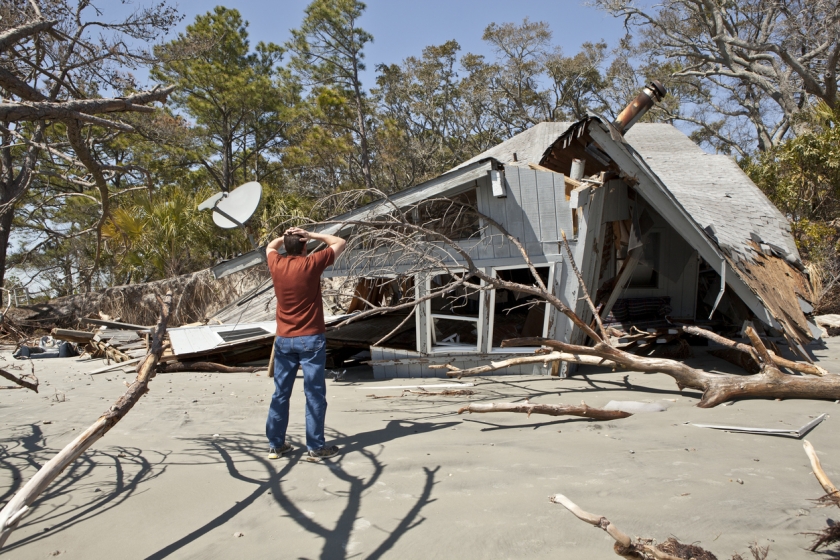 The good thing about hurricanes is that you can plan and prepare for them.
But all that planning and preparing for a possible monster storm can be downright stressful.
"There's no question about it. Fear and anxiety are absolutely contagious," said Jennifer McCain, PhD, a clinical neuropsychologist at Tampa General Hospital.
"We feed off each other. I see my neighbor boarding up his windows and putting out sandbags, and suddenly I don't think I'm doing enough."
And once Jim Cantore from The Weather Channel or CNN's Anderson Cooper show up in your city, it could trigger near-hysteria.
"Everyone has a different reaction," McCain said. "And whatever that reaction is, it's ok. Where we live, our past experiences, how we get our information, all play into it."
If you haven't felt like yourself in the days before and after Irma, you aren't alone. McCain and the Federal Emergency Management Agency offer these warning signs for disaster-induced stress.
Difficulty sleeping, concentration, communicating thoughts, and maintaining balance in your life.
Limited attention span, low threshold of frustration and confusion, poor work performance.
Reluctance to leave home and fear of crowds and strangers.
Tunnel vision, muffled hearing, colds or flu-like symptoms, depression and sadness, headaches and stomach problems.
Increased use of alcohol and drugs, abandoning healthy eating habits and inability to sleep.
It's even more difficult for children, who turn to adults, such as parents and teachers, in times like this. But if school is canceled and parents are struggling themselves, McCain said kids can resort to out-of-character behavior, such as bed-wetting, becoming more clingy, acting out and a prolonged focus on the weather.
The price of living in paradise means learning to live with the threat of hurricanes. The season is long – June 1-Nov. 30 – so it's best to fine-tune coping skills to keep sane when chaos erupts.
 Staying calm is sometimes easier said than done. Coping in the midst of the preparation and the storm's aftermath requires some effort, McCain said. She suggested staying informed with reliable information, taking care of your body through exercise and a healthy diet, and getting enough sleep.
"Routine is our friend," she said. "When we get off balance, everything suffers." It's also important to put off major decisions during this time and set aside time to have conversations with your children.
Native Floridian Donna Gem has lived through multiple weather events in her 57 years, but admits Irma did a number on her.
"It was all the waiting," said Gem, director of professional services for an information security company. "I hated all the uncertainty. Should I stay or should I go?"
The South Tampa woman, who lives in Evacuation Zone B, had other worries as well. She and her husband Alex have six cats, a five-bedroom house in Marathon in the Florida Keys – which is under contract to sell on Oct. 1 -- and a single-wide trailer on the banks of the Homosassa River in Homosassa Springs.
"It occurred to me that we could lose all three homes," she said.
In the midst of boarding up their South Tampa house on the day before Irma's predicted arrival, tensions heated up even more when their air-conditioning stopped working. Gem reluctantly gave in to her husband's insistence to go to their daughter's home in Wesley Chapel to escape the storm's potential wrath.  With cats in tow and "one bad attitude," Gem became an evacuee.
"I think I had a lot of frayed nerves that made me act a little crazy," she said. "But once we got there, we had a great time with family."
Irma did plenty of damage and caused a lot of power outages in the Tampa Bay area, but did not inflict the catastrophic nightmare many had predicted. That doesn't mean the aftermath is anxiety-free.
Once the adrenalin calms down and reality sets in, the second-guessing might begin, McCain said. Was I prepared enough? How come we escaped all the damage while others are now suffering? What about the next hurricane?
"It's okay to still be a little anxious. That's normal," she said. "But if you're around people who breathe anxiety, try to avoid them. Connect with people who bring a more positive outlook."
McCain said she intends to focus on the upbeat stories of neighbors helping neighbors, and all the altruism that comes out of disasters. She also will turn this into a teaching moment for her three sons, ages 12, 10 and 9, who will help with debris cleanup at their local golf course.
If stress symptoms continue after several weeks, McCain said that's the time to seek professional help.
Gem's sense of relief when Irma took a turn and bypassed Tampa was short-lived. While her Tampa and Homosassa houses suffered no damage, she still doesn't know if the Marathon property survived Irma's wrath. She's back to the same waiting game she endured before the hurricane's arrival.
And she can't stop thinking about the Key deer, turtles and all the human victims dealing with devastating losses. Lack of exercise and a steady diet of junk food haven't helped matters, either.
What will help relieve her stress?
"Turning the calendar to Dec. 1," Gem said. "The end of hurricane season can't come soon enough."