From misfortune, a journey of healing
Published: Sep 20, 2017
By Lisa Greene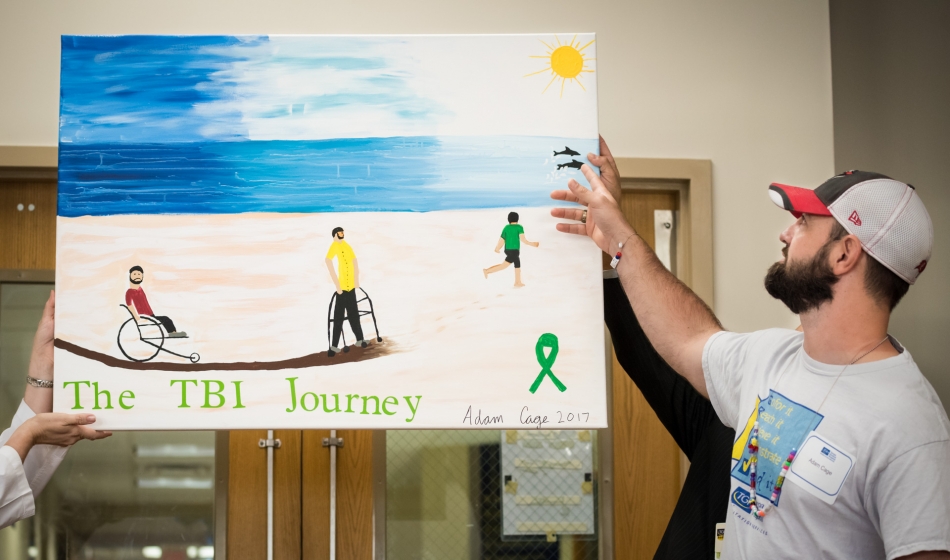 Adam Cage was sitting at a stoplight when he was hit by a box truck in 2013.
He's learned a few things since then.
"It doesn't matter who you are," he said Tuesday at a gathering of fellow rehabilitation patients. "Only how you accept where you are and move forward."
Cage spoke at Tuesday's Rehabilitation Patient Reunion at Tampa General Hospital, an event that gives rehabilitation patients a chance to reunite with their caregivers and share their experiences.
After the accident, Cage was in a coma for weeks and emerged with the left side of his body paralyzed. He also suffered a traumatic brain injury. He had to re-learn how to walk, how to move his left arm again, how to speak, and how to read.
"I would like to thank the nurses who kept me company on those long days of not understanding what I was doing and where I was," he said.
Eventually, Cage not only walked again, but also started painting. He brought a painting with him Tuesday that portrayed the stages of his recovery. The first portrait showed a main in a wheelchair, while the third showed a man running on the beach.
Christian Buscarino, 44, has had to undergo another form of rehab. After a tumor impaired his breathing, Buscarino underwent surgeries and then suffered infections that ultimately led to the removal of his larynx. He had to learn how to speak with the help of an external device, an artificial larynx that he jokingly calls "the voice-i-nator."
"I was very stubborn and adamant that I would never use this thing," he told the group.
Buscarino not only learned, but became so fluent in the way that he speaks that his jokes and inflections come through loud and clear. He hopes his experience will help others.
"If I can inspire other people who have challenges – everybody has something," he said. "You don't have to have a robot voice to have challenges."
Photos by Daniel Wallace, Tampa General Hospital
2017 Fall Rehabilitation Reunion Photo Gallery