As Hurricane Irma departs, baby Christopher arrives
Published: Sep 15, 2017
By Lisa Greene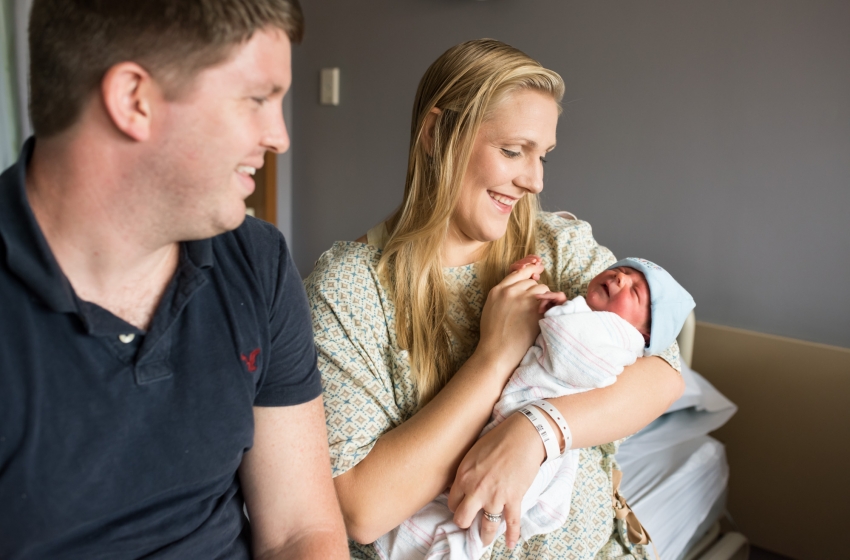 Tampa General Hospital Labor & Delivery nurse Katie Dean was already scheduled to work hurricane duty when Irma pushed towards Tampa Bay.
So she packed her sleeping bag and reported for duty – even though she was 37 weeks pregnant. With her second baby due Sept. 27, she figured going into labor was a distant possibility. She and her husband Dan made a plan, just in case. He vowed that Hurricane Irma wouldn't keep him from the hospital – not even if the Davis Island bridges were closed.
"He promised to swim across the water if I went into labor," she said.
Dean's bigger worry was that if too many patients were in the hospital, there wouldn't be an empty bed for her.
"I came in thinking I could potentially be sleeping on the floor," she said.
The couple also had to evacuate their St. Petersburg home, located just four feet above sea level. They were afraid it would flood.
"We even put our baby bassinet on top of our bed at home," she said.
Despite her worries, Dean decided her best option was to work during the storm. She was afraid that if she evacuated with her husband and their 2-year-old son, Connor, she would wind up at another hospital if she went into labor.
"I didn't want to be anywhere else," she said. "I trust my co-workers to deliver my baby."
Three other pregnant nurses made the same choice, knowing that Tampa General would be ready to handle any obstetric emergencies during the storm, said Courtney Hancock, nurse manager of Ante/Postpartum & Lactation Services.
"The commitment these staff members have demonstrated highlights what it means to be part of the Tampa General family," Hancock said. "The hurricane showcased their dedication to Tampa General and our patients and families."
As it happened, Dean made it through storm duty just fine – and the staff found a bed for her to sleep in, so she didn't have to sleep on the floor. Dean finished her hurricane duty and left the hospital Monday night, returning to her undamaged home.
But she was home for only a day when her water broke. The Deans headed back to Tampa General around 3:30 a.m. Wednesday, Sept. 13.
Christopher John Dean was born at 4:52 a.m. Wednesday weighing 7 pounds, one ounce and measuring 21 inches long. Both he and Katie are doing fine. By Thursday she and Dan were taking turns holding the new arrival.
Dan thinks baby Christopher looks like Katie. She's still laughing about how he arrived.
"I know, right? Labor and Delivery nurse delivers after hurricane," she said.
But right now, her real focus is on baby Christopher.
"Right now I'm not a nurse," she said. "I'm just a mom."
Photos by Daniel Wallace, Tampa General Hospital.