After flip gone wrong, boy stays hopeful, but warns other kids
Published: Sep 26, 2017
By Lisa Greene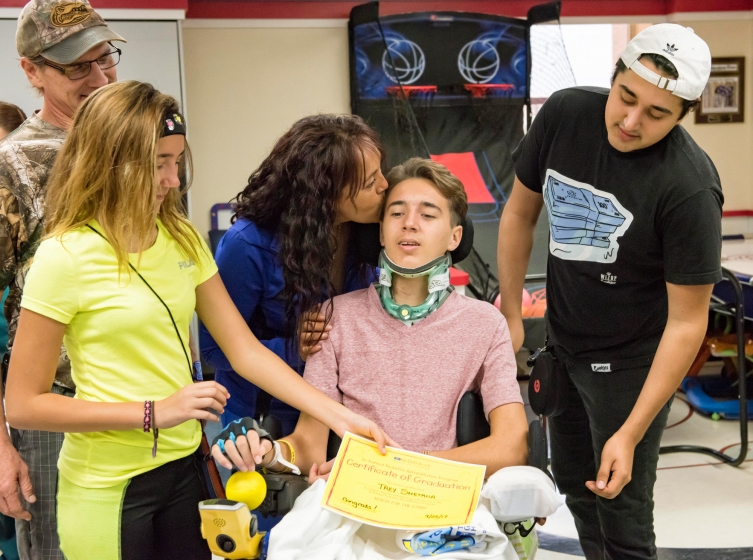 One moment, Trey Smetana was a normal 15-year-old, athletic enough to both play football and perform flips and tumbling runs.
All that changed in an instant in a bounce house at a church camp two months ago, when Trey tried to do a double back flip and severely injured his spinal cord. Doctors aren't sure of his long-term prognosis, but for now, Smetana has limited movement in his arms but can't move below his waist.
Trey was taken to Tampa General Hospital, where he marked a victory Monday after his two-month stay. He graduated from the hospital's pediatric rehabilitation program and headed home to Ocala. His caregivers honored him with an informal ceremony, presenting him with a graduation certificate, a T-shirt, and a cookie cake. They even sang the tune to "Pomp and Circumstance" for him.
"I'm gonna come back soon," he told his family and caregivers Monday. "I don't know when, but I am gonna come back soon, and I'm gonna come back walking."
Sitting in a power wheelchair and wearing a cervical collar Monday, Trey thanked his family and everyone who has cared for him during his stay.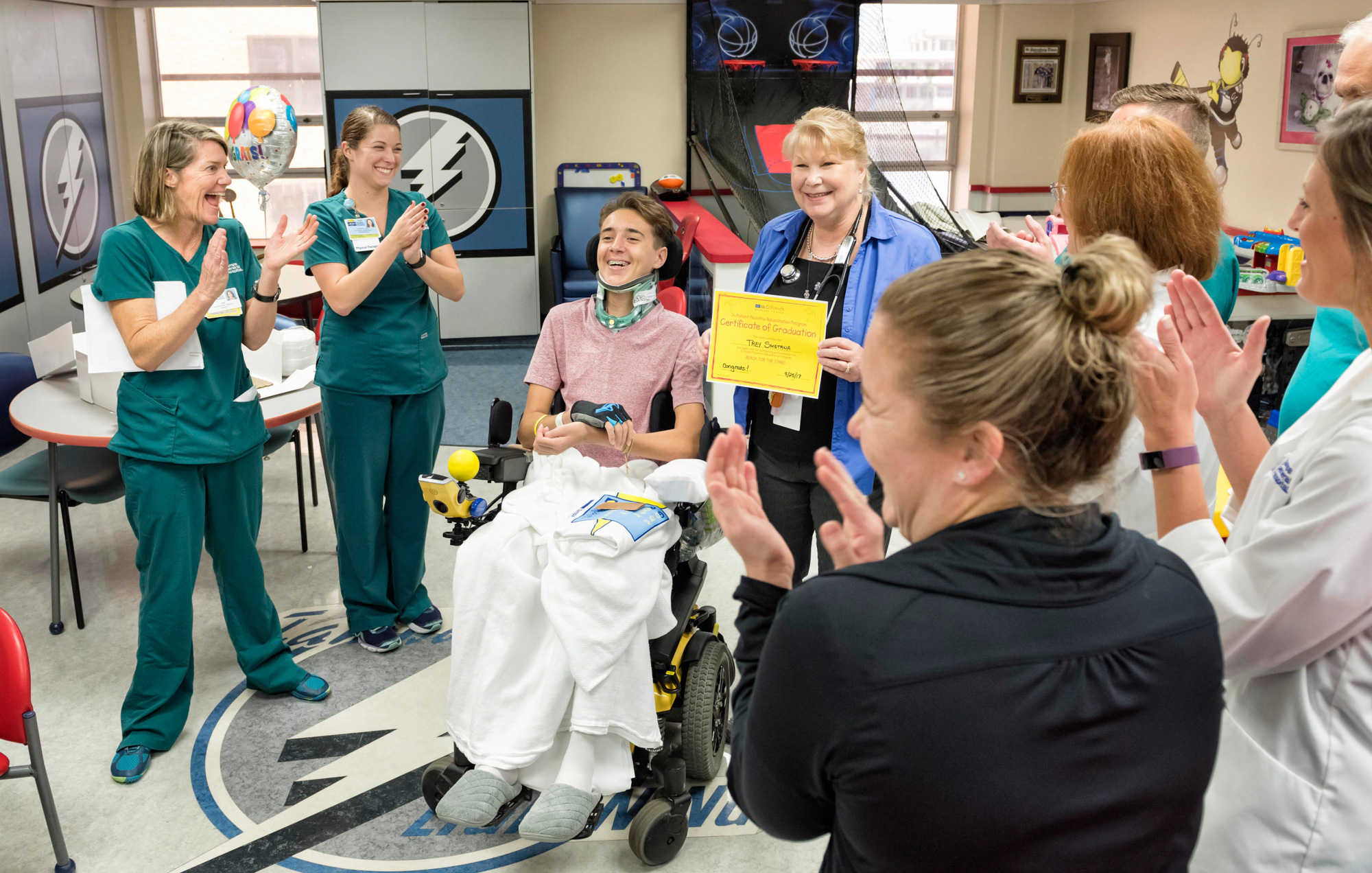 "Stay strong in your faith," he said Monday. "If you believe it, you will achieve it. God is good. Stay strong. You've got to have hope."
Trey's family – parents Norma and Doug, brother Ludwing, 21, and sister Naylene, 11 – were all on hand for Monday's party. As difficult as the last few months have been, they're grateful that Trey survived and inspired by his attitude.
"I'm so proud of him," Doug said.
Trey and his family hope that his accident will inspire others to be more careful around bounce houses and trampolines.
"Be more cautious," Trey said. "Don't try to take everything to the extreme. It's not as safe as you think it would be. Just because it's soft doesn't mean you can't get hurt."
Dr. Paul Kornberg, medical director of pediatric rehabilitation at Tampa General Hospital, echoed Trey's warning.
"I'm not a big fan of trampolines and bounce houses and things like that," Kornberg said. "I hope people can learn these things are not without risk. They are not benign activities."
As trampolines and bounce houses have become more popular over the past several years, injuries to children have soared. The number of children hospitalized for such injuries has risen from under 600 in 2010 to nearly 7,000 in 2014. 
Earlier this summer, the American Academy of Pediatrics recommended that children not use home or recreational trampolines. The group also recommends several precautions for children's use of bounce houses. Injuries in these inflatables nearly doubled between 2008 and 2010, the group said.
It's too soon to know how fully Trey will recover, Kornberg said. Trey's injury is high on his spinal cord, at the fifth cervical vertebrae, which is located in his neck.
"In this time frame…We hope for the best, but we have to prepare for the worst," Kornberg said. "Anything is possible. It is early enough that we are very hopeful."
Kornberg applauded Trey's determination.
"He's got a lot of faith and a lot of hope," Kornberg said. "Trey is a very strong young man and he's got a lot of hope for the future and support from his family."
Photos by Daniel Wallace, TGH Health News.