Stronger bones: start with just a minute a day
Published: Oct 5, 2017
By Michelle Bearden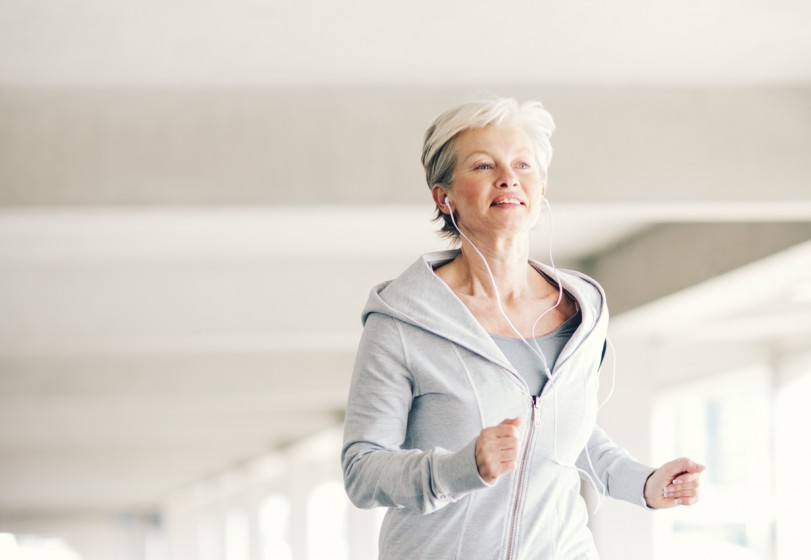 What if doing something for just one minute a day could improve your health as you age?
Improving your bone health might be that easy, say scientists from the University of Exeter and the University of Leicester in the United Kingdom.
Women who did an average of 60 to 120 seconds of high-intensity, weight-bearing activity per day had 4 percent better bone health in their study.
Simply put, that means adding a medium-paced run or slow jog for one to two minutes to your brisk daily walk.
Researchers compared activity levels of 2,500 women as measured by wrist monitors and compared it to bone health using an ultrasound scan of heel bone.
"Think of it as if you're running a block to catch a bus," said Dr. Joyce Thomas, a primary care physician with Tampa General Medical Group's Family Care Center in Trinity. "Every little bit helps."
Strong bones protect organs, provide structure, anchor muscles and store calcium. As people age, they are more at risk for osteoporosis, a weakening of bones caused by an imbalance between bone building and bone destruction.
Some 44 million Americans over 50 suffer from this disease or low bone mass – which is more than half the population in that age group. Women are at greater risk because they have less bone tissue. So are extremely thin people with a body mass index of 19 or less.
The cost of weak bones? You're more at risk for fractures and breaks, which take longer to heal the older you get. The average adult over 50 needs 1,200 milligrams of calcium a day – taken in two separate doses because the body can only absorb so much at a time - for optimum bone health, Thomas said. Keep in mind that a single glass of low-fat milk only provides about 300 grams, or one-fourth, of the recommended level.  
And don't forget the Vitamin D, also imperative for strong bones. Depending on your age, you need 400 to 1200 IU (international units) a day. Sun exposure will provide some of that, but again, as people age, skin absorption is less efficient, Thomas said.
Here are some tips from both Thomas and the Cleveland Clinic to keep brittle bones at bay. They include:
Supplement your diet with calcium-rich foods such as milk, sardines, salmon, egg yolks, spinach, and almonds. Are you lactose intolerant and have to avoid dairy? Try soy or almond milk.
Don't smoke and limit your alcohol intake. Smoking really does damage to the bones, especially for older women, Thomas said. It increases the risk of breaking a bone by 29 percent or a hip fracture by 68 percent. She suggested just a few alcoholic drinks a week.
Move, move and move. Include weight-bearing exercise in your daily routine, such as running, jogging, stair climbing, spinning, biking, tennis and high-impact aerobics. Even power walking – with that short burst of speed suggested by the British study – will help with bone health.
Know your family history. If osteoporosis runs in your family, you may be genetically predisposed to get the condition. Thomas said that's all the more reason to be proactive about your bone health. "You can't change your genes, but you can take action before it becomes a problem."
Get your bone mineral density tested. Thomas said this test is generally recommended for women 55 and older, but she thinks in some cases, that's too late.
"Again, if you're prone to fractures, or if your mother had osteoporosis, I don't want to put off this test," she said. "It serves as a great starting point to measure bone loss over time."
Other people at risk: Those who have a history of using steroid medications, anti-seizure medications or aromatase inhibitors, all which are damaging to bone.
The problem with bone health is that you "generally don't have any symptoms" until you break or fracture one, Thomas said.
"The earlier you adopt these good habits, the better it is for your bones," Thomas said. "Be good to them. They're important to us, especially as we age."