Thanksgiving beyond the turkey
Published: Nov 21, 2017
By Lisa Greene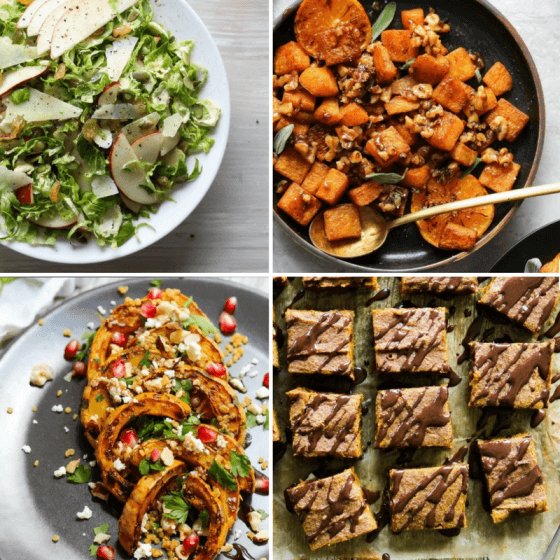 At every family Thanksgiving table, some traditions never change. You'll always have turkey and Aunt Sally's stuffing and Grandpa's apple pie. It wouldn't be the same without them.
But even so, there's room for a few new additions. And there's no better – or healthier – way to innovate at your Thanksgiving meal than with fresh vegetables. They add color, a variety of textures and all kinds of nutrients that you won't get anywhere else.
That's why we asked Jamie Vespa, our chief TGH Healthy Recipes author, for some of her favorite new Thanksgiving sides.
"You can't go wrong with the staples, but it's fun to step out of the box and try something new," said Vespa, MS, RD, LD/N, a former TGH dietitian who is now assistant nutrition editor at Cooking Light Magazine.
Vespa suggested trying a dish that features kale or shredded brussels sprouts to offer a counterpoint to the more traditional Thanksgiving casseroles.
"I think folks always appreciate a crunchy, fresh element on the table," she said.
And, of course, she also gave us dishes with some great seasonal vegetables, such as butternut squash, mushrooms, and, of course, pumpkin. Some of her recipes are hearty enough to serve as a main course for those planning on a vegetarian Thanksgiving. Then there are lighter versions of traditionally heavy dishes – like this lighter take on potato salad.
And yes, we may also have sneaked in a few dessert recipes.
Happy Thanksgiving!
SOUPS
Wild Rice and Mixed Mushroom Soup
5 Ingredient Roasted Parsnip and Garlic Soup
SALADS
Shaved Brussels Sprouts and Pear Salad with Manchego
Roasted Cauliflower and Potato Salad with Tarragon Tahini
Sweet Potato Kale Salad with Almond Butter Dressing
FALL FAVORITES
Roasted Butternut Squash with Candied Walnuts and Sage
One Pot Autumn Vegetable Farrotto
Mushroom and Quinoa Stuffed Acorn Squash
Whole Wheat Butternut Gnocchi with Pea Pesto
Pasta with Butternut Sauce and Mushrooms
Spaghetti Sauce Casserole with Mushrooms and Goat Cheese
SWEET TREATS
Whole Grain Pumpkin Pecan Blondies
Slow Cooker Gingerbread Apple Pie Crumble
Big Cluster Pumpkin Oat Bran Granola
You can find more of Vespa's recipes on TGH Health News and her blog, Dishing Out Health.