With fires near, tips to keep lungs clear
Published: May 10, 2017
By Lisa Greene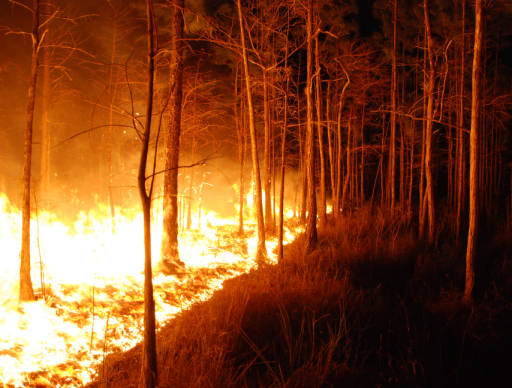 With Florida as dry as a tinder box, new wildfires seem to be popping up daily.
And where there's fire, there's smoke – an irritant for everyone's lungs and eyes, and especially bad news for people with chronic respiratory conditions, such as asthma or COPD, or other health problems.
"If you have throat burning, eye irritation, or tightness in chest, smoke is having an effect," said Dr. William Anderson, pulmonary specialist at Tampa General Hospital and professor of medicine at the USF Health Morsani College of Medicine. "Go somewhere else. Stay indoors."
Those with asthma or other lung conditions may need to relocate or evacuate if they have been sensitive to smoke in the past, Anderson said.  
People with asthma who often experience milder problems around smoke, such as tightness in the chest and shortness of breath, may need to increase their maintenance inhaler dose. They also may wish to use their rescue inhalers 30 minutes before going outdoors, he said.
It's especially important right now that people with lung disease or asthma be vigilant about staying on their prescribed medication, said Teresa Lindsey, respiratory therapist.
Anderson and Lindsey have a few tips for people who may experience breathing problems:
·         Monitor air quality reports and be prepared to change your routine and stay indoors. Tampa Bay's air quality is currently classified as "USG," or "unhealthy for sensitive groups," meaning that people with health issues, older Americans, and children are more likely to be affected.
·         If you stay indoors because of poor air quality, keep doors and windows closed.
·        When looking at local weather reports and news bulletins on wildfires, pay attention to the location of the fire and the wind direction to see whether the smoke will come your way. Smoke problems "depend on wind direction more than distance," Anderson said.
·        Don't count on standard hospital surgical masks, or the paper masks available at the hardware store, to help block smoke. The particles in smoke are too small for these masks to block.
If you have a lung condition and taking precautions and medication doesn't improve your breathing, seek medical attention, Anderson said.
With wildfires  popping up in or near the Tampa Bay region, as well as further south, Anderson also said people need to be cautious while on the road.  If you see smoke ahead, switch your air conditioner to recirculate so you pull less smoke into your car.
And if you spot a recently extinguished fire, don't get too interested.
"Don't get curious and try to go look at smoldering fires," Anderson said. "Toxic gases come off fires after they put it out."
Photo of fire at the Florida Panther National Wildlife Refuge courtesy of the U.S. Fish and Wildlife Service.