Divide and conquer: surgeon uses unusual technique to fight aggressive cancer
Published: May 17, 2017
By Lisa Greene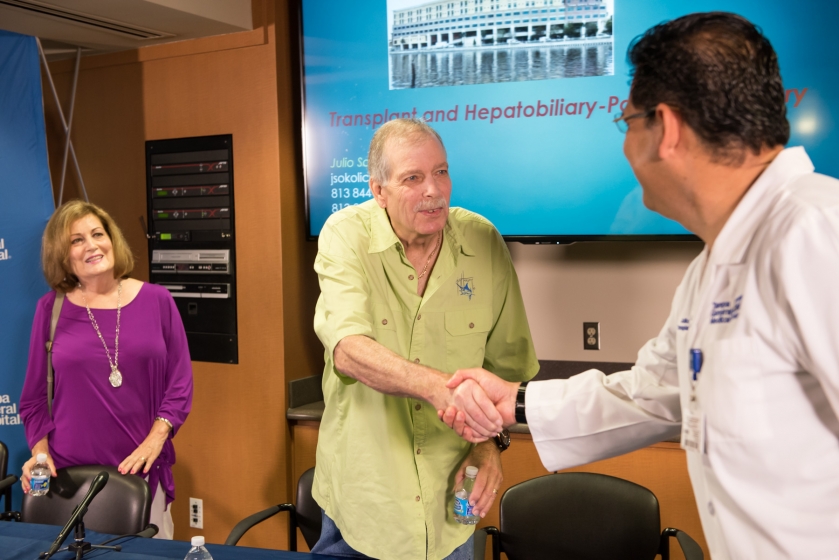 Kenneth Brant had no idea he had liver cancer – let alone a cancer so advanced and aggressive that fighting it would require a surgery never done before at Tampa General Hospital.
After a bout with colon cancer 5 years ago, Brant had a scan just to be sure he was cancer-free. Unfortunately, the scan delivered bad news: tumors had invaded his liver.
"To me it was shocking, because I felt fine," Brant said Wednesday at a TGH news conference.
But even that scan didn't show the severity of Brant's situation. Brant knew he would need surgery to remove the diseased part of his liver, but he expected that it would be "not a huge, huge deal."
It wasn't until Brant was in surgery at Tampa General in February that a new scan showed his surgeon, Dr. Julio Sokolich, who specializes in advanced liver procedures, that traditional surgery would not work.
Sokolich scrubbed out, left the operating room, and came out to deliver the news to Brant's wife, Jeanne.
"We had to make a really hard decision with Mrs. Brant in the waiting room," Sokolich said Wednesday.
Because the tumors had grown so quickly, the traditional surgery – removing the diseased part of the liver – would not work. It would leave so little of Brant's liver that it would probably fail, and Brant would die. Nor was Brant a candidate for transplant.
That left Jeanne Brant with two choices: to abandon the surgery or go with Plan B, a more complex and highly unusual two-part surgery. Dr. Sokolich had already explained to the couple that it would be the back-up plan if things looked bad.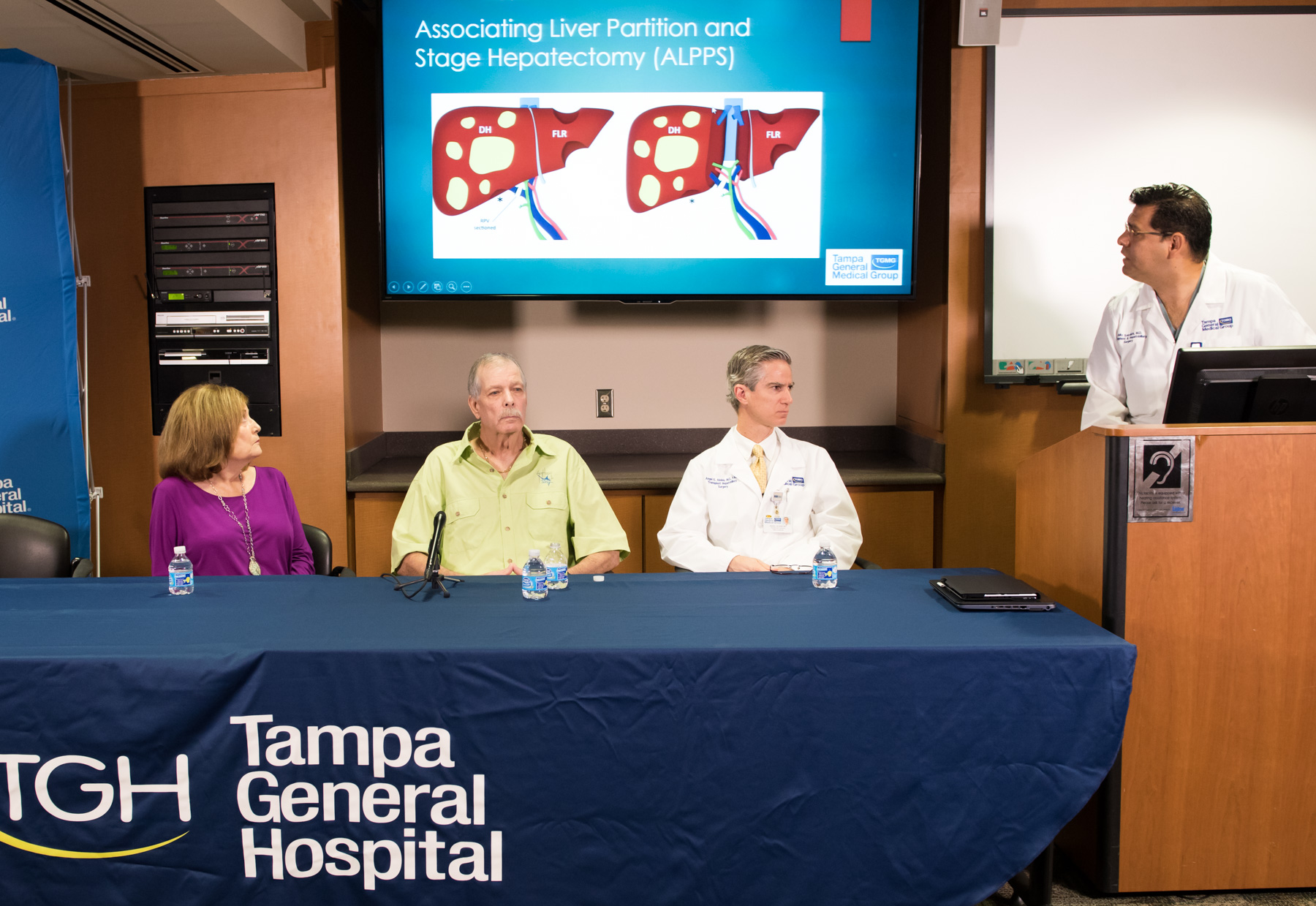 Jeanne Brant chose Plan B.
"It was obviously very stressful," she said. "But he had said that if it came to that, that's what he wanted…We got through it as a team."
So Sokolich returned to surgery and began to cut Kenneth Brant's liver in two.
The surgery that Sokolich performed is called ALPPS, or Associating Liver Partition and Stage Hepatectomy. First described in 2011, the procedure has been performed about 500 times around the world.
The ALPPS procedure is one of several techniques that the TGH liver disease team can perform to battle advanced liver disease, said Dr. Angel Alsina, medical director of TGH's liver transplant program. The group performs other advanced surgeries and also recently participated in the clinical trial for a new drug to treat liver cancer.
"We're here to help you when sometimes there may not be hope," Alsina said Wednesday.
Here's how ALPPS works: first, Sokolich divided the liver in two, separating the tumor-filled right liver from the small healthy left liver. The healthy liver was only 16 % of the total liver's size.
Next, Sokolich manipulated a vein to feed blood cells to the healthy part of the liver. Then he finished the surgery, leaving the tumor-filled liver in place.
Over the next two weeks, the division and increased blood flow prompted the healthy part of the liver to do something no other internal organ can: regenerate. It quickly grew, making up 26% of the liver's normal size. Meanwhile, with the unhealthy liver kept separate, no cancer cells crossed into the healthy part of the liver.
Then Sokolich operated a second time, removing the diseased liver and leaving the healthy liver in place. Since that surgery, in March, the remaining liver has continued to grow. Eventually it will be about 70 to 80 percent of the size of a normal liver, Sokolich said, and should allow Brant to lead a normal lifestyle.
"He's going to do well," Sokolich said. "He's basically cancer-free at this point."
Brant still faces a preventive course of chemotherapy, but he can only agree.
"I'm recovering very, very well," he said.
So well that Brant didn't realize until later just how serious his diagnosis had been.
"It never really got into my head that I wouldn't make it until later on," he said. "Everybody kept coming into my room and saying, 'You look fantastic.' " 
Dr. Julio Sokolich also performed another unusual surgery on a liver cancer patient a few months ago. Read about that case here.