Why women need to know about heart disease
Published: Mar 14, 2017
By Michelle Bearden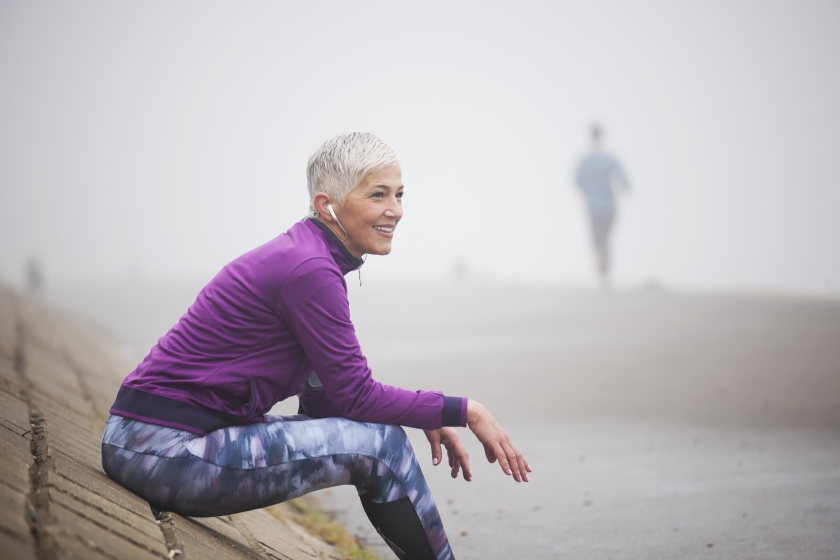 At 50, Susan Hopkins thought she had little reason to worry about her heart.  She was fit, didn't smoke, had good cholesterol numbers and kept physically active.
One Saturday on a beautiful May morning in 2006, she and her husband did what they loved best: Cycling on the Pinellas Trail.
But something wasn't right this day. Hopkins started experiencing upper diaphragm pain. At first, she dismissed it as acid reflux. But eight miles into the ride, she told her husband they needed to turn back.
What Hopkins didn't know is that she was at the onset of a heart attack.
"I was in denial until they put me in the ambulance hours later," she said. "I had all the classic symptoms, yet I still could not believe this was happening to me. It didn't make sense. I had taken such good care of myself."
One in three women dies of heart disease or stroke every year. It's now the leading cause of death in women, and the reason the American Heart Association launched the Go Red for Women initiative in 2003.
Despite those alarming numbers, only 56 percent of women recognize heart disease as the top killer. That could be because in the past, most studies and treatments were centered on the male population, said Dr. Aarti Patel, cardiologist at Tampa General Hospital and assistant professor at in the USF Health Morsani College of Medicine.
"The good news is that we now know more about women. They can present differently with symptoms, so it's very important to be educated about those," she said.
Most people know about common heart attack symptoms, such as chest pain or pressure or a radiating discomfort in the left arm. But there are other warning signs women should be aware of that signal something is amiss.
Shortness of breath (sometime weeks before the heart attack occurs)
Back pain
Jaw pain
Nausea
Lightheadedness
Sweating
"As women, we often have a higher tolerance of pain," Patel said. "It's not unusual to just dismiss the symptoms at first because we have a lot on our plates and don't want to slow down. But that can be a deadly decision."
It also helps to know what puts you at risk, she said. Some factors can be controlled and others are genetic. They include smoking, obesity, high blood pressure, diabetes, high blood cholesterol and family history. A healthy low-salt, low-sugar and low-fat diet, along with regular exercise, also will boost heart health.
A stress test is an ideal way to screen for heart disease, but it's not a routine, preventative procedure covered by insurance, Patel said. And it's not always perfect, either. So self-awareness, education and being pro-active about a healthy lifestyle are the best weapons in preventing or living with heart disease.
"It's my job as a cardiologist to help patients manage those risks so we don't get to the point where we're dealing with the symptoms," Patel said. "In many cases, this is a very preventable disease."
In Hopkins' case, however, it wasn't.
Her maternal grandparents, four maternal uncles and her aunt all had heart disease. One of those uncles died after suffering his second massive heart attack, and another one recently had bypass surgery. Her grandmother died at age 88 after a heart attack.
In the end, being diligent about her own health through diet, exercise and monitoring her blood pressure and glucose levels still wasn't enough.
"I couldn't escape my genetics," said Hopkins, 61, who received two stents as a result of her heart attack. "But that doesn't mean you just give in to that fact. I think my outcome was so much better because I was so committed to my health."
Hopkins, the mother of a grown son and a grandmother of two, knows how lucky she is.
Not only did she survive her attack, her heart did not suffer any muscle damage. Her health commitment is as strong as ever. She still takes bike trips with her husband, works out at Orange Theory and is a vegetarian.
The retired church worship director also is a community volunteer for the AHA Tampa Bay Metro board, sharing her story as a 10-year survivor at events and meetings. She knows that the public has a pre-conceived notion of what a heart patient looks like, and she wants to shatter that stereotype.
Her most important advice? Listen to your body.
"Pay attention to when something doesn't feel right. If you think something is wrong, don't take no for an answer," Hopkins said. "Be your own best advocate. Know your numbers. Women are such good caretakers, but not always for themselves. It starts with you."