Wait, a vending machine can help make you skinnier??
Published: Mar 31, 2017
By Lisa Greene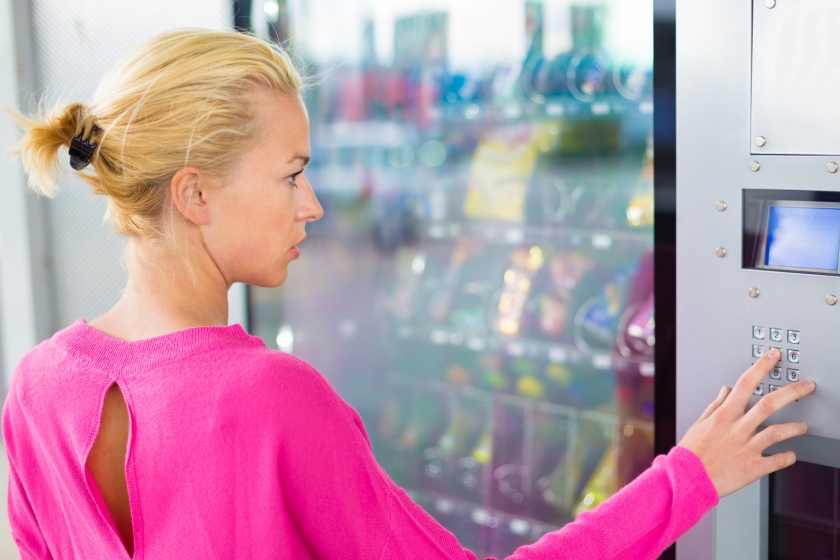 Twenty-five, twenty-four, twenty-three…A researcher at Rush University Medical Center has designed a vending machine that makes customers wait 25 seconds to receive chips and candy – but lets them receive healthy snacks right away.
Think of it as a "time tax," suggests NPR.
The result? About a 5 percent increase in healthy snack sales every time the delay was implemented. Over time, that adds up.
The Delays to Improve Snack Choices (DISC) technology, developed at Rush University Medical Center, employs a 'd... https://t.co/4JlwbRQLx8

— Thus Spake (@thus_spake) March 31, 2017
Researcher hope to find 2,000 volunteers to receive doses of an experimental vaccine for the Zika virus as testing of the vaccine moves into its next phase, reports the Washington Post. Researchers are trying to develop a vaccine as quickly as possible, and federal officials are already discussing how to distribute one on an emergency basis if another outbreak occurs.
New Zika vaccine starts wider testing https://t.co/LxSz48UJaP

— Maggie Fox (@maggiemfox) March 31, 2017
As warmer weather returns, federal officials are warning people to take preventive measures to avoid bites from mosquitoes that may carry the virus, which has been linked to serious birth defects.
Patients in Tampa Bay helped test Ocrevus, the first drug to treat a severe form of multiple sclerosis, reports the Tampa Bay Times. The USF Multiple Sclerosis Center in the USF Health Morsani College of Medicine served as a test site. The drug received FDA approval Tuesday.
.@USFHealth played key role in approval of new MS drug https://t.co/qhxu15FJeu @TB_Times

— Kathleen McGrory (@kmcgrory) March 30, 2017
Why does breathing slowly help calm you down? Researchers in California have identified a specific group of neurons in the brain stem that induce feelings of serenity, reports Scientific American.
Why slow breaths help calm you down: https://t.co/dlHix8uGjP pic.twitter.com/V2Df7GvmIs

— Forbes Science (@SciForbes) March 31, 2017
If reading about calm isn't soothing enough, check out this video.
And finally, if you're a soy nut butter fan, this is not your week. Illness caused by contaminated soy nut butter and granola bars has spread to Florida, the federal Centers for Disease Control and Prevention reported this week.
About 29 people have been reported sick across 12 states after eating products contaminated with the E. Coli 0157:H7 bacteria. Most people report such symptoms as stomach cramps, diarrhea and vomiting, but in severe cases, can suffer kidney failure.
The recalled products are:
All varieties of I.M. Healthy Soy Nut Butter
All varieties of I.M. Healthy Granola products
Dixie Diner's Club Carb Not Beanit Butter
Lifestyle Yogurt Peanut Crunch Bars
This Week in Health is our roundup of health headlines across Florida and the nation.