Florida woman feels "awesome" after TGH's 500th lung transplant
Published: Mar 8, 2017
By Lisa Greene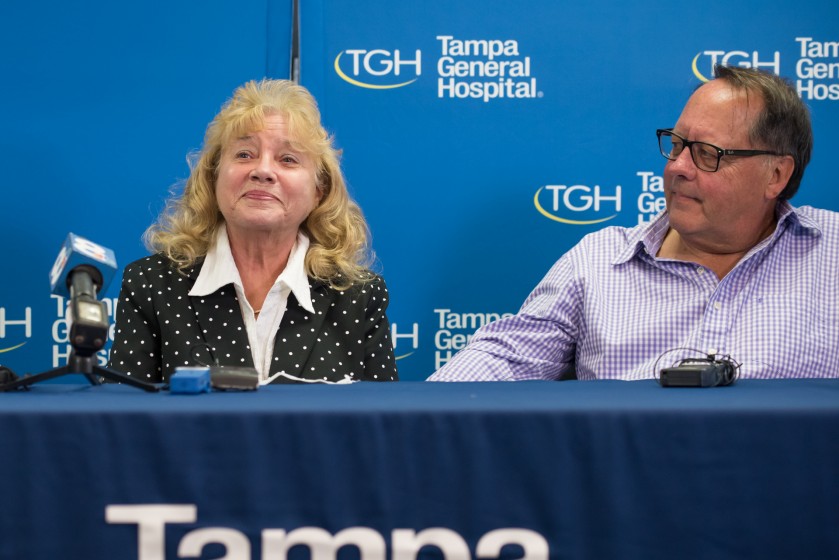 Until last month, Jeanette Ebaugh was tethered to an oxygen tank, confined to her Port St. Lucie home. An incurable lung disease scarred her lungs, making it difficult to breathe.
But last month, a lung transplant at Tampa General Hospital changed her life.
"I do have my life back," Ebaugh said Wednesday. "It's the most wonderful thing ever."
Ebaugh's transplant on February 4th was the 500th lung transplant performed at Tampa General. The first was performed in 2002. Twelve lung transplants have already been performed at the hospital in 2017. Surgeons attributed the success of the program to teamwork among the clinical and transplant staff.
Ebaugh waited 22 months for a phone call from Lifelink of Tampa, the area's organ procurement agency, saying that lungs had become available. That call came at 3:30 p.m. and she was in surgery by 1 a.m. the following morning.
"I feel awesome," said Ebaugh, who attended a Wednesday news conference at TGH with her husband, MIke. "This is the best I've felt in over three years." 
The couple is already making plans to travel the country in their RV. 
Not everyone is as fortunate. The biggest challenge with transplants is trying to find the organs, said Dr. Kapil Patel, medical director of the TGH lung transplant program and director of Lung Transplantation and Interstitial Lung Disease with USF Health.
"The challenge…is trying to find the perfect fit for our patients before they get too sick," he said.
Around the country, about 18 to 20 people die each day waiting for a transplant, said Betsy Edwards, spokeswoman for Lifelink.
"Without the generosity of these selfless organ donors, we would not have Mrs. Ebaugh here today," she said.
Ebaugh began to cry as she spoke about the donor. She doesn't know the identity of the donor or their family.
"I would say thank you so much for the donor and their family," she said. "Without them I wouldn't be here."
Photos by Daniel Wallace.