For trauma survivors, small gestures can mean big victories
Published: Jun 1, 2017
By Lisa Greene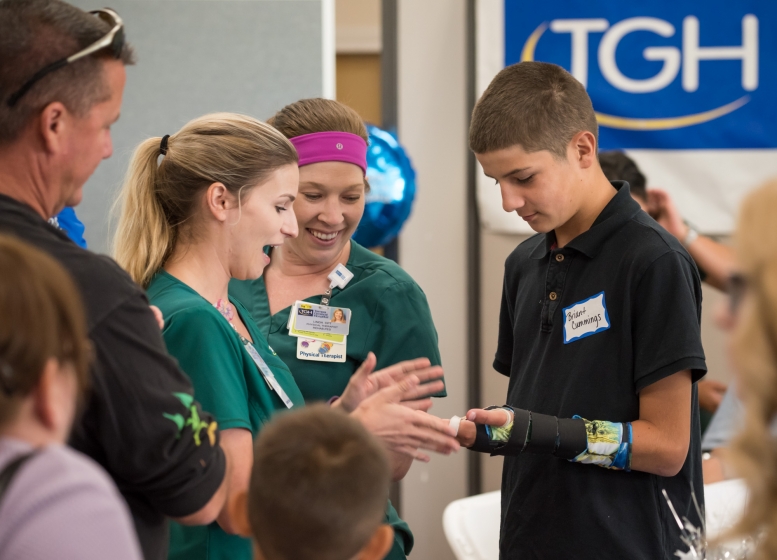 15-year-old Briant Cummings smiled as he lifted his left hand and curled his fingers.
Ordinarily, it would be a small gesture.
But on this particular Wednesday, Briant's action made the room ring with applause. He had just finished telling the group about what happened two days before Christmas.
The day he accidentally cut off his hand.
Briant, who had been using a motorized saw to cut wood at his family's Port Charlotte home, was airlifted to Tampa General Hospital, where surgeons successfully re-attached his hand.
He was among the patients who shared their stories at a lunch for trauma survivors and the TGH staffers who cared for them.
For patients, it was a chance to share, to heal, and to say thanks. Often, they arrive at TGH too ill to recognize or remember their nurses and doctors.
For staffers, it is a chance to see their patients doing better and to know that their work made a difference – often a life-saving one.
"When you come back, it's really nice to see how well everyone is doing and to know that people will get better," said Dr. David Ciesla, medical director of the trauma programs at Tampa General Hospital and director of Acute Care Surgery at the USF Health Morsani College of Medicine. "It helps all of us keep doing what we're doing. It makes us feel like we're doing some good."
As one of nine Level 1 trauma centers in Florida, Tampa General is the only trauma program in Florida that has achieved verification from the American College of Surgeons for the quality of its trauma care for both adult and pediatric patients.
"We are very happy to be here, where we feel we are very lucky to provide that kind of service," Ciesla said.
Still, he wants people to understand and appreciate the resources needed to provide trauma care, as well as realize the magnitude of that need.
"Injuries themselves are responsible for more years of lost life than any other disease," he said. "That's because people who die from injuries generally die at an early age. It's a major public health problem across the country and the state."
Former patient Robert Helde told the group about the motorcycle accident that nearly killed him.
"If it wasn't for the helmet I was wearing, I wouldn't be able to sit here and talk with you today," he said. "Even more than that, if it's wasn't for the folks here – They're the real heroes. There's no question about that whatsoever. …Without them, I wouldn't have made it through.
After his accident with the saw, Briant remembers crying in the medical helicopter with his mother, thinking he would lose his hand. He doesn't remember anything else; he was in surgery for several hours. His mother, Michelle Ezell, remembers every moment, especially the hours of uncertainty waiting to see if surgeons could save Briant's hand.
On Wednesday, he joked that she was more upset than he was. He thanked everyone who cared for him. He still wears a splint on his arm. It fits over his hand and has rubber bands attached to it that pull on his fingers, helping to increase their range of movement.
Briant knows he will be the splint for several months, but he remains upbeat. He'll never touch a saw again, and, unlike most teenage boys, he has a newfound appreciation for how dangerous life can be.
He can't play baseball anymore. But he can fish.
"I'd rather fish than play baseball anyway," he said.
Photos by Daniel Wallace.