For these children, a place to celebrate and to heal
Published: Jun 23, 2017
By Lisa Greene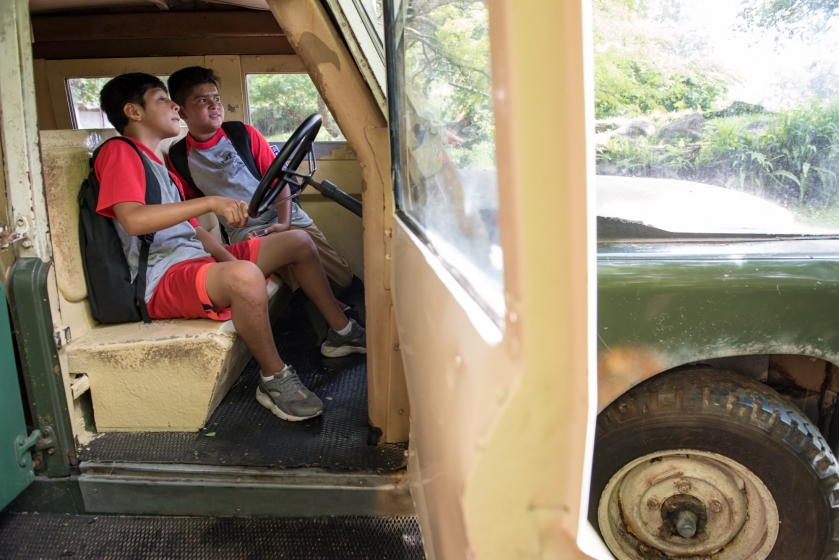 Ricky, 10, and Korben, 11, have waited all year for this week.
So many rides, so much squealing, and no time to feel self-conscious about their scars, the visible evidence of their encounters with fire. It was time to conquer Montu, Busch Garden's largest roller coaster.
Korben was already losing his voice, but he didn't care.
"I'm so ready," he said as the boys climbed into their seats and he fastened his harness.
The boys and their fellow campers look forward to this week all year – a week jam-packed with field trips, activities, and spending time with good friends at Camp Hopetáke, a camp for child burn survivors. Now in its 27th year, this free one-week sleepaway camp for the children is supported by the Tampa General Hospital Foundation and by Tampa Firefighters Local 754.
"Our main focus is just to put them in a safe environment so they can have a week of being with other kids who are just like they are, with similar experiences," said Jeremy Finney, the camp's director and a captain with Tampa Fire Rescue. "Usually in their normal lives, they're the only kids in their school or their community who have the same type of physical and emotional scars as burn survivors."
Those are powerful bonds for camp buddies Madison, 12, and Carmen, 13.
"I like how I have people to talk to who know what I've been through," Carmen said after the girls finished riding Montu. "This is my first year here, but I love this camp already."
"They're all experienced with burns," said Madison, who was burned in a backyard grilling accident when she was 8. "We share that. So nobody looks at you weird or stares at you."
Like many campers, Madison has sometimes had to deal with teasing that can be shockingly unkind.
"People used to call me lizard," she said. "Because I look like I have scales."
Now that Madison is in middle school, kids are nicer. Most of her classmates know why her legs are scarred. Still, Camp Hopetáke is a refuge for her. It's also a place to grow, said Niccole Keyhani, clinical outreach coordinator for Tampa General's burn unit.
"That's a huge part of what we're trying to do at camp," she said. "Have fun, but also learn life skills and how to deal with the lifelong changes that come with being a burn survivor."
This summer, the camp has brought in Rebekah Johnson, an adult counselor who is herself a burn survivor and works with the Phoenix Society, an international support organization for burn survivors.
"Healing for anyone is a journey," Johnson said. "This allows them to have support and also teaches them coping skills, so that when they do face challenges, whether burn-related or not, they have a healthier way to cope."
The camp helps kids nurture those coping skills all year long. Many of the campers keep in touch, and the camp has a Facebook group that includes both current and former campers and counselors. Finney always invites former campers to a reunion event on the first day of camp.
"We are a family," Finney said.
That's what keeps Kristoff, 16, coming back to camp.
"No matter how much support and people who love you that you have at home, this is still like a small family," he said. "Everybody here understands just a little bit more."
Photos by Daniel Wallace.
2017 Camp Hopetake at Busch Gardens