Can a meat lover learn to love fruits and vegetables?
Published: Jun 29, 2017
By Mike Brassfield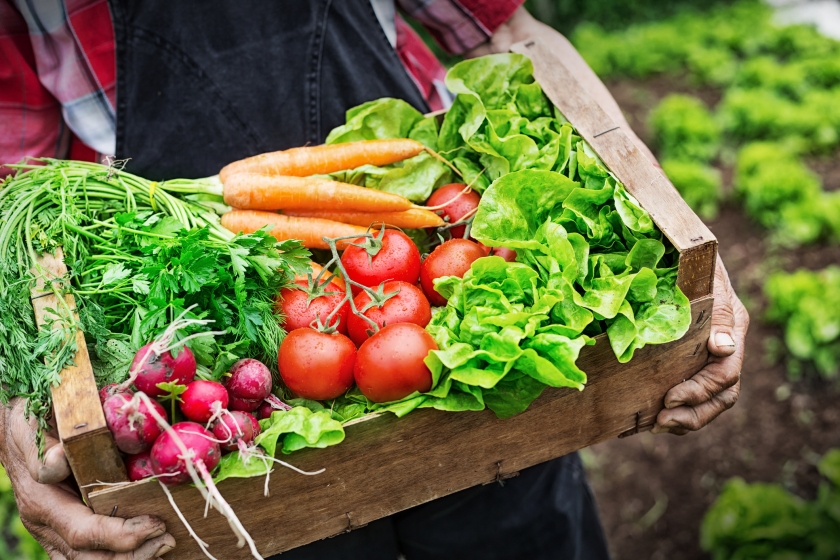 I'm the last person who would take up a vegetarian lifestyle.
You see, I'm a meat-atarian. 
I'm an enthusiastic meat eater. I'm pretty sure that my teeth were designed for eating animals.
I like my vegetables with bacon wrapped around them. My four main food groups are chicken, pork, beef and fish. One of my favorite things about the Tampa Bay area is its proximity to fresh snapper.
Even so, I stopped in my tracks when I saw the results of a recent study that found that eating more fruits and vegetables can significantly reduce the risk of heart attacks, strokes, cancer and early death.
Maybe I'll try this fruits and vegetables thing, I thought. Luckily, Jessica Lavigne, clinical nutrition specialist at Tampa General Hospital, was there to help me out.
New Research
The new study, conducted by Imperial College London, concluded that if people consumed 10 portions of fruits and veggies a day, it could prevent nearly 8 million premature deaths a year worldwide.
That's double the current World Health Organization recommendation of five portions a day. And let's face it -- many Americans don't even eat five. (I have to admit that, before I took on this challenge, I was probably eating 2 or 3 servings of vegetables a day. Mostly broccoli with dinner.)
What's a portion, you ask? It's probably smaller than you think. It's 80 grams, just under three ounces, equal to one small banana, apple, pear or large mandarin orange. Three heaped tablespoons of cooked vegetables such as spinach, peas, broccoli or cauliflower count as a portion.
The new research, published in the International Journal of Epidemiology, found that apples, pears, citrus fruits, and veggies like lettuce, broccoli and cabbage seem particularly effective in preventing strokes, heart disease and early death. Green and yellow vegetables such as spinach, peppers and carrots may reduce the risk of cancer.
In Real Life
Could I really eat 10 portions of fruits and veggies a day? And even more challenging, could my family?
My wife and I have two small daughters, one of whom is a notoriously picky eater. If she got her way, she'd eat nothing but macaroni and cheese for every single meal. How could I ever going to get my stubborn children to eat healthier?
Enter Lavigne. She has all kinds of Jedi mind tricks for getting kids to eat their vegetables. Adults, too.
Her tips:
Put a vegetable on your kids' dinner plate every night. Be patient. Sooner or later they'll try it.
Same with pancake batter. Spinach turns pancakes into "Hulk cakes." Beets turn white pancake batter pink. Make your pink pancakes heart-shaped. Top with berries.
Instead of putting tomato sauce on pasta, cook up peppers, onions and mushrooms and blend them into a pasta sauce.
Always put some kind of fruit topping on ice cream -- strawberries, bananas or frozen raspberries.
Bake little egg-and-vegetable quiches in muffin tins so they're ready ahead of time. Keep them in the fridge and microwave them in the morning.
Bake breakfast muffins with dried cranberries, cherries, shredded carrots, unsweetened coconut flakes or peaches.
Fruit parfaits: Quick and easy. Yogurt, granola and fruit. Go.
Prepare grab-and-go baggies with grapes, or with cut-up apple slices treated with lemon juice so they don't go brown.
Cook brussels sprouts with bacon. True, you're adding fat. But you're eating vegetables.
Lavigne notes that our fast-paced culture, with its vending machines and its gas station snack displays, isn't geared toward feeding us fresh fruits and vegetables.
"It's challenging enough for most people to get even five portions a day," she said. "We all struggle with it."
I took up the challenge. I started spending more time in the produce section at the supermarket. I made lots of carrot cake smoothies and fruit salads. I made avocado toast with pomegranate salsa.
Like some kind of vegetable ninja, I hid pureed cauliflower in creamy mac and cheese. You'd never know. It's diabolical.
So far, some tips have worked better than others. What my daughters responded to: the fruit parfaits, the grab-and-go baggies and the "Hulk" spinach pancakes. Getting them to eat anything else mentioned here remains a struggle.
What I liked best: Brussels sprouts with bacon. Breakfast muffins with dried cranberries. Cauliflower in mac and cheese.
I still consider myself a meat-atarian. You'll have to pry that pork chop out of my cold dead hands.
But, using Lavigne's tips, I have successfully upped my daily intake of fruits and veggies to 10 whole portions. On most days, anyway.
Because I want to live forever.