Bell rings to signal victory in 13-year-old's fight against cancer
Published: Jul 21, 2017
By Ellen Fiss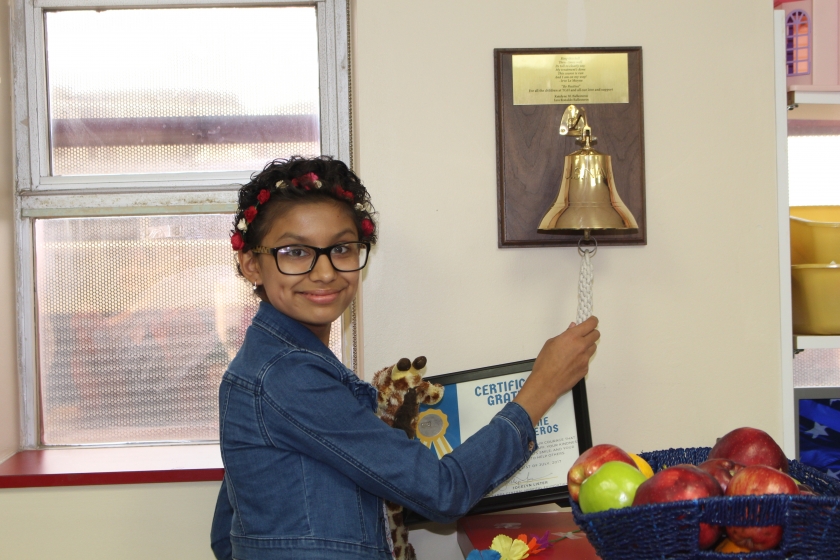 The bell that rang out Friday afternoon at Tampa General Hospital marked a special victory for 13-year-old Katie Ballesteros.
The brand-new "chemo bell" was donated to the TGH Childlife Playroom by Katie's family. Katie got to be the first one to ring it, marking a celebration to end her months-long chemotherapy sessions in her fight against acute myeloid leukemia (AML).
Surrounded by family, friends, and the Tampa General doctors and staff who took care of her this past year, the group toasted Katie's milestone with sparkling white grape juice and munched on pizza and cupcakes in between tearful hugs and photos.
Katie's family chose a naval ship's bell for the plaque they donated in honor of Katie's brother Luis, who serves in the Navy. Last fall, Luis donated the bone marrow that would save his little sister's life. The bell will now be available for all pediatric patients to ring as they reach their milestones.
Katie said she looks forward to returning to her studies at Wilson Middle School in South Tampa next month.  She also can't wait to go on her dream vacation to Hawaii with her family during spring break next year. The trip will fulfill a wish she made during her illness and has been donated by the Children's Dream Fund. 
-- Photos by Ellen Fiss