When you're a caregiver, don't forget to care for yourself
Published: Dec 28, 2017
By Wendy Malloy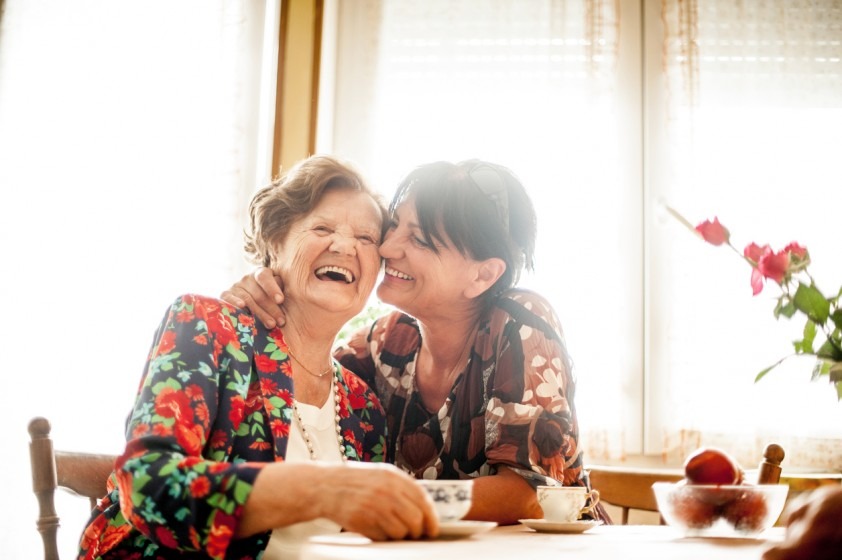 The drive to Tampa General Hospital in March 2015 was the longest ride of Terra Acosta's life. "My husband called me and kept saying, 'You need to get here,'" she said. "He wouldn't tell me what happened."
As she soon found out, her husband, Marcus, had lost both hands in an industrial accident.
That 75-mile trip from the couple's home in Kissimmee turned out to be the first of hundreds of visits to TGH - and the beginning of Terra's experience as her husband's caregiver. 
Solely focused on Marcus during his two-month stay at the hospital, Terra couldn't sleep and lost her appetite. She felt dazed and lightheaded; vomiting nearly every day, she dropped 40 pounds. She drove back and forth to Kissimmee every day to spend a little time with her children before she turned around and headed back west.
Almost three years later, Terra understands how critical it is to maintain her own health and well-being. But during Marcus's stay at TGH, she came dangerously close to serious illness herself. Terra finally accepted support from family to help with her children. She set boundaries for herself and began regaining her health. Today she maintains a still-fragile balance as she continues to care for her disabled husband.
Terra isn't alone in losing sight of her own well-being, said Dr. Sherry Leib, clinical health psychologist at TGH. "Self-care often goes out the window when the caregiver's energy is so directed on their loved one," she said. "But just as we hear from a flight attendant before every takeoff, you have to get your own oxygen in place before you can help anybody else."
It can be tough to know when you're running out of oxygen, however, if you're focused on a seriously ill loved one.
There are a few clear warning signs, said Dr. Leib. An uptick in anxiety is something to look out for. "It's normal to feel anxious in a hospital setting, with sick people all around," she said. "But if it gets to the point that your nervousness is interfering with your activity, that's an indication you need support."
Other red flags include:
·        Extreme fatigue
·         Insomnia
·         A loss of interest in things you once enjoyed
·         Physical ailments, such as aches and pains, and flu-like symptoms
·         New or increased alcohol and drug use
So, what to do when you recognize you're losing sight of self-care? First, said Dr. Leib, reassure yourself that you're doing the right thing by refocusing some energy on your own health. 
"It's important to have boundaries," she said, "particularly if you tend to feel guilty for not staying with your loved one 24/7. Give yourself permission to ask family or friends to step in or to take care of tasks like grocery shopping or housecleaning. Otherwise, if you're exhausted or stressed out about other parts of your life falling by the wayside, you're not going to be any good for the patient."
A few more suggestions from Dr. Leib: 
Stay hydrated. Coffee is tempting, but make sure you drink a lot of water. The artificial air in the hospital can be particularly dehydrating. 
Practice good sleep habits.   These include limiting daytime naps, not having too much caffeine before bedtime, and getting aerobic exercise. This is critical - and potentially difficult if your loved one suffers from Alzheimer's or dementia, or an injury or illness that requires medication every few hours. If that's the case, enlist the help of family or friends. 
Eat right. This does not mean coffee and chips from the cafeteria. It means sticking to a nutritious diet with plenty of fresh fruits and veggies. 
Exercise. You don't have to be in a gym to get your heart rate up. Take a walk around the block - or, if your loved one is in the hospital, around the grounds or even through the hallways. Stretching, breathing deep, and changing the scenery are all important to keep your stress in check and your spirits up.
Stay connected. Caregivers can become isolated from friends and family, which puts you at risk for sliding into depression. Make sure you're in touch with your people. And lean on them for emotional support if you need it; that's what friends are for.
Take breaks. Give yourself permission to leave your loved one's side for an hour or so, and then come back, rather than sitting for eight-hour shifts. This gives you needed time for exercise, a snack, or a phone chat with a friend - and also gives your loved one something to look forward to: your return.
Support groups. TGH hosts regular sessions for patients and families. Some of the groups participate in activities to help de-stress - walking, a boxing class, meeting for lunch and more.
Professional support. Not everyone needs a psychologist, but in some situations - such as a role-reversal scenario, when a son assumes a nurturing role for his mother - it can be helpful to seek professional help. 
Above all, said Dr. Leib, focus on the positive. "Being a caregiver isn't easy," she said. "Especially for people who are perfectionists, this is key. There's no perfect caregiver. You do the best you can, and give yourself credit for supporting the person you love."