Navigating the Holidays with Crohn's Disease
Published: Dec 20, 2017
By Hilary Zalla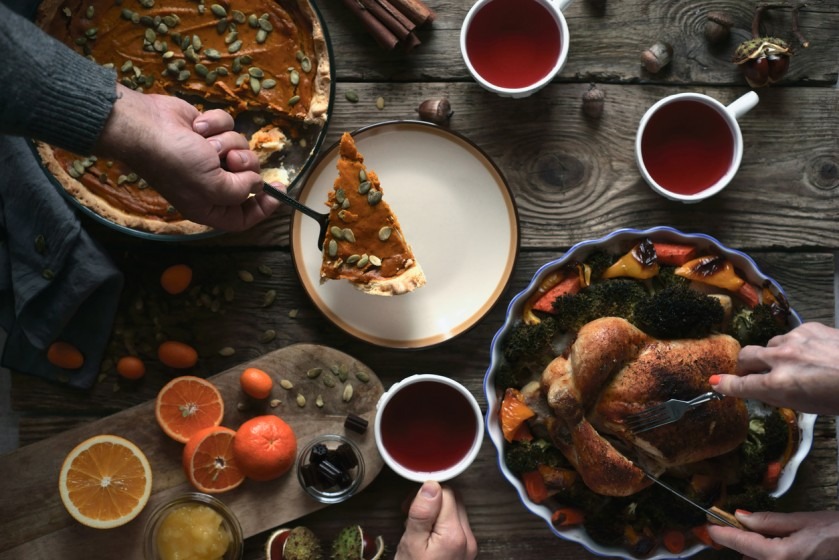 The kitchen has transformed into an aromatic world of roast turkey and baked casseroles. Visions of gingerbread men are dancing in my head. Is it possible to swim in a vat of gravy?
Focus. It's time to pick up a plate for the choreographed dance through the buffet my mother orchestrated. I follow behind my sister who is filling her plate like a game of Tetris. I am nearing the end, and I imagine my plate piled high with the drool-worthy fare. The only problem is I wouldn't be able to eat any of it.
"They want to be able to enjoy the holiday just like everybody without Crohn's Disease," said Dr. Bonnie Lohrbach, a family medicine specialist at Tampa General Hospital's Family Care Center Healthpark.
The reality is that holidays are hard for Crohn's Disease patients. The food, stress, and travel are the perfect ingredients for embarrassing symptoms.
"The goal is to be able to get through the holiday with as minimal symptoms as possible and avoid flare-ups," said Lohrbach, who encourages her patients to prepare.
Let's begin with food.
"Be aware of what your triggers are," she said. "If you have had a problem with fatty foods in the past, you want to be prepared for that when you're going to the table. That could mean talking to your host ahead of time and finding out what's on the menu."
You can also bring a dish to the party. This way you'll be pleasing your gut and your host. If you've been dealing with Crohn's Disease for a few years, you know your dietary restrictions. According to the Crohn's and Colitis Foundation, it's always a safe bet to avoid fried, greasy or high fiber foods and eat smaller portions.
If you do eat a trigger food, you might get symptoms like bloating, gas, or urging. Your top priority at any holiday event is to take inventory of the bathrooms.
"So if the urge is there you know where to go," said Dr. Lohrbach. "Educate your family. Make sure that they understand that your gut might make some noises. That doesn't mean you're being impolite or antisocial, but that's the nature of the disease process. Don't be afraid to excuse yourself and take care of yourself."
Now think about stress.
"Take a deep breath," encouraged Dr. Lohrbach.
Oh, we need it! The holidays are a racetrack of emotions, with thoughts of shopping, obligatory events, and family drama zooming around in our heads. Crohn's patients have the added anxiety of a looming holiday flare-up.
But there are steps you can take to get through all the hustle and bustle.
"Ask for help. Be sure you get enough sleep. Take a nap. Don't forget to exercise," said Dr. Lohrbach. She also tells her patients to take advantage of shortcuts.
"Don't be afraid to say no. Don't feel like you have to cook everything yourself. You can go buy prepared food [or] shop online instead of stores."
Remember to put things into perspective. There is no fabulous recipe or perfect gift that is worth the stress of a flare-up. Take a break when you need it.
Finally, let's talk travel.
Ahh, the dreaded airplane ride. Sitting for hours like sardines packed into a tin can. You're praying you can hold in the gas, but you're not successful. Now you're embarrassed, and the person next to you is second-guessing their window seat.
If you have Crohn's Disease, it's best to prepare for the worst when you're traveling for the holidays.
"Take an emergency kit with you for those acute symptoms. Pack your bags and take an extra set of clothes. You might need to take some anti-diarrheal medicine, skin protectants, and mouthwash," Lohrbach said.
If your symptoms persist, call your doctor for advice.
Back to the buffet at my mother's house. I made a gluten-free dish this time, and my family was kind enough to bring Crohn's-friendly dishes, too. I leave my plate only half-full, so there's room for dessert. I took a midday nap, so I have the energy to spend the whole evening with my family. My gut is making some noises, but no one reacts. They know Crohn's Disease doesn't define me.
Hilary Zalla, a Tampa Bay journalist, blogs about Crohn's Disease, health and fitness at https://lifeoutsidethelights.com/.