Yawn. Heading back to school means a new sleep routine
Published: Aug 8, 2017
By Michelle Bearden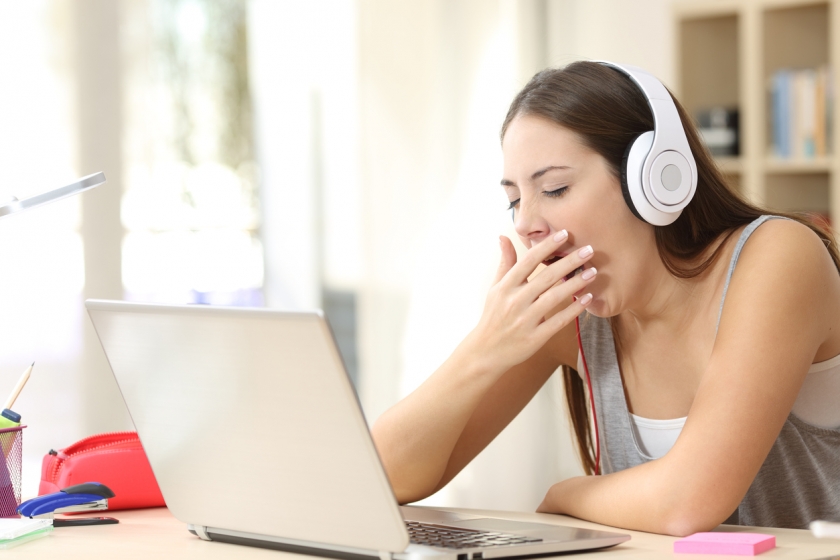 Zzzz.
It seemed so easy to let the kids sleep as the drowsy days of summer unwound.
But now it's suddenly time for school – and time for them to rush out of bed in the morning.
How's a parent to help them adjust?
"If you don't keep them on the same sleep schedule during the summer, expect a few rough weeks in the beginning," said Dr. Sagarika Nallu, who practices at Tampa General Hospital and is director of Pediatric Sleep Medicine  at the USF Health Morsani College of Medicine. "It can be just as bad for the parents as the kids. We're all affected."
Her suggestion: Ease into it. If summer meant later bedtime hours and later wake-up times, readjust the schedule about two week before school starts. Do the same for extended holiday breaks.
"We get the most calls from frustrated parents every September and January, like clockwork," she said.
Medically speaking, sleep is essential for the kiddos, Nallu said. At this stage of their young lives, the neurons in their brains are still developing – and that happens while they're sleeping. Their daytime memories are consolidated and stored while they sleep.
"Each state of sleep has a specific physiological function," she said. "There's nothing passive about sleeping. Our brains are actually in a very active state at this time."
Julia Freeman of Tampa doesn't let summer fun turn into back-to-school blues. The working mother of two, ages 10 and 8, tries her best to keep her kids on the same sleep schedule year-round.
"They're in camp most of the summer, and my husband and I still have to get up and go to work," she said. "The only time we go off the rails is when we're on vacation. And we end up paying the price when it's over, trying to get adjusted all over again."
Freeman admitted that school's return means also less sleep for her. The evenings are crowded with dinner, homework, packing lunches, getting school papers signed and picking out outfits for the next day. By the time she climbs into bed, exhaustion should send her off into the land of slumber.
But then her mind starts racing.
"I'm thinking of everything I have to do the next day, between my job and the kids, and then I start worrying about them and keeping them safe from anything bad happening," she said. "So for now, I'm lucky, really lucky, if I get six hours of sleep."
The National Sleep Foundation offers helpful tips that can help kids of all ages – and adults -- establish good habits that ensure a restful sleep. They include:
Maintain a regular sleep schedule. Stick with it, and don't use the weekend to "catch up."
Establish a relaxing bedtime routine. That means bath time, a bedtime story (for younger kids) and reading (for older ones). What it doesn't mean is television, video games and other electronic distractions.
Eat early. A late-time meal can play havoc with sleeping. Limit all caffeine drinks after noon, and don't have any six hours before bedtime.
Maintain a peaceful bedroom environment.  A dark room, a comfortable bed and a room temperature that's neither too hot nor too cold sets the stage for a restful sleep.
For age-appropriate recommendations, the National Sleep Foundation suggests 10 to 13 hours for ages 3-5, nine to 11 hours for ages 6-13, and eight to 10 hours for ages 14-17.
But for parents of teens, getting them to sleep that much can be even tougher. A general shift occurs in sleep rhythms during the teenage years, Nallu said. They stay up later at night, doing homework, using computers and chatting on the phone.
"Then they try to compensate by sleeping longer the next morning or taking naps at school," she said.
The best and most natural solution remains behavior modification, Nallu said. That includes getting school work done during the day, avoiding naps and limiting use of electronics at night. Only as the last resort does she recommend medications, as directed by a physician.
What's the most important advice Nallu can give regarding sleep? Waking up at the same time every day.
Bedtime and rise time consistency are important to maintain our internal circadian rhythm -- the ability to fall asleep when it's dark and wake up when it's morning, she said. Waking up later in the morning pushes the internal melatonin – the hormone that makes us sleepy – and makes it harder to fall asleep at night.
"There's no getting around it," she said. "Irregular bedtime and rise times will lead to insomnia."
Freeman said she's working on improving her sleep habits as well as her kids.'
"I try to stay off the cellphone and away from the TV," she says. "A cup of green tea and some deep breathing exercises help, too. The main thing is to clear my mind and think just happy and calm thoughts."
One day, in the far-off future when her kids are grown and she's retired, Freeman has a goal.
"Eight hours or more of sleep, uninterrupted sleep, every night," she said. "That would be awesome."