When stress is a real heartache
Published: Apr 19, 2017
By Michelle Bearden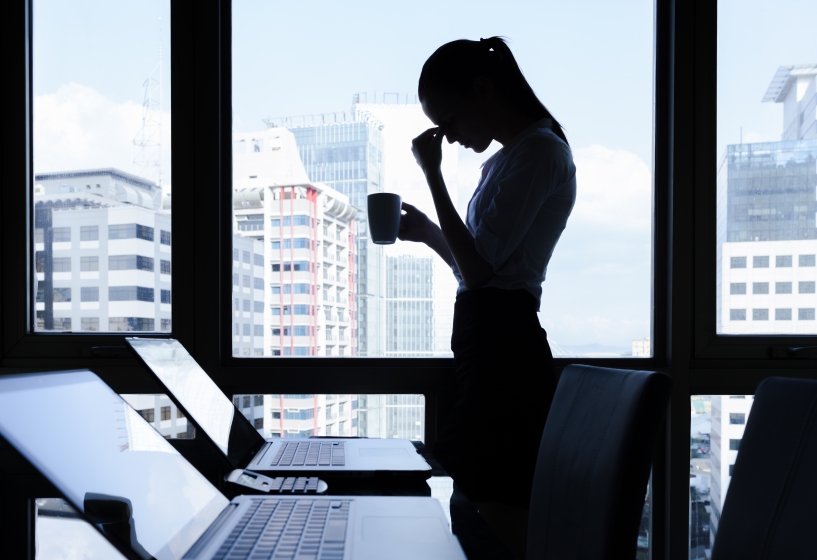 Feeling a little wrung out lately? You're not alone.
Two-thirds of Americans on both sides of the political fence say they are stressed about the future of the country.
And that's just the beginning.
In a two-part Stress in America study released in February by the American Psychological Association, people are experiencing higher-than-usual levels of anxiety for plenty of reasons beyond politics: Constant use of technology and social media, acts of terrorism, police violence toward minorities and personal safety.
Now, don't let this stress you out even further…but there's more bad news. It could damage your heart.
For the first time, a study published in The Lancet shows that heightened activity in the amygdala – a region in the brain involved in processing stress – is linked to increased bone marrow activity and inflammation in the arteries, and could lead to a greater risk of heart disease and stroke.
"This is something we've suspected, but now we have some data that supports it," said Dr. Xavier Prida, Tampa General Hospital cardiologist and assistant professor of medicine with the USF Health Morsani College of Medicine.
"We already know about the risks of smoking, family history and diabetes. Now we can add this to the list and come up with some preventative measures when we work with patients."
In the past, studies have identified a link in animals between stress and higher activity in the bone marrow and arteries, but it had been unclear if it also applied to humans. Another study had revealed that amygdala is more active in people with post-traumatic stress disorder, anxiety and depression, but until now, no research until now had shown the region of the brain that links stress to possible stroke or heart attack.
Partially funded by the National Heart, Lung and Blood Institute, this study was conducted by scientists from several leading health institutions, including Massachusetts General Hospital, Harvard Medical School, Cornell Medical College, Icahn School of Medicine at Mount Sinai, and Tufts University.
It monitored 293 patients who were given a combined PET/CT scan to record their brain, bone marrow and spleen activity, as well as inflammation of their arteries. After tracking them for an average of 3.7 years, 22 had a cardiovascular event, including heart attack, angina, heart failure, stroke and peripheral arterial disease.
The link: Those with higher amygdala activity had a greater risk of subsequent heart disease and developed problems sooner than those with less activity.
The authors noted that "more research and larger studies" are needed because this was a relatively small pool, but early indications are that these findings could lead to new ways to target and treat stress-related cardiovascular risk.
Any news on eradicating heart disease is welcome. It's the No. 1 killer in the United States. About 610,000 people die of heart disease every year – that's one in every four deaths.
If stress is a contributor, it will be up to patients to give more input to their doctors, Prida said.
"We can measure blood pressure and blood readings, but we really can't measure stress. Some stress we keep inside to ourselves," he said. "But there are all kinds of ways we can see how it plays out, such as headaches, indigestion and a rapid heart rate."
Prida says it really shouldn't be a surprise that Americans are more stressed than ever. Sociologists have been studying stress for years, analyzing how societal and economic pressures encourage people to chase the dollar and work long hours, even when that means sacrificing a balanced diet, regular exercise and sufficient sleep. Those habits ultimately lead to adverse health outcomes.
"That's the downfall of our capitalist work environment," Prida said. "We've seen it in something called occupational hypertension. During the work week, you can have high blood pressure, then see it recede on weekends and holidays."
Other factors that can lead to stress include heavy workloads, job insecurity or living in poverty.
So how to combat stress? For starters, Prida suggests being "mindful" of when tension escalates. Loss of concentration is one warning sign, making it difficult to move from one task to the next. Head off the anxiety by taking some time out for activities such as a yoga, meditation and physical exercise. Get more sleep, he says, because fatigue also leads to stress.
As a busy cardiologist who handles life-and-death situations on a routine basis, Prida has his own personal way of decompressing.
"Running is a great help for some reflective time. It also helps me sleep better," he said. "And getting away from the office and doing some reading at bedside. That's when I can do some of my best thinking and come up with solutions.
"Whatever works best for you, find a way to include it in your daily life. You'll be better off in the long run."
Feeling stressed? Check out some deep-breathing techniques in our wellness video.