Keeping your eye on the ball: sports-related eye injuries are surprisingly common
Published: Apr 14, 2017
By Mike Brassfield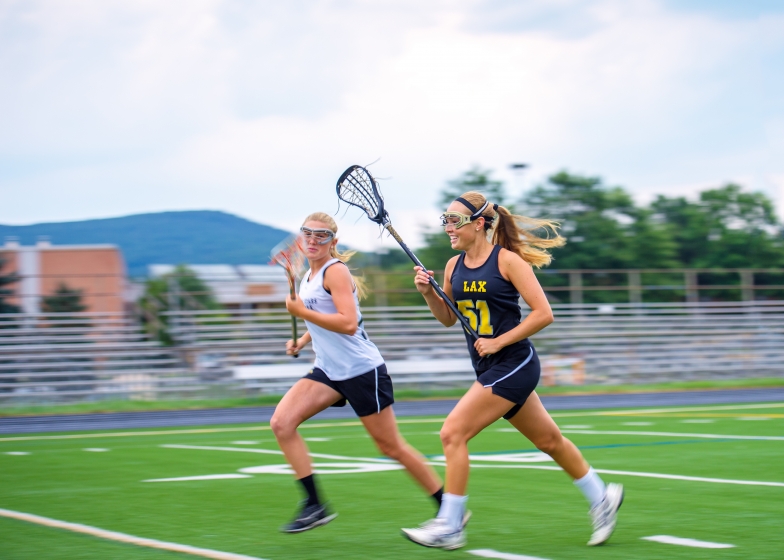 "It's all fun and games until someone loses an eye."
          -- a quote by every mother everywhere
In all seriousness, we don't necessarily think about eye injuries when it comes to sports. On the playing field, we're more likely to worry about things like sprained ankles, knee injuries or tennis elbow.
However, a 2016 study found that 30,000 Americans a year are showing up in hospital emergency rooms with sports-related eye injuries.
That may come as a surprise to many of us -- thirty thousand a year?
But it doesn't come as a surprise to Dr. Charles Slonim, a Tampa ophthalmologist who handles many of the serious eye injuries that arrive at the emergency department at Tampa General Hospital.
"There's no question that we see a lot of eye injuries from sports, especially with kids," said Dr. Slonim, who's been practicing sports ophthalmology for 35 years and who is the team ophthalmologist for the Tampa Bay Lightning and for USF sports.
"Most of these injuries are preventable. A little eye protection goes a long way," Dr. Slonim said. "When it comes to losing an eye, an ounce of prevention is worth more than a pound of cure."
In the study published by the Journal of the American Medical Association, researchers sought to find out how many sports-related eye injuries are treated each year in emergency rooms throughout the U.S. They hoped that a statistical breakdown of these injuries might be useful for training and prevention efforts.
They examined data from about 30 million emergency-room cases per year from 2010 to 2013 at more than 900 hospitals nationwide. They found 30,000 eye injuries from sports per year -- "an estimate substantially higher than previously reported," the researchers wrote.
They also found the following trends:
The average age of the patients was 22.
 
Most of them -- more than 80 percent -- were male.
 
Sports with the most eye injuries were basketball (23 percent of cases), baseball or softball (14 percent), and shooting an air gun (12 percent).
Although most of these injuries were classified as "superficial," more than one-fifth of baseball-related injuries were "blowout fractures of the orbit," the study said. (The orbit is the bony structure around the eye socket in a skull.)
Impaired vision was rare, but it was most common with injuries involving recreational projectile-firing devices. Paintball guns and air guns accounted for 26 percent of all cases resulting in impaired vision, despite accounting for only 10 percent of all injuries.
 
Other sports that caused eye injuries -- listed here from the most injuries to the least -- included cycling, soccer, football, off-road vehicles, combat sports, water sports, racquetball, golf, volleyball, lacrosse, hockey, rugby, equestrian events, and jump rope.
Bottom line: A lot of young men are getting poked in the eye with fingers or elbows while playing basketball. They're suffering eye-socket fractures from high-speed baseballs. They're losing eyes, or at least losing vision, from air guns or paintball guns.
Based on his longtime experience at Tampa General Hospital, Dr. Slonim can attest to all of that.
"I've removed a couple of eyes from paintball injuries," said Dr. Slonim, who estimates that he has had to remove nearly 100 eyes due to sports-related injuries over the past 35 years.
Here are his observations, sport by sport:
Basketball and soccer: "Players take elbows to the head. During contact, elbows and fingers can end up injuring an eye."
Baseball and hockey: "Anything that's got a high velocity is a threat. A baseball comes at you at 90 miles per hour from a pitcher. Batted, it goes a lot faster. A hockey puck comes at you fast."
Football: "You see linemen get eye injuries from fingers going through the grids of their helmets."
On the subject of sports-related injuries, Dr. Slonim had a couple more significant points to make:
How can you tell if someone with an eye injury needs to go to the emergency room? Dr. Slonim advises watching out for the following signs: Blind spots, decreased vision, sensitivity to light, a "curtain" in front of the vision, flashes of light, double vision, pain in the eye, or blood in the eye.
What advice does Dr. Slonim have for athletes, or for parents of young athletes? Invest in some real sports eyewear -- not just sunglasses.
"You can't just put on a pair of Foster Grants. Those wire frames may look good on the outside, but they're not going to protect your eye socket from a high-velocity ball," he said. "Just about every sport has protective eyewear available. Whether someone chooses to use it is a different story."