Bariatric surgery gaining weight as option for long-term health
Published: Apr 7, 2017
By Kurt Loft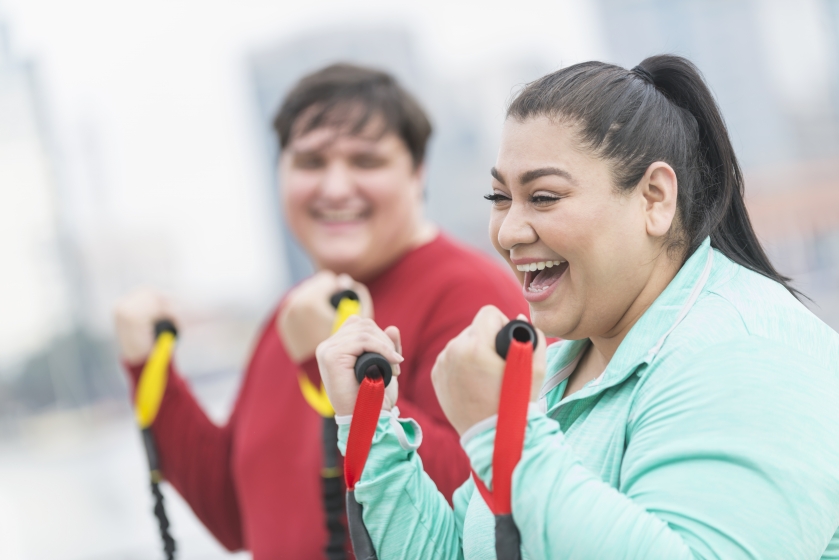 When George IV ruled England, he was known as much for his girth and indulgences as his politics. In his last years, he became so obese he struggled to breathe when in bed, and severe gout rendered him unable to sign his name.
No question, Big George had a weight problem ─ like millions of Americans today. But unlike most of us, he didn't have the option of bariatric surgery, an increasingly popular method of maintaining a more healthful lifestyle.
More studies now show that bariatric surgery is an effective weight loss tool, with the New York Times reporting that in one 10-year follow-up of the procedure, only 3.4 percent of those undergoing gastric bypass surgery regained all the weight they lost.
Bariatric ─ or weight loss surgery ─ has become an accepted part of the plan, said Dr. Michel M. Murr, co-director and founder of the Tampa General Hospital and USF Health Bariatric Center.
"Bariatric surgery isn't intended to reverse the obesity epidemic, but to help people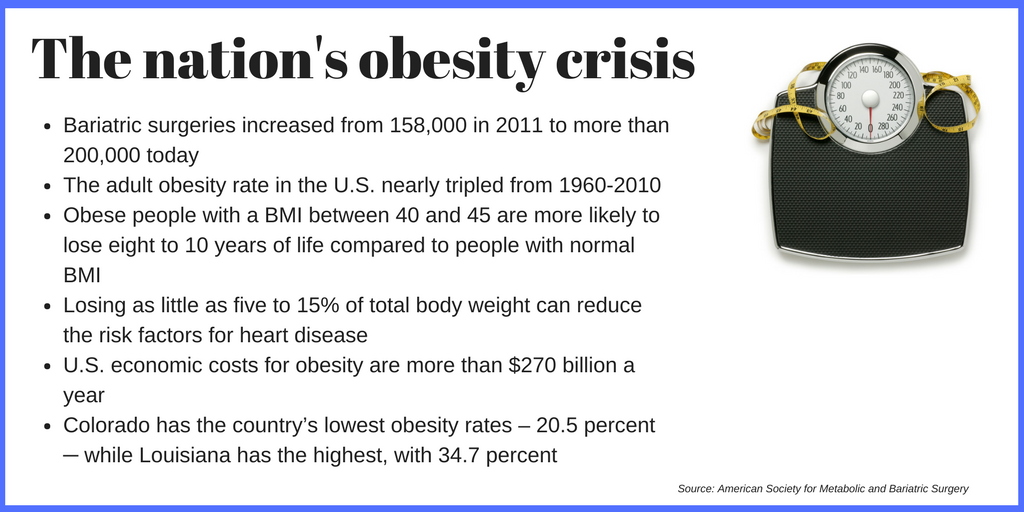 with morbid obesity create a better quality of life,'' he said. "Patients who come here have an impaired quality of life and a very challenging medical condition. The goal of surgical intervention is to reduce that.''
The American Medical Association officially recognized obesity as a disease in 2013. Its connection to diabetes and other weight-related issues such as heart disease placed a renewed emphasis on health care treatments, diet, and exercise.
Obesity affects about 80 million Americans, of which roughly 25 million are severely or morbidly obese, according to the federal Centers for Disease Control and Prevention. Obesity, categorized as a body mass index (BMI) of 30 or more, is associated with at least a 50 percent increased risk of premature death compared to people with a healthy weight, the CDC reports.
However, not every overweight person needs a bariatric procedure. It's usually meant for the 5 percent of the U.S. population with a BMI of 40 or more. People in this category usually struggle to lose weight through diet and exercise and are much more prone to heart disease and other risk factors.
The Tampa General center ─ made up of physicians, psychologists, dietitians and exercise physiologists ─ offers a customized weight management program for patients. The goal is to empower them to keep off the pounds.
"We explain to our patients that this is a tool to help them focus on better choices and eating behaviors,'' Murr said. "It's to help them achieve a reasonable weight.''
Bariatric surgeries are either  restrictive, making the size of the stomach smaller, thus limiting the amount of food intake, or mal-digestive, diverting food away from the stomach and limiting the length of the intestine that comes in contact with food. Some surgeries are a combination of restrictive and mal-digestive.
A common procedure at TGH is Roux-en-Y Gastric Bypass, which induces weight loss by limiting the intake, digestion and absorption of food. Over time, it can result in a 55 to 70 percent reduction in excess body weight.
Another procedure is sleeve gastrectomy, a purely restrictive procedure.  A stapling device is used to divide the stomach vertically, transforming it into a banana-like tube that restricts the intake of food.
Bariatric surgeries are minimally invasive laparoscopic rather than open procedures, which means far less time spent recovering in the hospital. Most of the person's weight loss comes in the year after surgery.
A procedure can cost anywhere from $5,000 to $35,000, and insurance companies usually require patients to complete a six-month medical weight loss program prior to surgery. Anyone considering a bariatric option should realize that it isn't a quick fix, Murr said. It requires commitment both before ─ and after.
"It has far-reaching consequences, so people must make a big decision about their behaviors and eating habits and follow up for a long time with the bariatric center,'' he said. "So, we try to choose patients who are motivated. It's a life-long commitment.''
For more information about bariatric surgery at Tampa General, call (813) 844-7473 or email: bariatriccenter@tgh.org