Do fitness trackers have magical superpowers? Science says no.
Published: Nov 7, 2016
By Wendy Malloy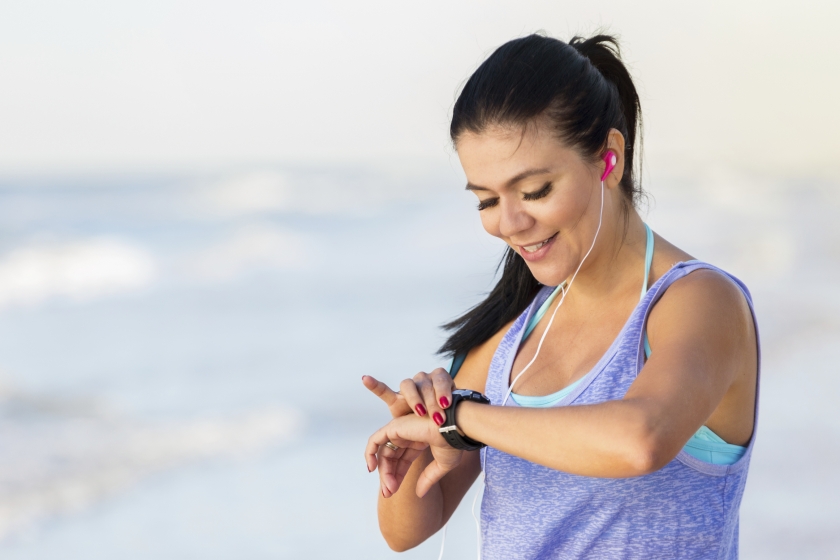 Last December, Catherine Williams bought a Fitbit as a holiday gift to herself.
"I'd been using a calorie counter app on my phone," she said, "but I didn't feel that it actually captured the full breadth of my exertion and calories burned. Adding a Fitbit made sense."
As it turns out, that Fitbit may not make as much sense as Williams thought.
Fitness trackers like Fitbit aren't necessarily effective in helping people get healthy, conclude two recent studies, one published in the Journal of American Medicine and the other in The Lancet Diabetes and Endocrinology.
 Researchers "found no evidence that the device promoted weight loss or improved blood pressure or cardiorespiratory fitness," wrote Eric Finkelstein, lead author of the Lancet study.
In fact, the studies indicated the trackers may promote a kind of rationalization effect – as in, "I walked 10,000 steps today, so it's ok to eat this chocolate pie tonight."
Dr. Steven Robbins, an endocrinologist and obesity specialist at the Tampa General Hospital + USF Health Bariatric Center, wasn't surprised by the results. There are two problems with believing that simply wearing a fitness tracker will cause pounds to melt away.
"It depends on the individual, of course, but traditionally we do not think of exercise on its own as an efficient way to lose weight," he said. "It helps, and of course it's good for you on many levels, but it's not the most efficient approach."
The National Institutes of Health recommends at least 150 minutes a week of exercise. That's a 30-minute-a-day, five-day-a-week fitness program. To lose weight, many studies recommend more than 150 minutes of exercise a week.
"It's intrusive and labor intensive," Robbins said. Exercising can help people lose weight, but people need to realize it requires a serious time commitment. A 154-pound person would need to walk briskly for one hour a day to burn off enough calories to lose one pound a week.
In other words, diet is a vital component.
"Which is easier -- not eating a Snicker's bar, or going out for a 45-minute walk?" Robbins asked.
Second, some Fitbit users may have a false sense that just the act of monitoring their activity makes them healthy.
"So then they become slack in other ways," Robbins said, "like not watching portions and not staying out of fast-food drive-thrus."
Simply knowing how far you've walked does not equal weight loss; it is the physical act of walking -- farther and faster -- that peels away pounds.
Researchers have found the same issue with menus that lists nutritional info next to each entree. Studies show that nutrition labels often don't change consumers' behavior. Knowing how many grams of protein the fish has doesn't make you healthier. If you want to boost your protein intake, you have to order the fish and eat it.
Still, Fitbit fans like Williams find value in the data – and she finds it motivates her to do more.
"In general, I average about 9,000 steps a day," she said. "I'm not a fitness-oriented person, but the Fitbit has motivated me to actually get to the gym even when I feel lazy."
She's lost about five pounds in the 11 months since she started wearing the tracker. And she enjoys the friendly competition inspired – and audited – by the device's weekly reports and "challenge circles."
 So what can you do to drop that last stubborn five pounds? More urgently, how can a morbidly obese patient lose a significant amount of weight when health is literally in the balance?
Robbins recommends the classic combo: fitness and diet. And yes, there are apps for that, too. Robbins says My Fitness Pal is a good choice for tracking calories, nutrition, and exercise. It doesn't offer the heart rate or sleep monitoring of a Fitbit, but it does give a real-time view of precisely what you're eating, which can help in an overall health program – cutting cholesterol, making sure your nutrient intake is sufficient, and other benefits.
Even though research isn't showing blockbuster results, Robbins isn't against using fitness trackers. The key is whether one helps you move beyond tracking your habits to actually changing them.
Bottom line: "If it works for you, keep using it."