Our Mother's Day Gift for Moms-to-be: Advice from Dr. Mom
Published: May 6, 2016
By Erin Sullivan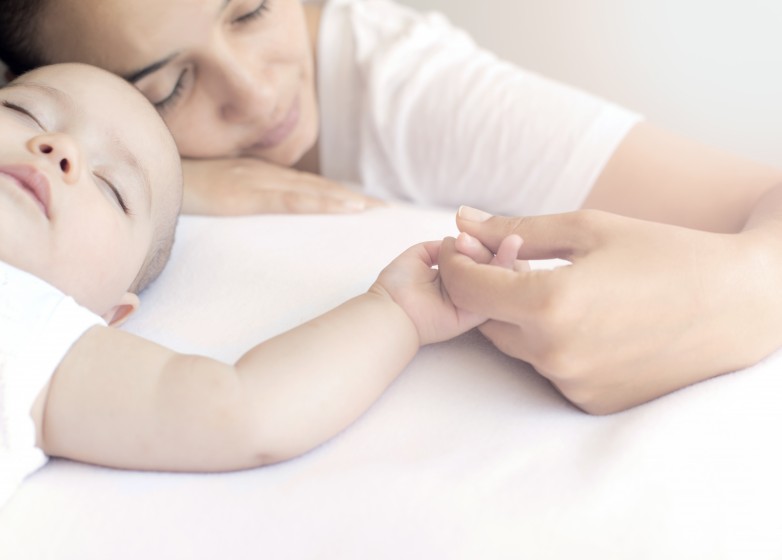 Congratulations and Happy Mother's Day to all you pregnant moms-to-be. You're likely a mix of emotions – elated, terrified, and excited. Physically, you're probably tired and hungry. You need help putting on your shoes. You're researching everything from strange pregnancy symptoms to childbirth. And then there's learning how to take care of a teeny tiny human and preparing your house and life for this new adventure.
It's easy to feel overwhelmed.
Really overwhelmed.
Try to relax, says Dr. Rachel Rapkin, an OB/GYN at Tampa General Hospital and an assistant professor at the USF Health Morsani College of Medicine.
"We put crazy expectations on ourselves to be the perfect mom but, in reality, there is no perfect mom," she said.
Rapkin is a mother of two – her daughter, Alex, is 2, and son, Miller, is 10 months. Her husband, Dr. David Rapkin, is also an OB/GYN with TGH and an assistant professor with USF Health
As a busy mom who treats other moms every day, Rapkin has advice to share:
Let go. "My biggest bit of advice is learning how to let go of control," she said. It's great to research childbirth and to draft a birth plan. But just know it likely won't end up as you envision. You aren't in control of when you go into labor or of possible complications. Delivering a healthy baby is priority.
Love at first sight – or not. Even after so many years of delivering babies, Rapkin was stunned after having her own. "I was surprised at how quickly you can fall in love with this little person," she said. But not everyone feels that way immediately and that's okay. For some women, that connection takes time.
Feed your baby the best way you can. Rapkin is a "huge breastfeeding advocate" and was surprised at how difficult breastfeeding can be. She urges new moms to ask for help if they are struggling. She counsels new mothers that it's okay if they need to supplement with formula. "It doesn't make you less of a mom," she said. "What's important is that your baby eats."
When the baby blues don't go away. It's normal to not feel like yourself in the first few days after giving birth. But, Rapkin said, if you don't feel better after a week or two, or if you or family members feel you may have postpartum depression, talk with your doctor as soon as possible. Know that help is available - and that you are not alone. Ten to 15 percent of women experience postpartum depression, according to the American Congress of Obstetricians and Gynecologists.
Zombie mommie.  Lack of sleep can make everything more difficult and upsetting. It's vital to step away. Ask for help. Get a friend or relative to babysit, even if for an hour or two.  
Do what's right for you. "You are going to get tons of solicited and unsolicited advice – and it's going to contradict what the last person told you," Rapkin said. "Choose what is best for you and your new family."
Say no to mom judging. "Don't compare yourself to other moms," Rapkin said. Don't scroll through Facebook, thinking all the other moms have their lives together and you don't. "People post the highlights of their lives," she said. In reality, motherhood can be tough.
Ditch the working mom guilt. Many moms have a hard time when their maternity leave ends. But Rapkin wants you to give yourself a break from the mommy guilt. "Remember, you are the center of your child's universe," she said, whether you are with them all day or not. She also advises new moms to go back to work in the middle of the week instead of on a Monday, so you don't have the daunting challenge of going a whole week away from your baby.
The best gift for new parents. "Bring food in throwaway containers," complete with plastic utensils, Rapkin said. It's a luxury to not have to worry about cooking and cleaning dishes. "That's the best," she said.
And the best gift ever. Parenting is hard. Toddlers scream and stomp. You can feel emotionally and physically drained. But what makes it all worth it is this, Rapkin said: When, out of nowhere, your child runs over to you and gives you a kiss, with tiny arms squeezing you tight, and says, "I love you, Mommy."
Erin Sullivan is a contributor to TGH Health News.
Having your baby at TGH
Tampa General Hospital is the only hospital in Hillsborough County and one of three in the Tampa Bay area to receive an international designation as a Baby-Friendly birth facility for its work helping breastfeeding mothers and babies. 
Go here for a virtual tour of the Women's Center and information about giving birth at TGH.