This Is Just a Drill: TGH Practices to Prepare for the Worst
Published: Mar 25, 2016
By Lisa Greene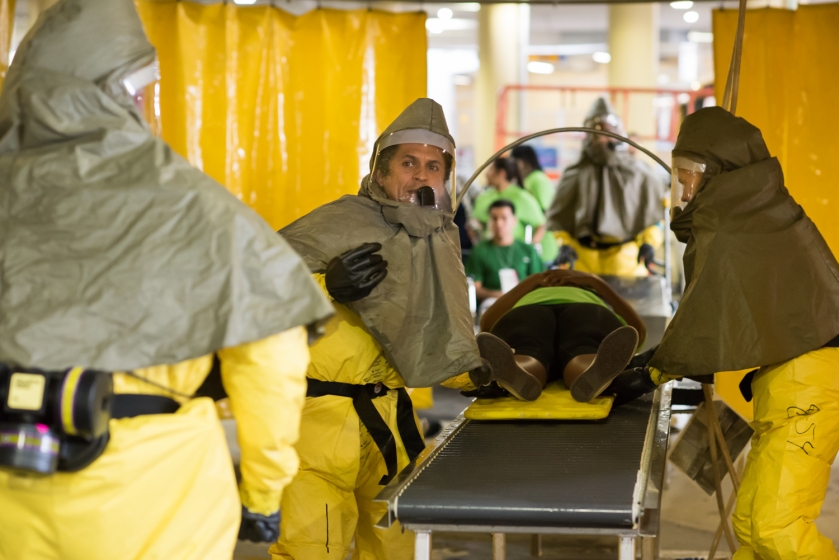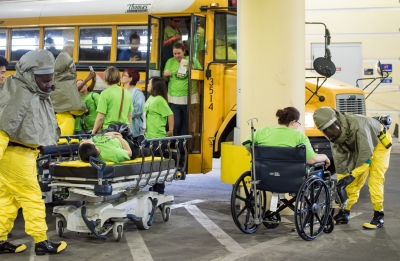 Kira Jaroszewski is a 22-year-old student. She does not look like a 64-year-old man, let alone one with a gunshot wound bleeding all over a stretcher.
But just for a day, that's what she's pretending to be.
"I'm hurting a lot," she said with a mock grimace. "You know, I can't walk, so that can't be good."
Jaroszewski was one of more than 20 Hillsborough Community College students who volunteered to be patients at Tampa General Hospital as part of a countywide mass casualty drill Thursday. At Tampa General, the region's Level One Trauma Center, some 150 employees practiced how they would care for patients if the unthinkable happens.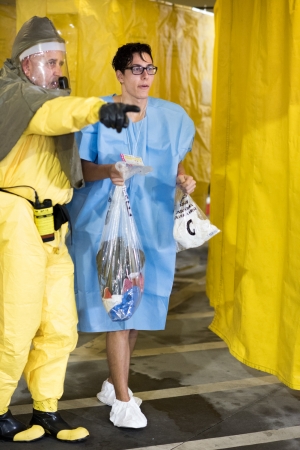 "This provides a really good opportunity for us to pull out all of our equipment and our plans and procedures and really take a look at them," said Erinn Skiba, Tampa General's emergency preparedness manager. "We can have our staff go through them and figure out what's working and what's not working."
Thursday's scenario simulated a bioterrorist attack: someone has released anthrax in Hillsborough County. Sites around the county have been set up to dispense medication to those exposed. Riots break out at the sites, and many people – all possibly exposed with anthrax – are severely injured. How will the hospital handle these patients?
At 7 am, the alert went out: this is the emergency drill. Patients are on the way. Employees from across the hospital – not just from the Emergency Department, but everyone from security officers to patient transporters – converged in the large covered outdoor space underneath the Emergency Department and began setting up a decontamination site.
As soon as the students arrived, staffers were ready. Dressed in hazmat suits, they began triaging the patients, separating them into groups based on their severity of their injuries. Patients were rapidly "decontaminated" in a special wash area and passed out of the contaminated "hot zone."
Those with severe injuries were taken up to the Emergency Department for further treatment, while those with mild symptoms were triaged to a separate area nearby. Among those was Grisel Duran, who sat in a wheelchair imitating a 2-week-old baby who was sneezing and coughing.
"This just sounded exciting, to be part of what we would go through in a real emergency," Duran said.
Meanwhile, members of Tampa General's leadership team took over a large conference room as a command center, staffed with extra phones, computers, and charts. Throughout the exercise, they coordinated what was happening.
Despite all of Tampa General's emergency plans, there's no substitute for live practice, Skiba said.
"If this is the first time you've ever seen this, it can be hard to understand exactly what you're supposed to do with the resources you have," she said. "We want our staff to be knowledgeable about what the procedures are and be comfortable with their responsibilities.
"In an emergency, the plan doesn't always go as planned. They need to be comfortable enough to problem-solve in those situations that are out of the ordinary."
As soon as the drill was over, leaders met to assess what worked, what didn't, and how plans could be improved.
"Overall, it went really, really well," Skiba said.
For Jaroszewski, the drill was both eye-opening and reassuring.
"I didn't know they would be all geared up and stuff," she said. "It's always good to figure out what you're doing in these situations. Hopefully, if something happens, they'll know what to do."
- Photos by Daniel Wallace, TGH Health News. March 25, 2016. Photo above: Members of the decon team bring a volunteer victim through the decontamination area set up under the Emergency Department. Victims were rolled through a wash station on stretcher boards immediately upon arrival.