Dogs & Storks: How to Help Your Pet Get Along with Baby
Published: Mar 10, 2016
By Erin Sullivan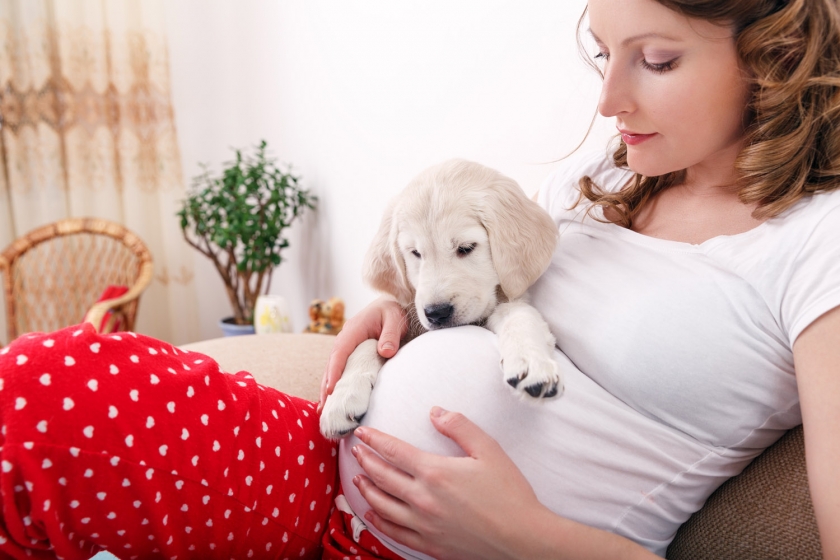 Megan and Rob Goetz are worried about their baby. Not their little boy, Leo, who is due to be born in May. It's Duke, their 65-pound rescued pit bull, that's making them anxious. He's been their big, sweet, snuggly boy, but everything is about to change.
They think Duke will deal well with the transition when baby Leo arrives. But who knows, really?
"Before it gets to the point where it is a problem, we want to learn ways to deal with it," Megan said at a recent Dogs & Storks class at SPCA Tampa Bay in Largo.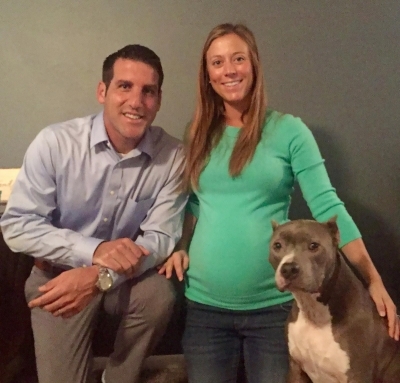 The class, also offered at Tampa General Hospital, helps families prepare their pet for the arrival of a baby. The course focuses on dogs, but can be applied to other pets. The important thing, regardless of breed or species, is to know your pet, said Meagan Montmeny, the class instructor and SPCA behavior and training manager.
Do noises trigger fear in your pet? What does your dog do to get your attention? What are the warning signs your dog is getting upset?
"We want to get people thinking critically," Montmeny said. "Preparation eases stress."
Last year, Montmeny kept seeing dogs and cats dropped off at the SPCA by couples who were about to have a baby and felt too overwhelmed to keep their pet.
She tried to work with families. But, coupled with news reports of children being injured by dogs, she felt she needed to do more. She took a 13-week-course to become an instructor with Dogs & Storks, a national program. Montmeny contacted Deb Esenwein, the perinatal outreach and childbirth education coordinator at TGH, to see if she could offer courses there. Esenwein loved the idea and classes began in January at the hospital.
"You can make it work," said Esenwein, a grandmother of five and owner of an elderly pug named Sgt. Pepper. "A lot of people who are pet owners feel like their pets are part of their family. If you have training you take as parents to learn how to care for your baby, wouldn't you also have training so your pet would be ready, too?"
Classes are $20 per couple, with the money going back to the SPCA, Esenwein said. Anyone is welcome, not just those planning to deliver their babies at TGH. Montmeny encourages all pet owners who interact with children to come – current parents, grandparents, and friends.
"I don't want to scare people, but I do want them to see reality," Montmeny said.
Dogs and children should never be alone together and always need the supervision of a fully awake and alert adult, she said.
She advocates the use of crates, tethers and leashes, as well as obedience training if your dog doesn't already respond to basic commands. "Get them to sit, even when your arms are full," Montmeny said.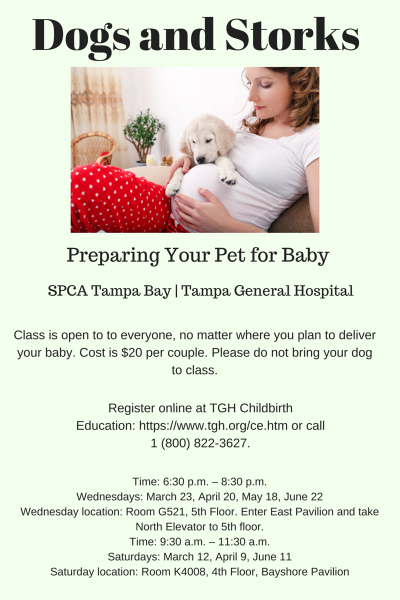 A few of her other tips:
Set up nursery gear before the baby arrives, so your dog can get used to it.
Carry a doll around the house and teach your pet it is okay to sniff feet, but not faces.
Play a CD of baby noises.
Reward good behavior.
Get special treats ready that can keep your dog busy, such as Kong toys filled with peanut butter or yogurt. Montmeny recommends keeping a few in the freezer. Take your pet for a checkup before the baby comes to deal with any health issues ahead of time.
Montmeny offers private lessons and at-home visits, which, by the end of the recent Dogs & Storks class, the Goetzes realized they need. Megan and Rob are already working to help Duke. The nursery is set up for sniffing, they play a recording of baby noises, and Megan has a doll to carry around. Duke hasn't seemed bothered by any of it.
"He's just a big baby," Megan said. "He thinks he's a lap dog."
But he needs obedience training. He can't be around other dogs, which makes timing his walks difficult if there are neighbors out with their dogs. He gets possessive of Megan.
"We can help," Montmeny said.
—Erin Sullivan is a contributor for TGH Health News; photo courtesy of Megan and Rob Goetz.