At Rehabilitation Reunion, Victories Large and Small
Published: Mar 2, 2016
By Lisa Greene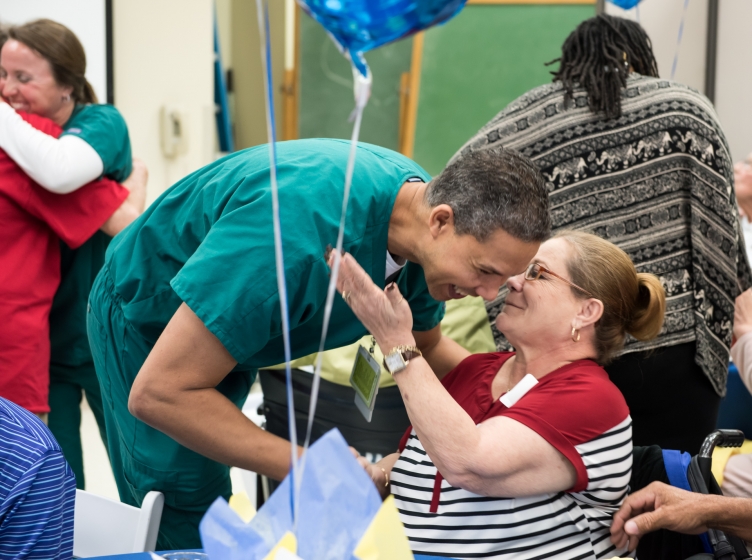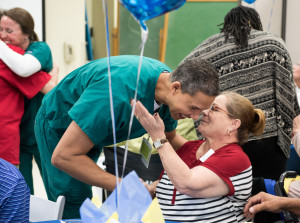 Linda Crowley used to ski and ice skate.
Yet when she arrived at Tampa General, the Lakeland resident couldn't even wiggle her left thumb. A series of strokes in October 2014 paralyzed her entire left side.
On Tuesday, Crowley, 61, strode up to the lectern at Tampa General's Rehabilitation Reunion party. The days when she found it "exhausting just getting up out of that wheelchair" were long behind her.
"I'm very proud to be here standing, talking, eating," she told the group. "I dressed myself today. I'm very proud of that."
Crowley, several other former patients, and their therapists, nurses and health care teams took time to celebrate such victories Tuesday. Some of those are large: Crowley can skate and ski again. Some are smaller. She can open jars.
"I can cook," she joked. "I can burn food again."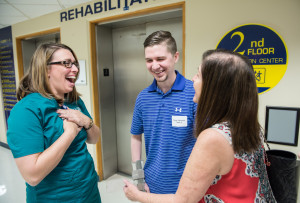 Deana Nelson, executive vice president and chief operating officer at Tampa General, thanked the patients for returning.
"This is a big inspiration for us when we get to see you again," Nelson said. "Of all the work that patients have to do, being in rehab is the hardest…We want to recognize that and thank you for the effort that you put into this."
One of those putting in that effort was Ryan Mertens, a Palm Harbor resident who arrived at Tampa General last summer aboard an air ambulance. A California motorcycle accident left the 25-year-old in a coma with a traumatic brain injury and collapsed lungs. Doctors told his parents it was unlikely he would  survive – and if he did, he would never recover enough to go through rehabilitation.
Mertens couldn't walk when he arrived at TGH, and had spoken only a few words since the wreck. Thirty-six days later, he walked out on his own.
"Work hard," he advised patients. "Have faith. Listen to your therapist. But just work hard every day."
– Photos by Daniel Wallace, Tampa General Hospital News.