Sorry, kids: Flu vaccine this year likely to mean a needle stick
Published: Jun 23, 2016
By Lisa Greene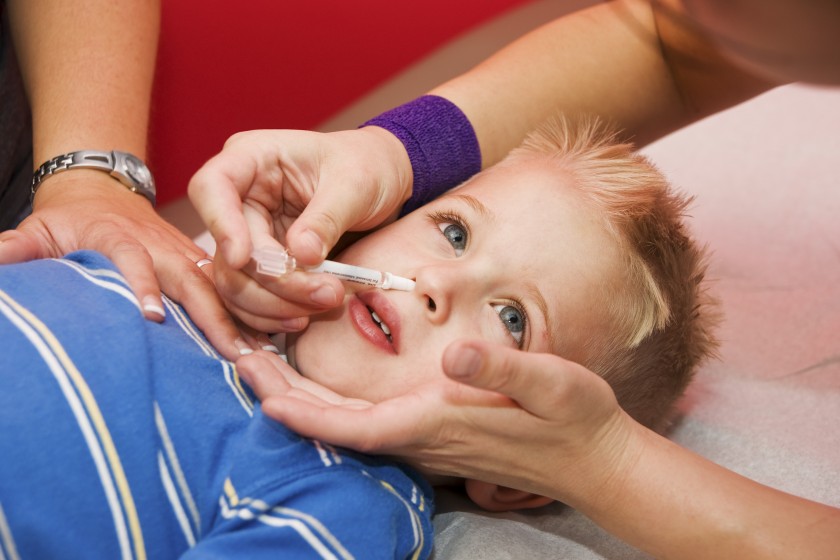 It looks like vaccinating your child against the flu this fall will mean a shot, not a spray.
Studies found that FluMist, the nasal spray flu vaccine, actually failed to protect patients from getting the flu last year. After reviewing the results, the leading U.S. committee on immunization voted to recommend that the spray not be used in the coming flu season.
While FluMist was available for all ages, it has been especially popular with children. About one-third of all children vaccinated for the flu receive the vaccine with the spray instead of a shot, according to the federal Centers for Disease Control and Prevention.
Pediatricians are already predicting that they will see some unhappy patients.
"A lot of pediatric patients prefer the mist," said Dr. Amy Weiss, assistant professor of pediatrics and adolescent medicine at the USF Health Morsani College of Medicine. "It's going to mean one more needle stick next flu season."
About 14 million Americans were expected to receive FluMist during the 2016-2017 flu season. That's about 8 percent of the 171 million to 176 million doses of flu vaccine available during the coming season.
Weiss' biggest concern is that those patients still get flu vaccine, even though it means a shot instead.
"There were a lot of patients we were able to talk into flu vaccine by saying 'It's not a shot, it's not painful,' "  said Weiss, who practices at Tampa General Hospital.
Many schools and public health programs also use FluMist to vaccinate children, which is faster and easier to use outside a clinic, Weiss noted.
When FluMist was first approved in 2003, studies showed that it was as effective – or even more effective – in preventing flu. The nasal spray is slightly different from the shot. It contains a live, weakened form of the flu virus, while the shot contains only inactivated virus. This difference was thought to be able to prompt an even better immune response.  
But not only did last year's FluMist prove ineffective, studies showed the two previous seasons also were less effective than expected. Scientists don't know why. Members of the CDC's Advisory Committee on Immunization Practice reviewed this data before recommending that the nasal spray should not be used next year. While the group's recommendation still must be approved by the CDC's director, Dr. Tom Frieden, the American Academy of Pediatrics has already endorsed it.
Preparing effective flu vaccine is notoriously challenging because the strains of influenza that circulate around the world change from year to year. Researchers must try to predict which strain will emerge months ahead of time in order to prepare the millions of doses of vaccine needed. That time gap means that in some years, the vaccine is a good match, while in others, it is less effective in protecting against the flu.
Still, even in off years, flu vaccine is the best weapon against influenza. Each year, anywhere between 3,000 and 49,000
Americans die from the flu.
That's the message that Weiss will be telling to her patients – and their parents. The protection the vaccine can provide is worth the jab.
"The flu virus is very dangerous, and it makes lots of people – and especially kids – really sick," she said. "We're still going to recommend the flu vaccine for every patient that we see."
Her new message for young patients may be that getting a little tiny injection is really more pleasant than having stuff squirted up your nose.
"I got FluMist one year and I thought it was disgusting," she said. "I've always gotten the shot since then."