Murderball: Tampa Generals find fierce competition, common bonds in wheelchair rugby
Published: Jan 28, 2016
By Lisa Greene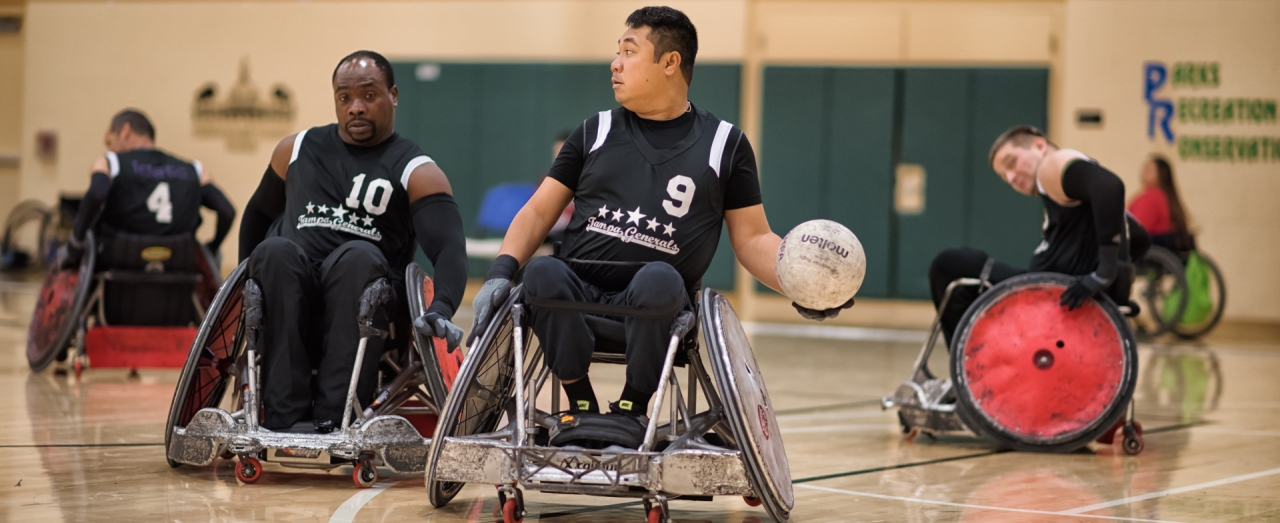 The Tampa Generals hold a slim two-point lead over St. Louis when Justin Stark shoots a quick pass to his teammate, Shin Nakazato, who grabs the ball and, with a quick pivot, wheels it across the line to put the team up by three.
It won't stay that way long. The Generals intend to win this game, and they're relentless. They're spinning, dribbling, passing – whatever it takes to boost the score. It's all punctuated by a constant clang of metal hitting metal as wheelchairs clash, making this the loudest game in town.
This is wheelchair rugby, a sport played with such intensity that it's been called "murderball." It's one of the most popular games in the Paralympics and has been featured in a 2005 Oscar-nominated documentary.  Some of the world's best players came to Tampa last weekend compete in the 24th Annual Tampa International Wheelchair Rugby Tournament. Tampa General Hospital sponsors the Tampa Generals, who faced seven other teams in the tournament.
"There's some tough competition out here," says rookie Joel Rodriguez, playing his first season with the Tampa Generals wheelchair rugby team. "I love the intensity of it."
Rodriguez was injured in a car crash about 18 months ago, driving back to his Army base in Alabama. Now 26, he and his wife Liannie live in Wesley Chapel with his service dog, Fisher. Rodriguez grew up playing basketball, baseball, and football. The crash left him with too little arm strength for wheelchair basketball. Wheelchair rugby was the perfect sport for him.
"You get to learn from people, especially the guys who have been injured for years now, and kind of get to see how they live their life, their level of independence," he says. "In my opinion, it's one of the best therapies you could have."
Among those Rodriguez looks to is teammate Stark, director of the Florida Spinal Cord Injury Resource Center, based at TGH. Stark has been playing with the Generals for 20 years – since 1996, when wheelchair rugby debuted as a demonstration sport in the Paralympics.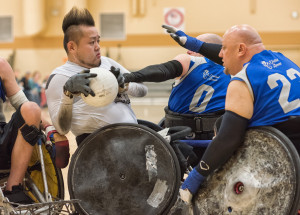 Despite the name, the sport doesn't really follow rugby rules. It's played on a basketball court with a volleyball. Traffic cones placed at each end of the court mark the goal line. All the players are quadriplegic, meaning they have limited mobility for both the upper and lower body. Each team has four players on the court at a time, all trying to get across the goal line with the ball in their lap.
Most players have spinal cord injuries. Some are amputees. Others survived polio or have other muscular disabilities. The co-ed game keeps the teams in parity by assigning each player points based on their ability level. The points for each team's players on the court can only add up to 8.0. Strict time limits – 10 seconds to dribble or pass, 12 seconds to get the ball to half court - keep the game moving fast. Defensive players have metal baskets on the front of their wheelchairs to ram into opposing players' wheels and block them from the goal. The game gets so rough that there's a penalty box. And almost every game, a hard blow sends a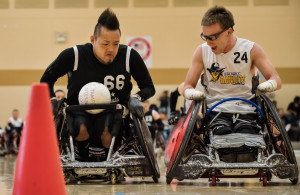 player sprawling.
When that happens, coaches come out with a flat piece of cardboard to provide traction for the wheels and help turn the players' chairs back over.
Stark has seen it all. He looks beyond the game as well, knowing that its strength training and conditioning helps players live healthier off the court, avoiding some of the health complications that often accompany their injuries, from skin breakdown to heart problems to depression.
"That's always the fear after you get hurt," Stark says. "You go home, and you're not active, you're staring at the walls of the house, and you can easily fall into that depression. So to give people a purpose and stimulate their mind and health and body pays dividends for the rest of their lives."
Besides, it's fun.
"There is a common bond that we all have," he says. "You really get to learn a lot from your teammates."
This year the team includes two Army veterans and Nakazato, a former Japanese Paralympian. This weekend they play against teams from around the U.S., along with teams from Canadian cities and the much-feared Switzerland national team.
The Generals would go on to beat St. Louis, but lose to Switzerland and Ottawa. They will find redemption in a triple overtime victory over their arch-rivals, Jacksonville's Brooks Bandits, and a final decisive 49-40 victory over the Lakeshore Demolition to finish the tournament in fifth place.
Stark is pleased with the team's performance. "We did about as well as we could," he says. "Next weekend, we go on to Birmingham." 
- Photos and video by Daniel Wallace, TGH Health News