Floridians love flip-flops, but are they good for our feet?
Published: Aug 11, 2016
By Michelle Bearden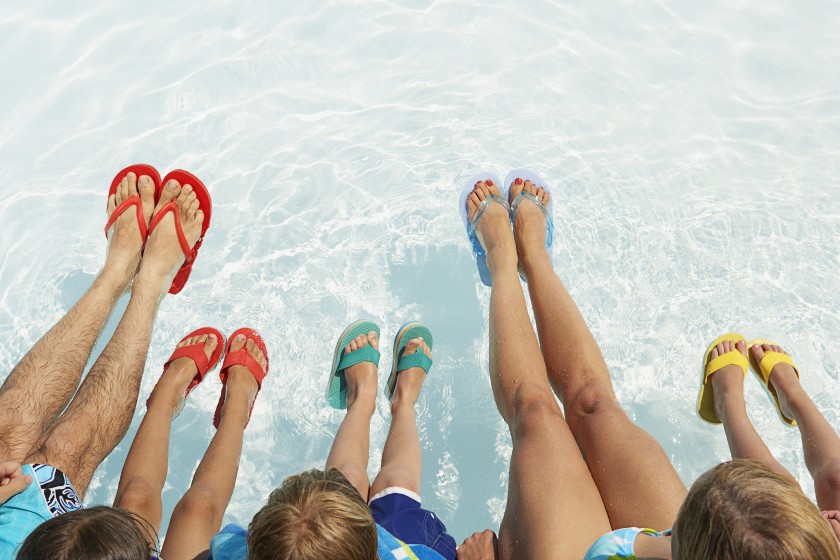 What's not to like about flip flops?
They're fun, flexible and even fashionable. They're attractively priced and they come in every color of the rainbow. If you're a Floridian, this casual footwear is a must-have.
But Jimmy Buffett warned us a long time ago about the dark side of Margaritaville:
I blew out my flip-flop
Stepped on a pop-top
Cut my heel, had to cruise on back home
The statistics aren't pretty. Of the 198,437 emergency room visits due to shoe-related injuries in 2014, 26,300 were associated with flip-flops, according to the Consumer Product Safety Commission. Who would have thunk?
Researchers at Auburn University studied and scrutinized them in 2008. And when the test was completed, they concluded that wearing thong-style flip flops can result in sore feet, ankle and legs.
Innocent as flip-flops may appear, they can lead wearers to alter their gait, resulting in problems and pain from the foot radiating up into the hips and lower back. Overuse of flip flops could lead to plantar fasciitis, a condition that causes severe pain in your heels.
Two years later, the University of Louisiana got into the act. You know how you sometimes you curl your toes just so to grab the flip-flop, so it stays on your foot? The Louisiana researchers found that when you do, you're causing the muscles in the front of your shin to work even harder, and causing strain that doesn't happen when you're barefoot or in sneakers.
How could something so carefree be so cruel?
"Just remember you get what you pay for," says Dr. Heidi Stephens, a Tampa General Hospital orthopedic surgeon and associate professor in the Department of Orthopaedic Surgery at the USF Health Morsani College of Medicine.
""If you buy a good sports sandal, and there are plenty out there, it will be a lot better for your feet than the plastic ones you get at a discount store."
To be on the safe side, Stephens offers this advice:
Like most things in life, Stephens says moderation is the key. "I'm not going to say horrible things about flip-flops," she said. Flip-flops are perfect for the beach or hanging out by the pool.  For walking long distances on hard surfaces? Not so much.
"You're always better off with a back strap, some cushion and arch support," Stephens says.
The surgeon just returned from a trip to the Czech Republic, where she did plenty of walking in cities and countryside villages. And she brought along two pairs of her go-to Dansko and Birkenstock sandals.
"If you invest a little extra money, sandals can be a safe and comfortable walking shoe," she says. "Flip-flops have their place. Just use common sense."