Time Out: Is Your Young Athlete at Risk for Overuse Injuries?
Published: Apr 29, 2016
By Erin Sullivan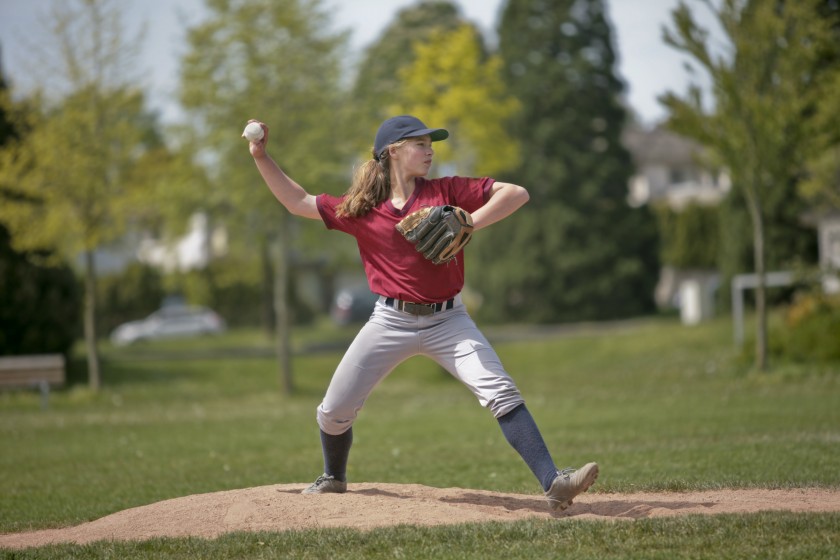 After trying a few sports, your daughter found the one she loves. Softball. She wants to play it all the time. Soon, you find out she can, with league after league, play year round, especially in Florida's climate. She loves it. Her friends are doing it. She's getting exercise and learning the important life values sports instill.
What's the harm in that?
Well, it's complicated.
Sports are great for children, yes. But more children are suffering overuse injuries – damage caused by repeated action, like throwing – from playing one sport year-round and not giving their bodies a chance to recover. Of the more than 46.5 million children who participate in sports each year in America, one in three is injured seriously enough to miss practice or games, according to the non-profit advocacy group Safe Kids Worldwide. Nearly half of all sports injuries in middle and high school students are due to overuse.
Dr. Seth Gasser, an orthopaedic surgeon at Tampa General Hospital, sees these injuries every day. Playing one sport without a break is hazardous, he said.
"It's too much stress on the musculoskeletal system," said Gasser, the sports medicine director at the Florida Orthopaedic Institute and head team physician with the University of Tampa, Plant High School, and Berkeley Preparatory School. He has also served as team physician for the Tampa Bay Buccaneers, the Tampa Bay Lightning, and other professional and college teams.
He's treated athletes for more than a quarter of a century, and the increase in recent years of his littlest patients is alarming. The younger ones often start seeing him around ages 7 or 8.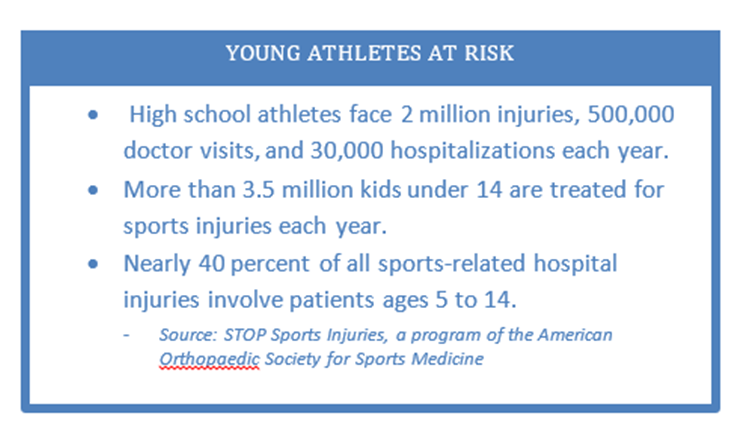 Children's bones are still growing, making them less resilient to the stress caused by repeated actions. If the injury is significant enough, it could permanently damage the child's growth plate, causing the bone to grow abnormally. But that's not as common, Gasser said. More often, a period of rest will allow the child's body to heal itself. Sometimes the injured area will need to be immobilized. Occasionally surgery is needed.
"It's worrisome for me because I take care of the athletes and I need to keep them healthy so they can do the things they enjoy, including the sports they like to play," Gasser said. "Part of the problem is people have misinformation.
"They don't realize more is not better."
Gasser has tips to help keep your kids healthy:
Change with the seasons. "You should not play one sport year-round," he said. "There should be three months out of the year where the kids aren't playing a sport or are playing a different sport." He knows athletes want to excel, but playing different sports can help them with that goal by developing a range of skills such as coordination, balance and agility. "In my opinion, there is no great reason for a kid to play the same sport year-round," he said.
Switch it up. "Modify your training so you aren't doing the same thing every day," he said. For example, a runner could try running in a pool, rather than on the road, as a way to change it up, says the American Academy of Pediatrics. The Academy also recommends cross-training and not increasing training time, mileage or repetitions by more than 10 percent per week.
Practice good technique.  Gasser stressed the need for children to have the proper equipment, training technique and warm up.
Listen to your child's pain.  "If children are complaining of pain, it's for a reason," Gasser said. "If rest, ice and changing their activities don't make it better, they should see a physician."
Most of all, Gasser says:  Have fun. Being a kid is about enjoying life and playing, he said. He doesn't want any talk of potential injuries to stop parents from letting their children play sports.
"The benefits of exercise for children are tremendous," he said. The list of positive outcomes is long – cardiovascular fitness, social wellbeing, developing healthy life habits – and they "far outweigh most of the concerns of overuse," he said.
- Erin Sullivan is a contributor for TGH Health News.