30 Years Later, a Heart Still Beating
Published: Jun 30, 2015
By Lisa Greene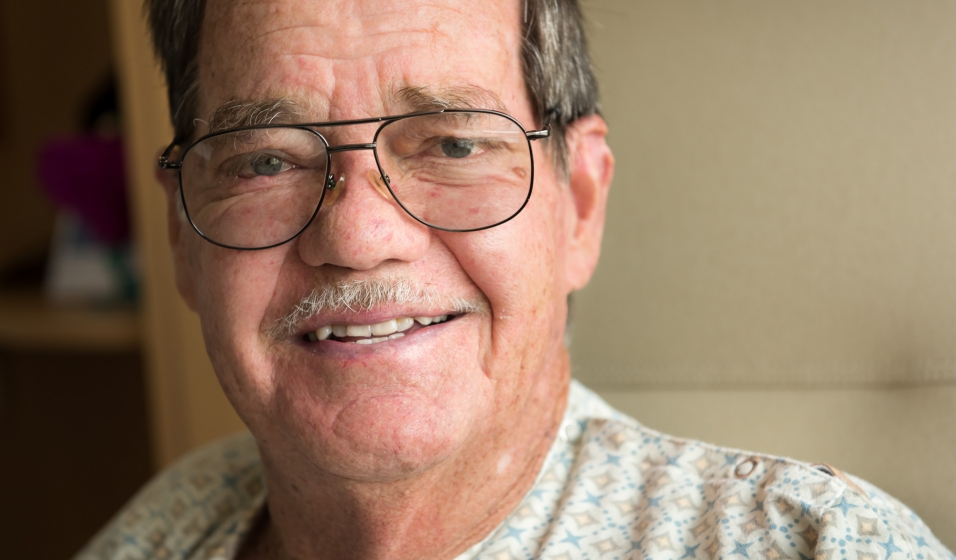 Cardiologist Dr. Mark Weston narrated as he guided a catheter through the arteries of his patient, Glen Frank Spurlin.
"Now we're going to look at the left artery," he told Spurlin.
If both seemed relaxed, it may have been because they had done all this before – some 30 times or so.
Spurlin, 73, is Tampa General's longest living survivor of a heart transplant. Last week, he marked the 30th anniversary of his transplant with a routine cardiac catheterization – an annual check to make sure his arteries are still clear.
The shadowy gray image of Spurlin's heart pulsed on the monitor in front of him as Weston worked, studying different vessels in turn. A half-dozen twisted black triangles, looking like tiny coat hangers, were visible on the monitor as well. They were the wire ties used to close Spurlin's chest all those years ago, tangible proof of a surgery long past.
The body's tendency to treat a transplanted organ as a foreign object and try to reject it can cause inflammation and, eventually, blockages inside the arteries. But the news for Spurlin was good.
"It looks like you're holding your own," Weston said.
Weston first met Spurlin 1985 when he was still in the final stages of training as a cardiologist. Spurlin was 43 and received a transplant seven years after cancer took his right leg. The chemotherapy gradually poisoned his heart.
"It's almost a miracle that he's survived this long," Weston said. The median survival for heart transplant patients is about 10 to 12 years. Spurlin is now among the longest-surviving heart transplant patients in the world. One international medical database lists only three patients who have survived longer.
Spurlin keenly appreciates his good fortune.
"It's hard to put into words," Spurlin said. "I've gotten to play with all my grandkids. They weren't born when I was transplanted."
Now there are five grandchildren, ranging from 14 to 2.  Spurlin and his wife, Marie, divide their time between Lakeland and a cabin in the mountains of North Carolina, where Spurlin spends more time than he should doing landscaping and yard work.
"Life is never dull with Frank Spurlin around," she joked. "He's always got a project and the project gets too big and then I get involved."
Not that she's complaining.
"We're in it for another 10 years," she said. Spurlin's success has mirrored Tampa General's. More than 1,200 heart transplants have now been performed at Tampa General, making it one of the 10 busiest heart transplant centers in the nation.
"I'm just so proud to be a part of all this," said cardiologist Dr. Debbie Rinde-Hoffman, medical director of the TGH Heart Transplant Program. "I've watched it grow since I was in training. And now we're one of the biggest programs in the country, and our success rates continue to be stellar."
Tampa General's first patient, Thomas Thrasher, a Tampa Bay area businessman, received Florida's first successful heart transplant on June 6th, 1985, at age 42. Thrasher went on to start a non-profit transplant advocacy group before his death 11 years later, in May 1996.
Spurlin received his transplant on June 21, 1985. Doctors then told him it might give him an extra five or six years to live. He's been seriously ill a few times since then, but he's always pulled through.
"Now we have better drugs that are less toxic. We have better ways to survey for heart disease," Rinde-Hoffman said. "We have more patients who will stay alive for 30 years, and the new worry will be that they live long enough to develop medical problems associated with old age."
Weston pointed out that, for all their marvels, transplants aren't the perfect way to mend broken hearts. He envisions a future with better preventive drugs and better artificial hearts. Ultimately, the best solution would be creating new heart muscle from the body's own stem cells, ending the need for anti-rejection drugs.
"What's the future?" Weston said. "The holy grail would be stem cell regeneration."
For Spurlin, the next goal is simpler. He wants to return to North Carolina for the rest of the summer. He'll make sure to notice the sweetness of bird song and the vibrant green of the summer trees. If he's lucky, he'll see some bears. He takes time to appreciate such moments.
"It's been an interesting road," he said. "You think about all the problems that you face, and you think, 'Well, how did I do that?' And there aren't but two things: the good Lord and the doctors.
"It's really been a blessing, in a way," he added.  "I've been able to offer encouragement to somebody who's got to go through something similar. We don't like it. But we just keep on going."
- Photos by Daniel Wallace, TGH Health News